February 11, 2016 by bluegullinn
Spring YAWP (Your Alternative Writing Program) – 2016
March 24-27, 2016
Fort Worden State Park, Port Townsend, WA
SOLD OUT
To reserve a spot on the waiting list, please call Hali Miller at 360-385-3102, x114
–
Spring YAWP (Your Alternative Writing Program) – 2016, was launched as a reaction to the branding, marketing, and career networking of AWP. We desired to create, instead, a retreat place for writers to live in cozy cabins and focus deeply on your work.
We're totes about community and reading and writing and doing guided freewrites and writing exercises and creating new work and having good food at PT restaurants and being underneath the March sky and being around the firs and sitting under a madrona and hunting for eggs and and and and and and and 
 this will be our third YAWP session in less than a year!
Centrum's Spring YAWP happens March 24-27, 2016. (Yes, Easter is March 27. So we'll be doing a Sunday-morning egg hunt on the Fort Worden field with the Madrona tree : )
Limited to 20 total.
Cost: $195 (to cover the cost of the Suds cabins, and the open-mike space.) Have you published fifty novels? $195. Are you writing your first-ever poem? $195. Meals are not included: what'll happen is some folks'll contribute together for communal meals; and some folks'll do their own meals in the ten kitchens provided; and some folks'll go into town.
Thursday, March 24 , 2016
5 pm-8 pm: arrival and welcoming.
8 pm-9 pm: opening readings.
Friday, March 25, 2016
10-10:50 am: guided morning freewrite.
11-noon: guided morning freewrite.
12 pm onward: residency time.
Saturday, March 26, 2016
10-10:50 am: guided morning freewrite.
11-noon: guided morning freewrite.
12 pm onward: residency time.
8-10 pm: evening gathering and conversation.
Sunday, March 27, 2016
May 29, 2015 by bluegullinn
We're Over the Moon About All the Fun in June!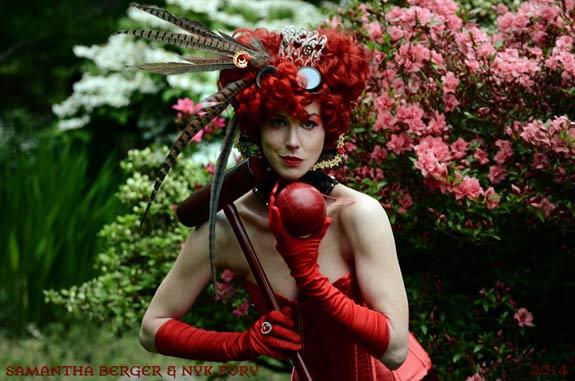 It turns up the heat with the hottest Steampunk Hootenanny ever, featuring bands from across the country, burlesque, and a diverse array of entertainments. All-ages attractions include: Tactical Croquet, Airship Apprentice (our own collectible card game), Hugo award-winning Phil & Kaja Foglio's Girl Genius, Rise of Aester's annual assembly, the stupendous Bazaar of the Bizarre, bands, magic, and mayhem galore!www.brass-screw.org
Race to Alaska 2015
The first-ever Race to Alaska (R2AK) starts with a celebratory send-off party hosted by the Northwest Maritime Center (NWMC) on June 3. The "Pre-Race Ruckus" will be held in the Pope Marine Park (adjacent to the NWMC) from 5-7 pm and will feature live music, a beer garden and food carts. There will be an opportunity to see the boats and meet the characters who have entered into this inaugural event.
Over 60 teams will depart Port Townsend in the wee hours on June 4 (rumor has it sometime between 4 and 5 am!), headed for the Stage 1 finish in Victoria, BC. Stage 2 will leave Victoria on June 7. The race ends 750 miles later in Ketchikan, Alaska. The winner receives $10,000 and the second place finisher gets a set of steak knives. Join the fun at the "Pre-Race Ruckus" to send them off in style the day before the race start! www.NWMaritime.org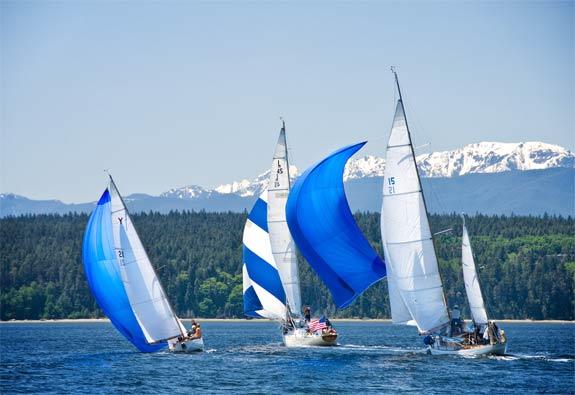 The 32nd Annual Classic Mariners' Regatta begins the next day on June 5, at the Northwest Maritime Center (NWMC), concluding on Sunday, June 7. This event draws classic wooden boats from across the state to race, rub elbows and celebrate the beauty of wooden boats. The races are open to classic sailboats of all sizes, kayaks, dinghies and row boats.
The weekend kicks off with a welcoming gathering on Friday night. Saturday brings two races, the first starting at noon and the second one commencing immediately after. A loosely-organized race for wooden dinghies, shells and kayaks will be held Sunday at 9 am, if there are enough participants. The final sailboat race will start at noon and the weekend concludes with an awards ceremony at 5 pm.www.NWMaritime.org
Visit our new Port Townsend Visitor Information Center recently relocated to 2409 Jefferson Street (the former home of Northwind Art Center), just off Sims Way. This will provide easy access for you as you're coming into Port Townsend and you'll love the fresh new look. The volunteers are looking forward to welcoming you not only to Port Townsend, but to the new Visitor Center as well.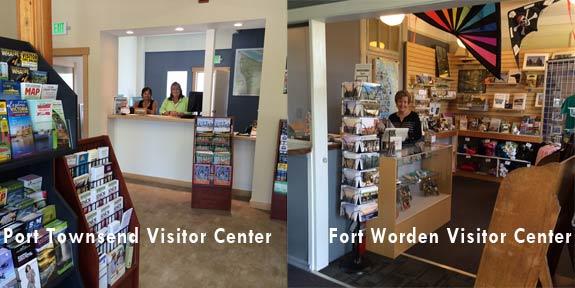 Also on the move, the Fort Worden Visitor Center relocated from the Guardhouse, near the entrance to the park, to the Park Administration Office across from the Parade Grounds. The Visitor Center and gift shop is managed by the Friends of Fort Worden, with all proceeds from sales going toward support of the park. Stop by, learn about Fort Worden, and pick up a few gifts for friends and family. www.fwfriends.org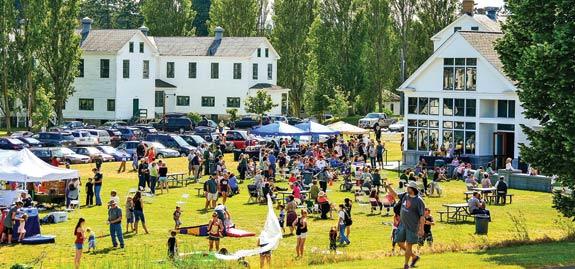 The 2nd Annual Fort Worden Open House is a free, family-friendly event that celebrates the diversity of Fort Worden and the Lifelong Learning Center. Rediscover the natural beauty and rich history of this 434-acre state park on Saturday, June 13.
From 2-6 pm, bring the whole family and learn about the innovative programming and extraordinary events presented by Fort Worden's 12 campus partners. And don't forget your dancing shoes! There will be live music and entertainment at the Fort Worden Commons all afternoon, culminating in an all-ages concert with Locust Street Taxi and special guests performing in the USO Building beginning at 7 pm.
For more information visit Facebook athttps://www.facebook.com/events/638520192916220/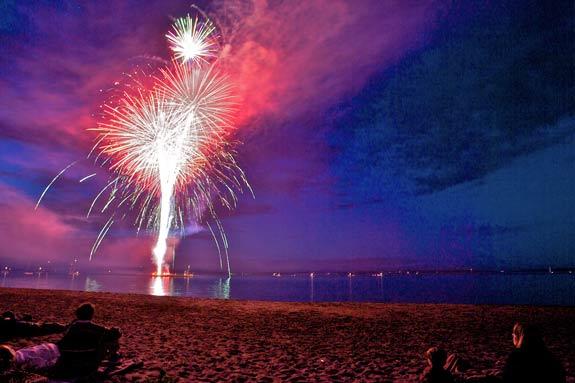 Nothing celebrates America like the 4th of July and after a two-year hiatus, the Jefferson County Chamber of Commerce is excited to announce the return of fireworks to Fort Worden State Park for the 1st Annual "Old School" 4th of July.
In collaboration with Centrum's Festival of American Fiddle Tunes and Thunderbull Productions, locals and visitors will enjoy a memorable weekend of excellent music, delicious food and "Old School" traditions. Saturday, July 4th, carries the weekend's momentum to a climax with a pie-eating contest, field games, piñatas, free root beer floats, a car show, live music and much, much more, all culminating in an epic display of fireworks. www.jeffcountychamber.org and  www.centrum.org.
Pack the car, load up the kids and dog, and come to Port Townsend for summer fun!
February 20, 2015 by bluegullinn
Are you looking for a romantic getaway? Look no further than the Blue Gull Inn Bed & Breakfast.
We are located in Port Townsend, Washington Victorian Seaport and Arts Community. Enjoy a romantic dining experience in one our many very good restaurants. Our guests at the Blue Gull Inn rant and rave about how good the food is at the Fountain Cafe. Our favorite place to dine is Lanzas. Enjoy your Valentines weekend by taking a walk on the beach or visiting Fort Worden State Park. After your walk come back to the B&B for a soak in one of our whirlpool tub rooms. www.bluegullinn.com
The Blue Gull Inn B&B is located in Historic Uptown, just 5 blocks up the hill from downtown. Great place to dine in both Uptown and Downtown. We are happy to provide you a map of the many restaurants. Do not miss Fort Worden State Park. If you have seen the movie Officer and a Gentleman. You can walk the bunkers that Richard Geer walked.
Point Hudson is an old Coast Guard Station, located on the water and the Northeast corner of town. It has an RV park and Marina. Bring your boat and stay right in downtown.
Northwest Maritime Center has a working boat shop and maritime training center, also located downtown.
In addition to many great places to dine. We have several brew pubs and 2 wonderful Wine shops, one uptown and the other downtown.
If you need more information feel free to visit our web site www.bluegullinn.com or www.ptguide.com
For other things to do, I suggest you walk on the Washington State Ferry located right downtown. Take a ride to Fort Casey State Park, on Whidbey Island. Pack a picnic lunch and enjoy your ferry ride across the entrance to Puget Sound.
May 28, 2014 by bluegullinn
When travelling to Port Townsend it is easy to be overwhelmed by restaurant choices. For Japanese food my pick is Ichikawa. My personal favorites are the daily Bento box or Chef's choice combos (always good and allows me to try something new). There are options for the no-raw-fish eaters as well, their tempura udon is very good. You don't have to take my word for it, check out the reviews on Yelp or Tripadvisor. They are located downtown, across from the Port Townsend Ferry Dock. This is a smaller establishment and can get very busy on the weekends, I recommend making a reservation. If you are with a group of 8 or more, reserving the Tatami room is fun and a little more private.
May 21, 2014 by bluegullinn
We welcome not only an
extended weekend but the unofficial start to summer. The weather has been wonderful lately and will hopefully hold out through Monday. Regardless of what Mother Nature decides to throw our way us Washingtonians won't let a little rain spoil our good time. There is the Shrimp Fest going on in Brinnon, WA the 24th & 25th. If you are looking for live music stop by the Quimper Grange to hear Portland's New Iberians play Zydeco, Blues, Soul, & New Orleans Rock'n'Roll; you can even join in a dance lesson. Getting hungry? The 1st Annual Port Townsend Artisan Food Festival sounds delicious and interesting!
February 2, 2013 by bluegullinn
Does is seem like everyone is planning a tropical or exotic getaway? Wouldn't you like to have a little getaway of your own? You can… and without blowing your whole budget. There is beauty right here in your own backyard. There are miles of beaches to walk and regain your mental balance and sense of calm (that frankly, I think we could all use right about now). If you need to warm up try something spicy or exotic at Khu Larb Thai or Hanazono Asian Noodle. If you enjoy tea, Pippa's is a friendly place to visit. They have so many different blends you are almost certain to find one you like…make mine the Jasmine Green!
January 24, 2013 by bluegullinn
Looking for a Valentine's Day gift? Surprise that special someone with a weekend getaway to Port Townsend. Jewelry is nice but why not give them an experience they will remember forever? I would suggest a nice bottle of wine from The Wine Seller, chocolates from Elevated Ice Cream and some beautiful fresh flowers from Petals in Uptown Port Townsend. Treat them to a romantic dinner at one of the delicious local restaurants and there is no going wrong.
November 14, 2012 by bluegullinn
What a better excuse to come to Port Townsend than to do a little holiday shopping? With so many wonderful and unique shops in our downtown area you are sure to find that perfect gift for anyone. Forget the mall….browse through local stores with a beautiful waterfront view. Some fantastic places to stop in are Wandering Angus, The Green Eyeshade, Henery Garden Center, Maestrale, Forest Gems Gallery and Tickled Pink. After a day of shopping be sure to check out The Undertown for a hot cup of coffee or a glass of wine.
August 21, 2012 by bluegullinn
With a little under two weeks until Labor Day weekend it is a great time to get over to Port Townsend to enjoy the last of the summer weather. The dahlias are blooming and just strolling through the Uptown neighborhood can offer some lovely views of water, gardens and Victorian homes. The weather this time of year is perfect for a weekend getaway… so why not plan one?