July 25, 2019 by bluegullinn
What's Happening in Port Townsend
July 25, 2019 by bluegullinn
What's Happening in Port Townsend & East Jefferson County!  July 25, 2019
Finnriver Live Music on the Land
Join us at the Finnriver Cider Garden in Chimacum for local food, craft cider, live music & more.
Open Daily. All ages welcome.
Friday – Music on the Porch with Salish Strings
Saturday – Bread and Gravy
Sunday – Norman Baker
Thanks for helping us celebrate the 'culture' in agriculture! Learn more here!
Puget Sound Express 4-hour Whale Watching Tour
Want an amazing whale watching experience, but don't have all day to spend on the water? Our 4 Hour Port Townsend Whale Watching Tour is the perfect trip for visitors and travelers with a busy schedule. Visit the Olympic National Park. See Victorian Port Townsend. Explore Sequim's lavender fields – AND see whales!
Visit Puget Sound Express today!
PTguide – Port Townsend & East Jefferson County, WA | Email | Website
July 4, 2019 by bluegullinn
July 1, 2019 by bluegullinn

Start Your Summer with a Bang in Port Townsend!
Get set for fun on the 4th and some of the hottest music in the Pacific NW.
Summer is in full swing and promises to heat up even more with blazing hot events and activities throughout the month. We have performances that will get your blood pumping, your heart thumping and your feet stomping. Bring your family, your best friend, your sweetheart or come solo, but whatever you do, be sure to check out all the fun. Enjoy Port Townsend this summer!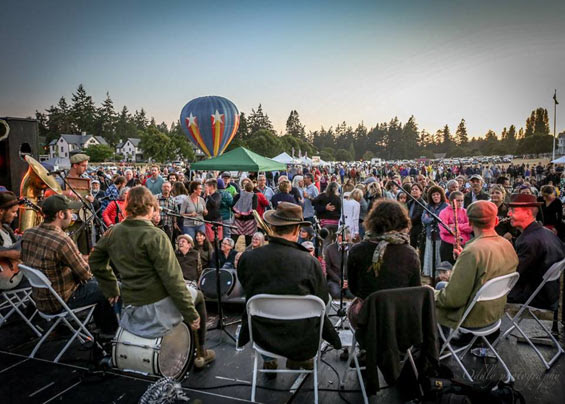 Get set for fun on the 4th and some of the hottest music in the Pacific NW.
Summer is in full swing and promises to heat up even more with blazing hot events and activities throughout the month. We have performances that will get your blood pumping, your heart thumping and your feet stomping. Bring your family, your best friend, your sweetheart or come solo, but whatever you do, be sure to check out all the fun. Enjoy Port Townsend this summer!
Celebrate America's birthday at Fort Worden and get ready for the biggest and best party of the year at the "Old School" 4th of July. Don't miss an epic lineup of live entertainment, food vendors, field games, free root beer floats, a tug-of-war, watermelon eating contest, and a community portrait, all culminating in a glorious laser light show at 10:20 pm. The festivities begin at 4 pm on the parade grounds at Fort Worden. Headline sponsors for the event are Thunderbull Productions, the City of Port Townsend, the Friends of Fort Worden and Seattle Theater Group, along with many local businesses.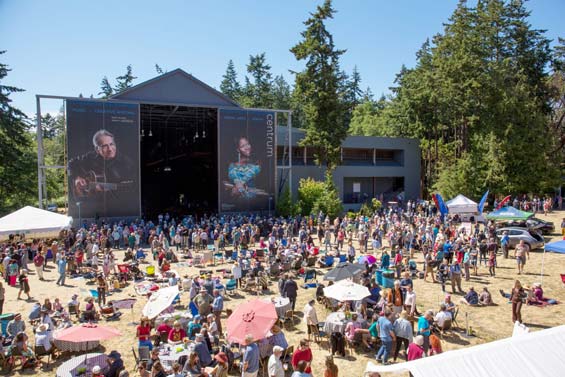 An "Old School" 4th overlaps with Centrum's Festival of Fiddle Tunes, a week-long immersion workshop presenting fiddle styles from specific regions of the world. Two performances will honor this American holiday: Fiddles on the Fourth is at 1:30 pm in the McCurdy Pavilion and at 7:30 pm, enjoy Fireworks and Fiddles featuring artists from Iowa, Georgia, Western Canada, New England and Louisiana Cajuns, also at the McCurdy Pavilion. For tickets, go to www.centrum.org.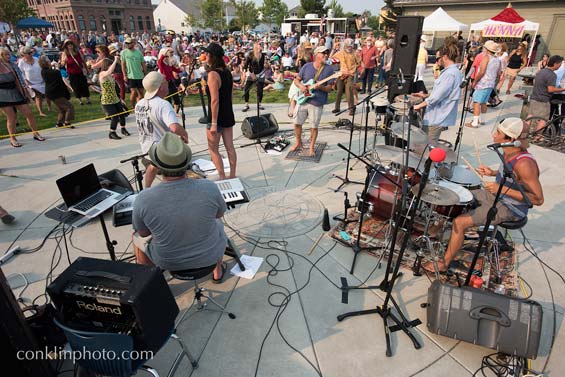 photo by David Conklin
Rock the dock this summer at the free, all-ages, outdoor Concerts on the Dock, in downtown Port Townsend on the waterfront across from City Hall. The series, sponsored by the Port Townsend Main Street Program, runs every Thursday, July 11 through August 29, at the Pope Marine Park/City Dock Civic Plaza. Come to dance, see friends, enjoy a drink and have a bite. Local vendors and a beer/wine/cider garden will contribute to the festive atmosphere. Seating opens at 4:30 pm, show starts at 5 pm and ends at 7:30 pm. Bring chairs or blankets and settle in for some great tunes. For more into and details about the bands that are playing, go to www.ptmainstreet.org/concerts-on-the-dock/.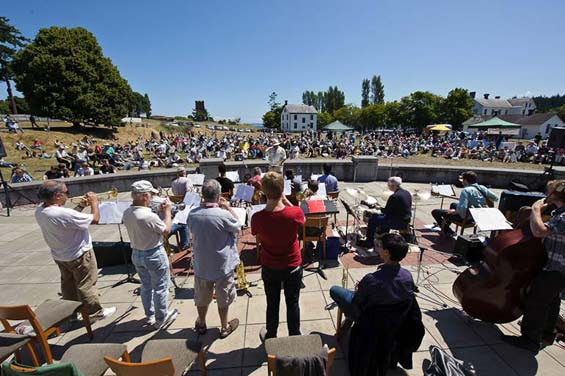 Centrum offers the Free Fridays at the Fort concert series July 5 through August 4, showcasing fiddle tunes, jazz and blues on the lawn of the Commons at Fort Worden and is free to the public. Performances begin at noon and go until 1 pm. Bring a lawn chair or blanket, a picnic lunch or grab something to go at Reveille in the Commons. In the rare event of inclement weather, alternative plans will be posted on www.centrum.org.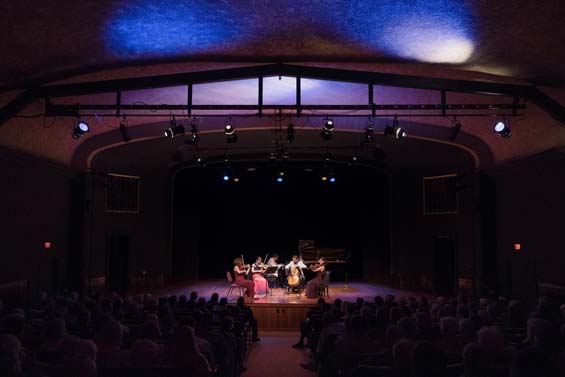 The wildly popular Olympic Music Festival presents its 36th annual summer concert series, offering 12 world-class performances of chamber music and other styles over six weekends, July 13 and 14, and August 10 through September 8. Concerts are presented in partnership with Centrum at Fort Worden.
Opening weekend celebrates the festival season with Art of the Violin I. Superstar Sarah Change joins pianist and OMF Artistic Director Julio Elizalde for an exclusive recital to kick off the summer season. Together, the duo explores treasures of the violin and piano repertoire including Beethoven's powerful "Moonlight" and "Appassionata sonatas," Bazzini's demonic Round of the Goblins; and Ravel's dazzling gypsy fantasy, Tzigane. Buy tickets early as space if limited and expected to sell out: www.olympicmusicfestival.org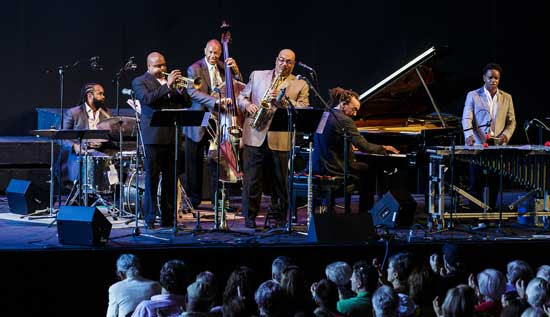 Jazz Port Townsend is the perfect opportunity to experience excellent musicians, soak up a weekend of jazz in a seaside paradise and participate in a wide array of mainstage and nightclub performances, July 25-27. Artistic Director John Clayton inspires a true sense of family during this special week of events that showcases internationally-known performers in new and unexpected pairings. Jazz Port Townsend has emerged as one of the leading jazz festivals in the nation.
Festival mainstage performances take place in Fort Worden State Park's 1200-seat McCurdy Pavilion. Jazz Port Townsend also features the popular Jazz in the Clubs series, in venues throughout Fort Worden. Come alive with the sounds of jazz. Jazz in the Clubs: Thursday, July 25, 8-11 pm, Friday and Saturday, July 26 and 27, 10 pm – 12:30 am. Mainstage Concerts: Friday, July 26, 7:30 pm, Saturday, July 27, 1:30 pm and 7:30 pm. For more information, go to www.centrum.org/jazz-port-townsend-performances/.
---
A few upcoming events later this summer—Save the Dates!
Port Townsend Acoustic Blues Festival, July 28-August 4. www.centrum.org
Olympic Music Festival at Fort Worden, August 10-September 8, www.olympicmusicfestival.org
Key City Public Theatre's Shakespeare in the Park, The Merry Wives of Windsor, August 1-25, www.keycitypublictheare.org
Jefferson County Fair, August 9-11, www.jeffcofairgrounds.com
Uptown Street Fair, August 17, www.ptmainstreet.org
Concerts on the Dock, every Thursday in August, www.ptmainstreet.org
Wooden Boat Festival, September 6-8, www.woodenboat.org
Pack up your dancin' shoes, favorite shorts, best hat, music-loving friends and family, and head to Port Townsend for some epic fun and sizzling hot summer events this month. We can't wait to see you!
Start Your Summer with a Bang in Port Townsend!
June 28, 2019 by bluegullinn
Puffin Cruise & Summer Band!
What's Happening in Port Townsend & East Jefferson County!  June 27, 2019
Finnriver Live Music on the Land
Join us at the Finnriver Cider Garden in Chimacum for local food, craft cider, live music & more.
Open Daily. All ages welcome.
Friday – Stephanie Doenges of Bread & Gravy
Saturday – Joy in Mudville – Bluegrass/Folk
Sunday – Kristen Marlo – Singer/Songwriter
Thanks for helping us celebrate the 'culture' in agriculture! Learn more here!
February 27, 2019 by bluegullinn
A Newsletter from Washington State Parks | February 2019
Discover Pass gives you year-round access to millions of acres
When you purchase your Discover Pass, you aren't just buying a parking pass. You are directly supporting the preservation of public lands. Not only does the Discover Pass give you access to state parks, it also offers you access to millions of acres of state recreation lands in Washington, including:
Purchase your Discover Pass today!
Welcome spring with Holi
at Lake Sammamish State Park
The Washington State Parks Folk & Traditional Arts Program invites the public to celebrate spring at the 2019 Holi Celebration at Lake Sammamish State Park in Issaquah.

The annual celebration runs from 11 a.m. to 3 p.m. Saturday, March 23. (Driving directions.) The free event, which takes place at the park's kitchen shelter, will include a Bollywood DJ, traditional music & dance and family-friendly activities. Nontoxic paint powder and vegetarian Indian food will be available for purchase.

Holi, an ancient Hindu spring festival, is also known as the Festival of Colors. This joyful and vibrant holiday brings participants of all ages and walks of life together to celebrate, socialize and say goodbye to winter. Learn more about Holi at the event!

The Holi Celebration is part of a broader series of events that celebrate Washington's diverse heritage presented by the Folk & Traditional Arts Program. Learn more.

A Discover Pass is required for vehicle parking.
Beat the winter chill
with a State Parks scarf
Feeling chilly with the cold weather and snow Washington has been receiving this year? Then get your hands on the new Washington State Parks scarf!

This beautiful, high-quality woven scarf is two sided and lets you proudly support Washington State Parks Winter Recreation Program.

The scarf is 61 inches long by 6.5 inches tall. It sells for $20 (includes tax) at Washington State Parks headquarters building, 1111 Israel Road SW, Tumwater, 98501. Or $20 plus $7 to have it shipped to you. Call (360) 902-8844.

The scarf is 80 percent acrylic and 20 percent polyester, and is machine washer/dryer safe.  Proceeds support the Winter Recreation Program. Limited supply, so get your scarf today!

Find out how you can get your very own scarf here.

Photo: Blake the snowshoe hare is one of the mascots for State Parks' Winter Recreation Program.
Avoid the rush!
Book a cabin or campsite now!
Planning your spring or summer vacation? State parks' accommodations fill up fast, but you can make reservations up to nine months in advance for most parks.

If you waited too long to snag those summer weekend dates last year, consider a mid-week reservation. You might have better luck if you can be flexible on your dates. And there's always the off season. Many cabins and yurts are cheaper then, too!

Looking for suggestions? We currently have openings for cabins and yurts at Twin Harbors and Ike Kinswa state parks. Book your stay today!

Photo: Yurt at Twin Harbors state park
February 5, 2019 by bluegullinn
Red Wine, Cider & Chocolates
Olympic Peninsula Red Wine, Cider and Chocolate Tour – Feb 9-10 & 16-18, 2019
Enjoy our annual Olympic Peninsula Red Wine, Cider and Chocolate Tour! Let your temptations run wild with our unmatched extraordinary blends of Washington grapes, apples and pears – paired with decadent chocolate & local culinary fare. You'll fall head over heels with Olympic Peninsula Wineries & Cideries, during the Olympic Peninsula Red Wine, Cider and Chocolate Tour.  This tour takes place over two scrumptious weekends to allow you to savor each venue's offerings. Our new release varietals and culinary offerings will satisfy every palate and have you falling in love with every sip.
Tickets for this self guided tour are available on-line for $40 or $45 at the wineries or cideries and are non-refundable.  These tickets include a souvenir wine glass, wine and cider tastings at each location as well as sensational chocolate pairings.  Visitors who get their ticket stamped at all nine tasting rooms will be entered into a drawing for a love inspired gift basket.  Purchase tickets here.
All venues will be open from 11:00 a.m. to 5:00 p.m. each day for the tour and some venues may have extended hours for non-tour visits.  Tasting fees for those not participating in the ticketed event will be $10 per person at each winery or cidery.
The Olympic Peninsula Wineries encourage responsible wine touring and recommend that you have a designated driver in your group.  Designated drivers do not need to purchase a ticket and are always welcome to taste the food.  While children are allowed in the tasting rooms, you must be 21 or over to purchase tickets and/or participate in wine and cider tasting.
Eaglemount Winery & Cidery: Join Eaglemount with chocolate serenade, delicious caramel sauce paired with our lineup of ciders, wines and meads with the new release of Brambleberry Burn Cider and wine release of Tempranillo you'll fall in love with Eaglemount again and again.
Harbinger Winery: Attention Wine Lovers and Chocoholics!
The Red Wine, Cider and Chocolate Tour is your ticket to unabashedly celebrate several great things at the same time; the survival of another cold, dark January, the anticipation of blooming romance, and the celebration of red wine, hard cider and gourmet chocolate.  The Harbinger crew has been surfing through an ocean of wine and chocolate pairings and gleaning tattered and wine- stained notes to create the ultimate palatial experience for you on the subject.
Also in the works is the highly provocative VIP Reserve tasting for those daring enough to step behind the velvet curtains of the Kitty Kat Lounge.  Sample Harbinger Winery's gold medal and reserve wines with handmade aphrodisiac chocolates and prepare to have your preconceived beliefs warped with mind-bending creations.
We hope to see you at Harbinger Winery for this much anticipated, once-a-year chocolate extravaganza!
FairWinds Winery: visitors can have fun dipping tasty tidbits from salty pretzels to sweet strawberries in the chocolate fountain and discover a favorite pairing with our current wine releases, including the popular Port O' Call.
Finnriver Farm & Cidery:  At Finnriver, we will seek to delight the senses with tantalizing tastes of our decadent brandywines and our farm crafted ciders, including our orchard series Golden Russet Cider, botanical Solstice Saffron Cider, our beloved Raspberry Brandywine and newly released Chai Brandywine.  Also enjoy samples of chocolate delights or purchase a hot meal from the Finnriver Kitchen or one of our wonderful weekend food vendors: Dented Buoy woodfired pizza or Hama Hama oysters and chowder! We will also have live music Saturday evening and Sunday afternoon.
Marrowstone Vineyards: Marrowstone Vineyards is excited to share their red wine and chocolate offerings to help shake off those winter blues!  For the wine, cider and chocolate experience we will be pouring our red wines with a taste of sweet as well as savory.  Silverwater Café will be providing us with delectable turtle fudge, and some decadently rich chocolate mousse truffles.  For our savory option they are preparing cacao spice rubbed lamb skewers.  These tasty bites of sweet and savory, paired with our red wines is something you will absolutely not want to miss out on.
Wind Rose Cellars: Wind Rose Cellars plans an exciting and educational experience when you visit our tasting room.
We will pour some of our award-winning reds paired with local chocolatier Yvonne Yokota. Yvonne will also be on site with chocolate truffles along with her delicious chocolate bark.
We will pour the following wines:  2013 Primitivo, 2014 Field Blend Cabernet Sauvignon, 2012 Nebbiolo, 2014 Bravo Rosso, 2015 Hunters Red and our ever so popular 2017 Muscato. We have some special sales going on as well. We also plan to have our VIP bar open pouring some of our rare and super limited produced wines.
We also have live music planned:
February 8th "Dawn Martin" local keyboardist who really packs the house. 7-9pm
February 9th Forest Beutel" regional one-man band that plays blues. 7-9 pm
February 14th Blue Skyz Jazz local jazz Trio performing from 6-8pm
February 15th "Tony Flaggs Band" local trio that plays a mixture of rock with a little bluegrass. 7-9pm
February 16th "Sarah Shea and Chez Jazz" local jazz vocalist that will amaze you with her vocals. 7-9pm
Join us if you can. We'd love to show you our spin on Italian varietals grown in Washington State.
Camaraderie Cellars: we like to think that red wine and dark chocolate applied internally is just what the doctor orders to sustain your good health. Sips of varietals such as Cabernet Sauvignon and Tempranillo, as well as Bordeaux-styled blends will certainly fill the bill. Add to that, tasty bittersweet chocolate heart cookies and dark chocolate bark bites. And to highlight savory chocolate, the Cocoa Spiced pulled pork will be back by popular demand. Enjoy tastings in our new Ridge Room. Toasting good health for all! Great discounts will help add to your cellar.
Olympic Cellars:  Olympic Cellars welcomes you.  It is our 40th Anniversary and in celebration, we will release our first ever Pinot Noir with a special commemorative label.
We are really excited to have 'We Do Fudge' of Sequim back on-site pairing the perfect fudge flavors with two new limited-release wines.
Petite Sirah, 2015 -This is our first vintage of this delicious full-bodied, well-balanced wine which tastes of juicy plum and raspberry.
Petit Verdot, 2015 – The mouth feel is plush, and the taste is distinctive for the espresso, bitter chocolate overtones to its plump core of black currant and blueberry flavors.
Last year's favorite pairing of White Port and carrot cake fudge will also be back.  Yumm!  As always, we will have a variety of red and white wines available to sample.
You will also enjoy sampling some fun nibbles in the cellar and taking advantage of special discounts to stock up your cellar.
Port Townsend Vineyards:  Come visit us on the Red Wine, Cider & Chocolate tour and taste a sneak peak of our highly-anticipated Discovery Rosé! Attendees will receive the first tastes of this year's vintage. We'll also be pouring our 2017 Merlot and 2016 Pinot Noir, delightfully paired with truffles from Elevated Chocolate and other snacks. Come walk through the tank hall to view operations and settle in inside our heated Discovery Room Pavilion.
February 3, 2018 by bluegullinn
Red Wine and Chocolates
Love is in the air with Valentine's Day just a few short weeks away. Escape with your sweetheart to Port Townsend for a romantic weekend getaway. We have a wide array of fantastic accommodations to suit your style. Click here for choices and to book your reservation. Many of our restaurants are offering Valentine's specials too. For more details, contact our Visitor Information Center at info@jeffcountychamber.org or 360.385.2722.
Start your romantic celebration with Port Townsend as your home base and fall head over heels with the Olympic Peninsula Wineries and Cideries during their luscious Red Wine, Cider and Chocolate event over two scrumptious weekends: February 10-11 and 17-19, from 11 am to 5 pm. Let your quest for guilty pleasures run wild with the unmatched, extraordinary blends of Washington grapes, apples and pears—paired with decadent chocolates and local culinary fare. Enjoy a romantic drive through the scenic Olympic Peninsula!
The ticket and glass package entitles you to a special commemorative wine glass, complimentary wine/cider tasting and chocolate samples at the nine participating wineries and cideries. Book here for online tickets. www.olympicpeninsulawineries.org/redwinechocolate.php
What better place to celebrate love than Port Townsend? Over the years, our city has received many accolades from the media naming us the "best of…." Most recently, in 2017, we were named by Architectural Digest as "One of the 15 Most Beautiful Main Streets Across America" and MSN named Port Townsend the "Prettiest Town in Washington."
With that in mind, we welcome you to come downtown and show your love for our fair city by penning a Love Letter to Port Townsend. You can write a poem, a love letter, or simply list the three things you love most about Port Townsend. Select restaurants and coffee shops will have entry forms. Please enter by February 14 to win prizes.
Concierges are ready to assist you!
On Saturdays, Port Townsend have friendly "Celebrity Concierges" roaming Water Street, from 1-3 pm, offering suggestions for things to do and see, giving directions and answering questions. They'll be providing coupon books and maps to help you get around downtown. Be sure to look for them!
From now through June, the "Believe It or Knot!" game will pique your interest in unbelievable facts (or fiction) about our salty seaport. From the 1890s Victorian seaport to modern day, the past and present of Port Townsend will have you questioning whether you believe it or "knot."
Hidden throughout downtown are incredible facts (true or false!) about our city. Find 10 of them at participating businesses. Try your hand to see how well you know your facts about Port Townsend by completing the game to be entered in prize drawings–$100 in monthly gift certificates and a chance to win a grand prize of $500 in gift certificates to spend in downtown businesses. And be sure to tag any of your photos on Instagram or Facebook with #ILovePortTownsend!
Key City Playhouse
Key City Public Theatre will kick off its 60th anniversary season with the Northwest Premiere of the critically-acclaimed, one-woman play, "Spirit Awakening," written, directed and performed by Akuyoe Graham, at the KCPT Playhouse February 9, 10, 16, and 17 at 7 pm with Saturday matinees at 2 pm.
Capturing how Ms. Graham evolved as a human being and performer, an immigrants and a woman, this mythic story is effused with power and strength, sensitivity and emotion as the supremely skilled Graham creates 12 distinct personalities that segue into one another with seamless brilliance as her life takes her from Africa to London to Spanish Harlem and eventually Hollywood. Each step provokes new levels of personal assessment, raising complex questions of split loyalties and the difficulties of rediscovering one's roots, unimpeded by dogma. One film/theatre critic described her as a "mystic in the theatre, a sage on the screen."
To purchase tickets, go to www.keycitypublictheatre.org or call 360.385.5278.
The sailboat racing season opens with the 27th Annual Port Townsend Shipwrights' Regatta on February 24. Boats of all construction are welcome. As always, the race is open to folks who would like to try sailboat racing, but do not have a boat. Non-boat owners are encouraged to show up at the Skippers' Meeting to be connected with skippers looking for crew.
The regatta is presented by the Northwest Maritime Center and the Port Townsend Sailing Association. www.nwmaritime.org/events/shipwrights-regatta/
Save the date for upcoming events in March and April:
March 2-11
22nd  Annual Port Townsend PlayFest
Key City Public Theatre, Port Townsend
This is a theater lover's feast offering 10 plays over two weekends, including six one-act plays by local writers and three full-length plays by regional and national playwrights.
March 23-25
Victorian Heritage Festival
Port Townsend
The theme is Victorian Dreams—from roots as traditional as tea and shortbread to the high-flying speculation of Jules Verne, there will be celebrations about all that was best in the hearts and minds of this time in history. Mark your calendar for a grand time for the entire family!
We look forward to welcoming you to Port Townsend!
June 23, 2016 by bluegullinn
Fireworks on the Beach
"Old School" 4th of July
Celebrating Interdependance, JeffCo Style
Monday, July 4, 2016
Fireworks on the Beach. The "Old School" 4th of July is back for a 2nd round of homespun antics!
The 2016 event features an amazing lineup of live music, food vendors, beer garden, car show, hot air balloon, field games, free rootbeer floats, mini golf and tug of war, culminating in an epic display of fireworks.
Schedule of Events
4:00 PM – Event begins
4:15 PM – National Guard Dixieland Jazz Band
5:15 PM – National Anthem + 1000 Free Root Beer Floats served
5:30 PM – Stars of Tomorrow Winners
6:00 PM – Kevin Mason & the PT All-Stars
7:00 PM – Tug of War + The Unexpected Brass Band
7:20 PM – Kevin Mason & the PT All-Stars, 2nd Set
8:00 PM – Pie Eating Contest
8:20 – 50/50 Raffle + Awards
8:25 PM – Community Photo – David Conklin
8:30 PM – Canon & the Lion of Judah
10:10 PM – FIREWORKS
We are still seeking community support!
If you can, donate:
The Chamber is seeking individual contributions to help pay for live music, port-a-potties, event coordination and other expenses. To help ensure the success and annual return of this event, consider making a donation today: www.jeffcountychamber.org/4th or drop by any Kitsap Bank with your donation.  Custom T-shirts will also be available to buy at the event, which will help cover the costs of production.
Anything from $10 and up helps make this free community celebration possible!
Parking:
Event parking will be available on the Parade Grounds for a suggested donation of $5 per vehicle.  Discover passes will not be required to park in the Parade Grounds but will be required for all parking areas managed by State Parks. 

Sign up to volunteer:
Click on the links below to learn more about each volunteer position and to sign up. Contact info@thunderbullproductions.com with any questions.
Volunteer Opportunities:
– Saturday Set Up Crew: 1pm – 5pm – Work Party Day!
– Set Up Crew: 11am – 3pm
– First Parking Crew: 3pm – 6pm
– Middle Parking Crew: 6pm – 9pm
– Late Parking Crew: 9pm – 11pm
– Car Show Assistant: 4-7pm
– Breakdown Crew: 10pm – till the work is done (~1hr)
– Morning After Crew: Tuesday 9am – Noon
June 13, 2016 by bluegullinn
Coast Artillery Museum – Port Townsend
The Puget Sound Coast Artillery Museum at Fort Worden.
On January 1, 2016 CAM will once again be participating in the State Parks First Day Hike Program. Coast Artillery Museum – Port Townsend. We'll be starting near Battery Randol/Memory's Vault at the top of Artillery Hill. This year we'll be doing it a little differently. We'll give a brief historical talk, then provide people with a pamphlet that provides a self-guided walking tour. That way people can take as long as they want, and cover as much of the area as they'd like. We'll also provide at least one guided tour at 1 PM, plus additional talks and self-guided tour information as people show up until 3PM. Bring a flashlight if possible, cell phone flashlights will do, and people can share a light if necessary.
Coast Artillery Museum – Port Townsend. If we have enough volunteers current plans are to also have the Harbor Entrance Control Post open for tours, and we may start everything there. If so there will be signs directing people to the HECP from Memory's Vault, it's about 100 yards away.
The Coast Artillery Museum is open every day.
The museum is located in Building 201 (one of the original 1904 Barracks) next to the Park Office at Fort Worden. It is open 365 days/year 11 a.m.–4 p.m. Memorial Day weekend through Labor Day weekend we have extended hours on Fridays and Saturdays: 10 a.m.–5 p.m. Admission: Effective April 1, 2013 rates are $4 adults, $2 ages 6-12, and a $10 family value package covering 2 generations. Admission is free for children ages 5 and younger and active duty service members. Effective August 15, 2014 partners and dependents of active duty military service members pay half price. Group rates are available for students, scouts and similar organizations by prior arrangement. Please Contact the Museum.
Memorial Day weekend through Labor Day the Harbor Entrance Control Post will be open for tours on Saturdays from 11 AM to 3 PM, and there is a free, guided Walking Tour of Artillery Hill beginning at 1 PM on Saturdays, starting in the grassy field near Battery Randol. The walking tour covers 1-1.5 miles and can last up to 2 hours if people are interested, but you're welcome to join up or leave at any time. A flashlight is advised, but not required. Donations are always appreciated, we have a box at the HECP when it's open, and always at the Museum. Occasional extra days are scheduled, please see our Upcoming Events page for details.
The tours are also available for groups at any time by special arrangement, please call the Museum at (360) 385-0373 to discuss it. For those unable to walk to the top of the hill, you can check in at the Park office and present a Washington State disabled parking pass or equivalent to make arrangements to drive to the top of the hill. You will still need to be able to navigate uneven ground and some stairs to make the tour itself.
For information about other events at Fort Worden, and for reservation information please see FortWorden.org.
If you'd like to become a member of the Puget Sound Coast Artillery Museum you may download this Membership Application.
Puget Sound Coast Artillery Museum
Building 201
Fort Worden
200 Battery Way
Port Townsend, WA 98368
(360) 385-0373