May 31, 2017 by bluegullinn
Old School 4th of July in Port Townsend
Old School 4th of July in Port Townsend
Fireworks off the Beach at Fort Worden State Park – 10 pm
Bring the family, enjoy the show!!!
BOOM! BOOM! BOOMSHAKALAKA!!!
Get ready for the biggest and best party of the year!
The "Old School" 4th of July is coming back for a 3rd round of community collaboration and celebration!
4PM – 10PM Fort Worden State Park
200 Battery Way, in Port Townsend, WA
Featuring live entertainment, food vendors, beer garden, hot air balloon, field games,
free root beer floats, miniature golf, tug of war and a glorious display of fireworks!
It takes a community to pull off a party like this and it can't happen without your help
There are tons of ways to get involved
An "Old School 4th of July" is the theme of a big celebration this year at Fort Worden State Park featuring music, games, pie-eating and tug-of-war contests, and a free firework display.
The event is sponsored by the Jefferson County Chamber of Commerce in collaboration with Thunderball Productions and Centrum's Festival of American Fiddle Tunes.
People are encouraged to bring picnic baskets, blankets, games and anything else they want to share.
The Fort Worden Parade Grounds are open for free parking starting at 3:30 p.m. on July 4; all other parking requires a Discover Pass, available at the park for $30 for a year, $10 for a day.
The sign-up for the pie-eating contest, $20, begins at 4 p.m., with apple pies made by artisan baker Meredith Hotchkiss. The first 12 people to sign up are to compete.
At 6:30 p.m., a flock of bird-shaped piñatas are ready to release candy from Elevated Ice Cream Co. and dental hygiene products donated by David Chuljian, DDS. Free root beer floats are to be served to the first 1,000 people in attendance starting at 7 p.m.
There also is still time to sign up for the Old School 4th of July tug-of-war contest with a $1,000 grand prize. Deadline is at 6 p.m., Thursday, July 2 at Pope Marine Park. Additional activities include, but are not limited to, a display of "old school" cars by the Rakers Car Club, boffing with Wildwise Adventure School, henna art by Sacred Skin Henna, a miniature golf course and a PT Village Building Convergence art installation.
Most importantly:  Be there!   Party with us on the parade grounds at Fort Worden Tuesday, July 4th
July 6, 2016 by bluegullinn
Centrum Port Townsend
Nonstop Music & Readings at Centrum in July

Centrum Port Townsend,  is known around the world for its immersive arts and cultural workshops and festivals.  In July, 2016, we will present twenty-four public performances and literary readings (nearly one a day!) at Fort Worden State Park and in venues throughout downtown Port Townsend.
The month of July features in-depth multi-generational workshops in Voice, Fiddle Tunes, Poetry and Creative Writing, and Jazz.  Visitors and residents benefit from access to many free events at the Fort and world-class performances at concert venues on the Fort Worden campus.
This year also marks the 40th Anniversary of the Festival of American Fiddle Tunes and the 25th Anniversary of the McCurdy Pavilion, a WWI balloon hangar that Centrum converted into a 1,200-seat concert facility in the 1990s.
July Events
Voice Works: A Workshop for Singers (June 28-July 3)
Blood Harmony: Mothers and Fathers and Daughters
Friday, July 1, 7:30pm, Wheeler Theater
Free Fridays at the Fort (outdoor concert)
Friday July 1, Noon, featuring Caleb Klauder and Reeb Willms
Honky Tonk Polka Dot Dance
Saturday, July 2, 7:30pm, USO Building
The Festival of American Fiddle Tunes – the 40th Gathering (July 3-July 10)
Fiddles on the Fourth
Monday, July 4, 1:30pm, McCurdy Pavilion
Fiddles and Fireworks
Monday, July 4, 7pm, McCurdy Pavilion
Free Fridays at the Fort (outdoor concert)
Friday, July 8, Noon, featuring The Seabright Serenaders
Rhythm and Roots Dance
Friday, July 8, 7:30 p.m. – Littlefield Green at McCurdy Pavilion
North and South America
Saturday, July 9, 1:30pm, McCurdy Pavilion
The Port Townsend Writers' Conference  (July 17-July 24) 
Free Fridays at the Fort (outdoor concert)
Friday July 15, Noon, featuring Farko Dosumov & Friends
Writers' Conference Public Readings (FREE)
July 17-23, 7 p.m., Wheeler Theater & Northwind Arts Center
Free Fridays at the Fort (outdoor concert)
Friday July 22, Noon, featuring Aba Kiser
Jazz Port Townsend  (July 24-July 31)
Free Fridays at the Fort (outdoor concert)
Friday July 29, Noon, featuring the Jazz Port Townsend Big Band Directed by Clarence Acox
Friday Night Mainstage Performance
Friday, July 29, 7:30pm, McCurdy Pavilion
Saturday Afternoon Mainstage Performance
Saturday, July 30, 1:30pm, McCurdy Pavilion
Saturday Night Mainstage Performance
Saturday, July 30, 7:30pm, McCurdy Pavilion
Jazz in the Clubs
Thursday, July 28, 8pm-11pm, Downtown Port Townsend Clubs
Friday, July 29, 10pm-12:30am, Downtown Port Townsend Clubs
Saturday, July 30, 10pm-12:30am, Downtown Port Townsend Clubs
June 28, 2016 by bluegullinn
Voice Works – Centrum
VOICE WORKS ARTICLES
Voice Works is this weekend at Fort Worden State Park in Port Townsend, WA.
Be part of all that Centrum has to offer as a great kick off to Summer in the old blimp hanger.
Voice Works – Centrum…..Friday night at the Wheeler is a show that you don't want to miss. "Blood Harmony: Mothers and Fathers and Daughters" is a Voice Works concert featuring family members singing together, showing how people who were raised with the same accent, the same phrasing and intonation, the same genes, are capable of blending two and…
June 25, 2016 by bluegullinn
The Festival of American Fiddle Tunes Workshop
July 3 – July 10, 2016 – the 40th Gathering!
Fort Worden State Park, Port Townsend, Washington

Fiddle Tunes. Spend a week living, learning, and playing music with masters of a wide variety of fiddling styles. The Festival of American Fiddle Tunes provides an opportunity to be in community with the bearers of fiddle traditions.
The goals of the gathering are broader than improving your skills as a musician, and include discovering culture through music, learning music in a cultural context, and building lifelong relationships in the fiddle music community.
Fiddle Tunes started in 1977. It's a week-long, total-immersion workshop with a hallmark of presenting an expansive array of fiddle styles from specific regions of the world. Workshops, classes, band labs, tutorials, dances, concerts, singing, open jams, hat parties – all contribute to participants' experience. Visit the artist faculty page to learn more about the artists and the regional styles represented at the gathering.
You'll learn by the oral tradition – listen, imitate, listen, practice, and listen again. Please don't expect written music on paper. The main teaching focus is on the fiddle, but you'll find day-long instruction on the banjo, guitar, and button accordion, and nearly as many classes on piano, keyboard accordion, singing, clogging, string bass, mandolin, and social dance.
What happens during the week?
You'll arrive at Fort Worden and pick up your registration packet, which has a schedule, your badge, and your meal ticket if you ordered one. You'll have time to settle into your dorm room (or other housing) in time for the first event, which is dinner in the Commons. After dinner we'll have an extensive welcoming session where we'll attempt to introduce everyone who is teaching during the week. This is harder than it sounds, as there are more than 55 people on the teaching staff. Your goals at the welcome session might be to visually identify the faculty, try to choose who you want to spend time with during the week, and enjoy other styles of music that you won't have time to study.
There are two categories of staff–the faculty and the tutors.
FACULTY: During the week each faculty person will teach four morning classes, lead an afternoon "band lab," play for an evening dance, and play in one or two performances.
TUTORS: Beginning-level tutorials are designed to address the needs of beginning and beginning/intermediate players who wish more individualized instruction on their instrument; they will focus on technique. Intermediate level tutorials tend to focus on style. In many cases, the intermediate tutorials will be in the musical styles presented by the faculty. Tutorial sessions are universally small, and are open to all.
You will also find tutors hosting jam sessions with a spirit of graceful encouragement, playing for dances, and generally being a welcoming and helpful presence throughout the week.
–
Band Labs
Each of the faculty will lead a Band Lab after lunch. What's a Band Lab? Basically, you'll be a part of a band learning to play in that faculty member's style. You'll learn what makes that style sound like it does – slurs, slides, bowing, ornaments, tempo, etc. Each band lab will play for a dance late in the week, and play in the band lab concert on Saturday morning.
There is also a Beginners' Band Lab, which is a band lab for beginning-level musicians.
Other Events During the Week
Three nights of in-house concerts showcasing the faculty; a participants' concert; hat party; four public performances (two on the 4th, one on the 8th, and one on the 9th); pleanty of hosted jams.
Beginners at Fiddle Tunes
What might a beginning musician expect at Fiddle Tunes? The gathering welcomes people of all abilities, but it's not uncommon for beginning musicians to feel frustrated at Fiddle Tunes. Here's what to expect.
The mornings are dedicated to workshops led by the faculty. Generally speaking, these players were invited to the festival as representatives of a certain style of music, one that they learned from their family and neighbors. Some are experienced teachers, many are not. In an effort to present them in an organically (as much as possible), they receive no guidelines from Centrum as to what level they should teach – it's their choice. Most teach at an intermediate and above level.
As a result, there is nothing geared specifically for beginners in the morning classes. But we think it's critically important that you attend these sessions. The people on staff are active tradition-bearers, and they share more than their music. You probably won't open your case at these sessions. Rather, you'll be in listening mode, soaking your head in a certain style, listening to stories, understanding the context in which this person's music is played back home.
After lunch, you can join the Beginners Band Lab – all beginning-level players of any instrument are invited. You'll get an idea about how exciting it is to play with other people. The Beginners Band will play for a dance if they'd like, and also in the Band Lab concert on Saturday morning.
In the late afternoon we offer beginning level tutorials (see above). They're small, so you'll have plenty of personal attention.
We hope this information is helpful to you in deciding whether the workshop might be a good fit. Being among so many players can be overwhelming, but it helps to know what to expect. If you have any more questions, feel free to call Peter McCracken at 360-385-3102, x127.
Kids at Fiddle Tunes
Is the gathering appropriate for children?
Absolutely! The Festival is an intergenerational gathering, and we welcome musicians of all ages and abilities to participate fully in Festival activities.
If your child is under 13, and not ready to fully participate, we offer a special Kids Track (see the FAQ page).
If you have any questions about any of this, send Peter McCracken an email: peter@centrum.org , or call 360-385-3102, x127.
June 24, 2016 by bluegullinn
June 23, 2016 by bluegullinn
Fireworks on the Beach
"Old School" 4th of July
Celebrating Interdependance, JeffCo Style
Monday, July 4, 2016
Fireworks on the Beach. The "Old School" 4th of July is back for a 2nd round of homespun antics!
The 2016 event features an amazing lineup of live music, food vendors, beer garden, car show, hot air balloon, field games, free rootbeer floats, mini golf and tug of war, culminating in an epic display of fireworks.
Schedule of Events
4:00 PM – Event begins
4:15 PM – National Guard Dixieland Jazz Band
5:15 PM – National Anthem + 1000 Free Root Beer Floats served
5:30 PM – Stars of Tomorrow Winners
6:00 PM – Kevin Mason & the PT All-Stars
7:00 PM – Tug of War + The Unexpected Brass Band
7:20 PM – Kevin Mason & the PT All-Stars, 2nd Set
8:00 PM – Pie Eating Contest
8:20 – 50/50 Raffle + Awards
8:25 PM – Community Photo – David Conklin
8:30 PM – Canon & the Lion of Judah
10:10 PM – FIREWORKS
We are still seeking community support!
If you can, donate:
The Chamber is seeking individual contributions to help pay for live music, port-a-potties, event coordination and other expenses. To help ensure the success and annual return of this event, consider making a donation today: www.jeffcountychamber.org/4th or drop by any Kitsap Bank with your donation.  Custom T-shirts will also be available to buy at the event, which will help cover the costs of production.
Anything from $10 and up helps make this free community celebration possible!
Parking:
Event parking will be available on the Parade Grounds for a suggested donation of $5 per vehicle.  Discover passes will not be required to park in the Parade Grounds but will be required for all parking areas managed by State Parks. 

Sign up to volunteer:
Click on the links below to learn more about each volunteer position and to sign up. Contact info@thunderbullproductions.com with any questions.
Volunteer Opportunities:
– Saturday Set Up Crew: 1pm – 5pm – Work Party Day!
– Set Up Crew: 11am – 3pm
– First Parking Crew: 3pm – 6pm
– Middle Parking Crew: 6pm – 9pm
– Late Parking Crew: 9pm – 11pm
– Car Show Assistant: 4-7pm
– Breakdown Crew: 10pm – till the work is done (~1hr)
– Morning After Crew: Tuesday 9am – Noon
June 13, 2016 by bluegullinn
Coast Artillery Museum – Port Townsend
The Puget Sound Coast Artillery Museum at Fort Worden.
On January 1, 2016 CAM will once again be participating in the State Parks First Day Hike Program. Coast Artillery Museum – Port Townsend. We'll be starting near Battery Randol/Memory's Vault at the top of Artillery Hill. This year we'll be doing it a little differently. We'll give a brief historical talk, then provide people with a pamphlet that provides a self-guided walking tour. That way people can take as long as they want, and cover as much of the area as they'd like. We'll also provide at least one guided tour at 1 PM, plus additional talks and self-guided tour information as people show up until 3PM. Bring a flashlight if possible, cell phone flashlights will do, and people can share a light if necessary.
Coast Artillery Museum – Port Townsend. If we have enough volunteers current plans are to also have the Harbor Entrance Control Post open for tours, and we may start everything there. If so there will be signs directing people to the HECP from Memory's Vault, it's about 100 yards away.
The Coast Artillery Museum is open every day.
The museum is located in Building 201 (one of the original 1904 Barracks) next to the Park Office at Fort Worden. It is open 365 days/year 11 a.m.–4 p.m. Memorial Day weekend through Labor Day weekend we have extended hours on Fridays and Saturdays: 10 a.m.–5 p.m. Admission: Effective April 1, 2013 rates are $4 adults, $2 ages 6-12, and a $10 family value package covering 2 generations. Admission is free for children ages 5 and younger and active duty service members. Effective August 15, 2014 partners and dependents of active duty military service members pay half price. Group rates are available for students, scouts and similar organizations by prior arrangement. Please Contact the Museum.
Memorial Day weekend through Labor Day the Harbor Entrance Control Post will be open for tours on Saturdays from 11 AM to 3 PM, and there is a free, guided Walking Tour of Artillery Hill beginning at 1 PM on Saturdays, starting in the grassy field near Battery Randol. The walking tour covers 1-1.5 miles and can last up to 2 hours if people are interested, but you're welcome to join up or leave at any time. A flashlight is advised, but not required. Donations are always appreciated, we have a box at the HECP when it's open, and always at the Museum. Occasional extra days are scheduled, please see our Upcoming Events page for details.
The tours are also available for groups at any time by special arrangement, please call the Museum at (360) 385-0373 to discuss it. For those unable to walk to the top of the hill, you can check in at the Park office and present a Washington State disabled parking pass or equivalent to make arrangements to drive to the top of the hill. You will still need to be able to navigate uneven ground and some stairs to make the tour itself.
For information about other events at Fort Worden, and for reservation information please see FortWorden.org.
If you'd like to become a member of the Puget Sound Coast Artillery Museum you may download this Membership Application.
Puget Sound Coast Artillery Museum
Building 201
Fort Worden
200 Battery Way
Port Townsend, WA 98368
(360) 385-0373
June 12, 2016 by bluegullinn
Commanding Officers Quarters
ADMISSION
$6.00 for Adults
$5.00 for Seniors
$1.00 for Children

Seasonally, a passport is available to see the COQ museum, Rothschild House museum and the Jefferson Museum of Art & History for a reduced rate: $6.00 for 2 sites; $12.00 for 3 sites.
Visiting all three provides visitors with a wealth of information about Port Townsend, both historically and geographically.  
Commanding Officer's Quarters – Port Townsend. The Commanding Officer's Quarters is located at Fort Worden State Park & Conference Center, 200 Battery Way, Port Townsend. The house is one of Fort Worden's finest buildings. It was completed in April 1904, and many different families resided there. Located at the head of Officers' Row, the Commanding Officer's Quarters overlooks Admiralty Inlet, with Mt. Baker and the Cascades in the background. Late Victorian and Edwardian furnishings provide a unique glimpse into the life of a senior U. S. Army officer and his family in the first decade of the 20th century.
Fort Worden State Park
Fort Worden is an early 20th
century U. S. Army (Coast Artillery Corps) fort. The Fort, as headquarters for the Puget Sound Harbor Defenses, held a strategically important position in the triangle of defensive forts constructed to protect the entrance to Puget Sound and to safeguard the naval shipyard at Bremerton. Twelve-gun batteries stand as mute testimony to the Fort's original purpose.
When Fort Worden was commissioned in 1902, there were no permanent buildings to house the troops. The men were billeted in tents atop Artillery Hill until the first 23 buildings were constructed around the parade ground in 1904. Ultimately, 228 main buildings and subsidiary structures were constructed—including barracks, officers' quarters, administration buildings, kitchen and mess halls, a bakery, guard house, hospital, power house, signal station and wharf.
Most military buildings of this era are long gone, but Fort Worden's have been preserved. These surviving quarters are excellent examples of the attractive order, style and grace of the new century. The designs were created by the U. S. Army Quartermaster Department in order to make life more bearable for its soldiers in the often-isolated posts.
June 8, 2016 by bluegullinn
Concerts on the Dock 2015, photo by Deja View Photography
Concerts on the Dock 2016
Port Townsend Main Street Program's Concerts on the Dock
Free All-Ages Summer Music Series at Pope Marine Plaza
Concerts on the Dock 2016. Downtown Port Townsend rocks with all-ages free Concerts on the Dock Thursdays July 14th through September 1st at Pope Marine Park Plaza. This music on the waterfront is sponsored by generous local businesses, the Port Townsend Main Street Program, Homer Smith Insurance, Kitsap Credit Union, Uptown Pub & Grill, KPTZ 91.9 FM, The Peninsula Daily News, The CoLab and the City of Port Townsend. Local vendors and a Beer/Wine & Cider Garden contribute to the festive atmosphere. Seating opens at 4:30pm, show starts at 5:00pm and end at 7:30 pm.
July 14th – Kevin Mason & The PT All Stars
Stage Sponsor – The Bishop and Swan Hotels
Beer Garden Sponsor – The Commander's Beach House
July 21st – Uncle Funk & The Dope Six
Stage Sponsor – Wooden Boat Festival
Beer Garden Sponsor – Jim & Sherry
July 28th – Toolshed Trio with Abakis
Stage Sponsor – SOS Printing
Beer Garden Sponsor – Sport Townsend
August 4th – Locust Street Taxi
Stage Sponsor – Holley Carlson, Coldwell Banker Best Homes
Beer Garden Sponsor – All About Escrow
August 11th – Olympic Express Big Band
Stage Sponsor – Get Connected
Beer Garden Sponsor – Glow Natural Skin Care/Soak on the Sound
August 18th – Cold Comfort with Kilcid Band
Stage Sponsor – Windermere Port Townsend
Beer Garden Sponsor – Jefferson County Cannabis
August 25th – Joy in Mudville
Stage Sponsor – Fort Worden
Beer Garden Sponsor – Fort Worden
September 1st – Lucky Brown & The Funk Revolution
Stage Sponsor – Peninsula Hearing
Beer Garden Sponsor – Schodowski Law
The 'Concerts on the Dock' are some of our favorite events throughout the year, and have become the sign for many of us that summer has truly arrived! These FREE outdoor music events take advantage of a beautiful waterfront setting in Pope Marine Plaza, and the lineup this year is going to be incredible. Come to dance, see your friends, enjoy a beer and have a bite. In addition to loyal, perennial vendors Daily Bird Pottery, Magical Henna and James Jackson Massage, we'll have food at every concert alternating between Mo Chilli BBQ and Paella House, coffee from Java Gypsy, Popsicle by PT Pops, and vegan ice cream at select shows by Fiddlehead Creamery! Bring a chair or a blanket and settle in for some great tunes.
June 5, 2016 by bluegullinn
Events June 2016 – Port Townsend, WA. Port Townsend is all abuzz with excitement about super-cool events this month. We're serving up something for every appetite—with a cycling ride from Fort to Fort, to the Brass Screw Confederacy Steampunk Hootenanny, to the Tastes of Port Townsend event for foodies. We know you'll love the adventure of surprise and delight when you join the fun!
And for those of you craving all things maritime, start the month off with Key City Public Theatre's "Shipwrecked!" Catch your breath when the wind fills the sails of the stunning wooden boats in the Classic Mariners' Regatta, and be part of the exhilarating send-off of the participants in the incredible 2nd Annual Race to Alaska!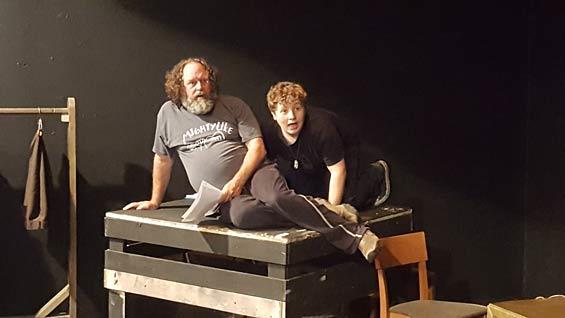 Key City Public Theatre presents Shipwrecked! The Amazing Adventures of Louis de Rougemont (as told by himself)—an epic entertainment by Pulitzer Prize-winning playwright Donald Marguilies, running from June 2 through July 3, 2016. Prepare to be swept away in a high seas adventure, populated by a monstrous man-eating octopus, flying wombats, giant sea turtles, cannibals, and buried treasure—"a story all the more remarkable because every word is true!"
The adventurous Louis de Rougemont invites you to hear his amazing story of bravery, survival and celebrity that left nineteenth-century England spellbound. This audacious autobiographer and entertainer blurs the line between fact and fiction, enrapturing the audience in a story of the high seas. "The breathless story of a seafaring wanderer springs to life like a theatrical pop-up book." –The New York Times. For more info and to purchase tickets, go to www.keycitypublictheatre.org.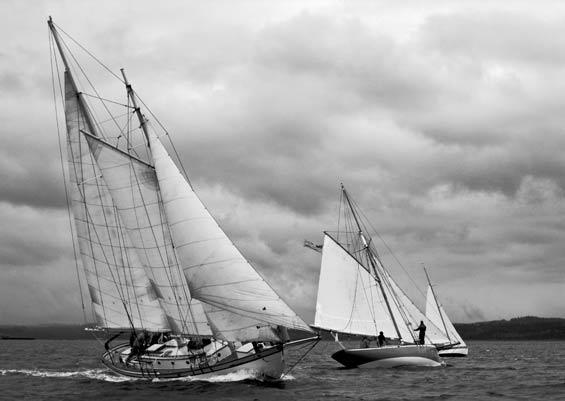 The Classic Mariners' Regatta, June 3-5, 2016, is beautiful wooden boats, high-caliber sailors racing their hearts out, and a friendly atmosphere that is more pot luck than yacht club. Since 1984, the Classic Mariners' Regatta has animated Port Townsend Bay with the Wooden Boat Foundation spirit that is quintessentially Port Townsend. With hand-sewn award pennants and dinner in the Wooden Boat Foundation boat shop, this is a regatta weekend not to miss.
This event draws classic wooden boats from across the state to race, rub elbows and celebrate the beauty of wooden boats.
The weekend kicks off with a welcoming gathering on Friday night. Saturday brings two races, the first starting at noon and the second one commencing immediately after. The final sailboat race will start at noon on Sunday and the weekend concludes with an awards ceremony at 5pm pm. www.nwmaritime.org/events/classic-mariners-regatta/
The Port Townsend Main Street Program celebrates the Tastes of Port Townsend on June 9, 2016 from 5-8pm. This delicious event will take place at the Northwest Maritime Center in downtown Port Townsend. Foodies will enjoy tasty samples from 14 restaurants and dessert spots, two breweries, two wineries, and two cideries.
"We are thrilled with the response of the participating restaurants and artisan beverage makers. They were enthusiastic about the new format. It will be more of an evening party centered on local tastes which reflect our amazing culinary scene," says Mari Mullen, executive director of the Port Townsend Main Street Program. This event is a fundraiser for the Port Townsend Main Street Program, a 501c3 nonprofit dedicated to the historic districts Uptown and Downtown. This is a 21+ event, please bring valid ID. For more info and to purchase tickets, go to www.ptmainstreet.org.

Tour de Forts 2016 is a beautiful ride that takes cyclists of all ages and abilities on a scenic and historic trip around the northeast corner of the Olympic Peninsula on June 5, 2016. Along the way, stop and take in the view at up to three old seaside forts that have been converted to beautiful state parks. Cyclists will also get to enjoy the first day of the Chimacum Farmers market, and browse fresh produce from local farms as they hydrate and snack. Routes include a 35-mile, 62-mile, and 100-mile options, as well as a shorter "fun ride" for beginning bikers. Multiple water and snack stops are provided and you can look forward to festivities at the end! To register, go towww.tourdeforts.org.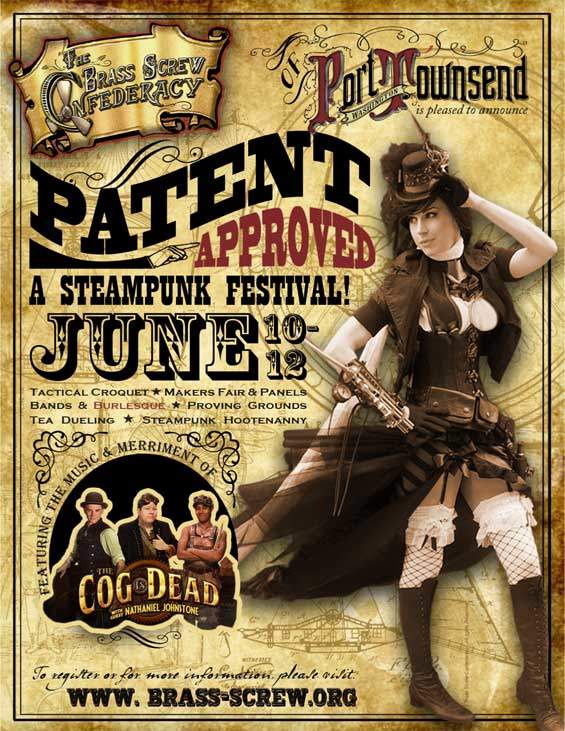 The Brass Screw Confederacy occupies Port Townsend June 10-12, 2016, with the steamiest, zaniest, most creative Steampunk event to date. This is "Year 5," a celebration of the bodger and the Patent: Approved year. Step into the Bodgers' Grand Exhibition where makers and mad genius display their marvelous contraptions and creative skills. Imagine your high school science fair unburdened of such vulgar constraints as physics or reality. Steampunk Hovercraft, tanks, and a great variety of other contraptions to discover, plus…
As in years past, the Brass Screw Confederacy aims to rock you back on your boot heels and steam up your goggles. They're bringing you the hottest Saturday night Hootenanny ever, featuring The Cog Is Dead from Daytona Beach, FL and Seattle's steamiest Nathaniel Johnstone Band. Perennial favorites including Tactical Croquet, burlesque, the amply expanded Bazaar of the Bizarre, the Brass Screw Chautauqua, bands, magic and mayhem galore! Tickets available at the 607 Water Street. Seewww.brass-screw.org for a list of times, locations and schedule of events.
The Race to Alaska (R2AK) was born in the spirit of tradition, exploration and the lawless self-reliance that defines the sea-faring journey through the Inside Passage. 750 miles. No motors. No support. All the way to Alaska. R2AK is the first of its kind and North America's longest human and wind-powered race. First place is $10,000 and second place is a set of steak knives.
The race starting horn blares at 6am on Thursday, June 23, 2016, with public viewing areas open at the Northwest Maritime Center.
R2AK is like the Iditarod, on a boat, with a chance of drowning, or being run down by a freighter, or being swallowed by a whirlpool. There are squalls, killer whales and tidal currents that run upwards of 20 miles per hour. There's also some of the most beautiful scenery on earth—as well as a wicked block party to kick the insanity off!
The night before, the R2AK Pre-Race Ruckus is Wednesday, June 22, 2016, from 3-8pm. The Ruckus is free and open to everyone. Beyond great food, drinks, and Seattle soul band Down North performing, the Ruckus will also feature a fire-hose rodeo, various feats of strength, free R2AK tattoos (yep, the permanent kind), and your chance to check out all the amazing race boats—including a 70' trimaran that may very well break the world record for fastest time to Alaska! To join the fun and track the boats once they're en route, go to www.r2ak.com.
---
A Few Upcoming Events this Summer—Save the Dates!
For your kids when you're visiting: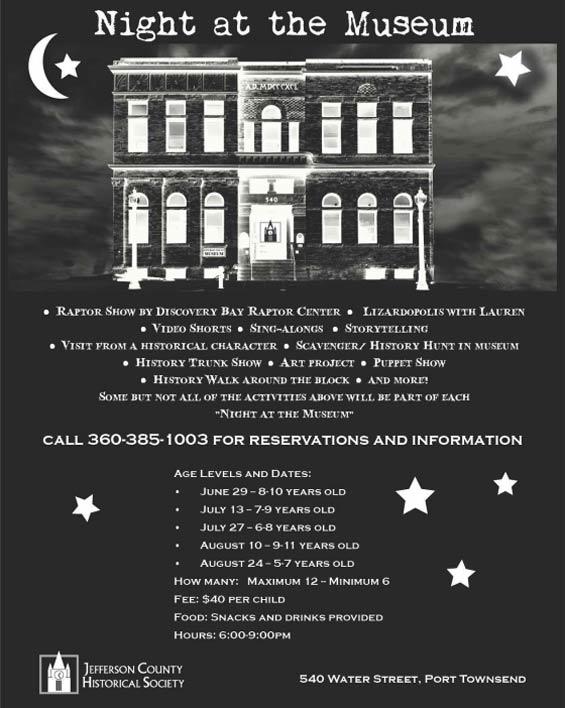 Free Fridays at the Fort: Free music during the lunch hour at Fort Worden; July 1-August 5
The 2nd Annual "Old School" 4th of July at Fort Worden
The Festival of American Fiddle Tunes, July 3-10
Concerts on the Dock, July 14-September 1, every Thursday from 5-7pm downtown
Jazz Port Townsend, July 24-31
Port Townsend Acoustic Blues Festival, July 31-August 7
Olympic Music Festival at Fort Worden, July 16 & 17, August 13-September 11
We can't wait to welcome you to Port Townsend and enjoy everything Port Townsend this summer!