February 28, 2020 by bluegullinn
March is here and it brought Spring
March is here and it brought Spring with it! Hopefully sunny weather is around the corner, but if not, the city of Port Townsend's got you covered. The month is full of indoor and outdoor activities; rain or shine, we have something for everyone!
Key City Public Theater is leading the charge with new offerings for their Playfest 24. A new works showcase, the festival runs from March 6-15 and features one act plays from local playwrights and showcases performances that are being workshopped by regionally and nationally-known playwrights. The fest has performances, open rehearsals, discussion panels and workshops. It's a fantastic way to get an inside look at the inner workings of play production!
Vinyl will live forever! On March 7, the Port Townsend Record Show is being held at the American Legion Hall. Featuring over 30 vendors, the hall is going to be stuffed to the brim with LPs, tapes, cds and collectibles. DJs will be spinning vinyl all day at the event. Come kick out the jams!
Woman on bicycle local author Sarah A. Chrisman
The Victorian Festival is on March 20-22. This year's festival will focus on the years of "Great Expectations" in Port Townsend, when business was booming, the sailing ship was king and citizens were sure Port Townsend would be the 'key city' gateway to Puget Sound. The festival will feature lectures by local Victorian experts, the Chrismans, a tour of the Schooner Martha and an exploration of the Victorian's fascination with the macabre at the Starrett House.
Most people don't need any kind of encouragement to go fishing, but the Olympic Peninsula Salmon Derby is offering a $10,000 prize to whoever catches the biggest salmon! The event runs from March 13-15 and happens on the water from Port Angeles to Port Ludlow. Other prizes include four $500 mystery fish. What other reasons do you need to get on the water?
Looking to hear some good yarns for a great cause? She tells Sea Tales is an evening of stories told by women mariners in support of the Girls Boat Project, a project at the Northwest Maritime Center for girls between 12-18. The Girls Boat Project students learn all sorts of maritime skills, on and off the water. They learn woodworking and boatbuilding techniques in the fall and longboat techniques in the spring. The story event is March 14 at the Northwest Maritime Center at 7 p.m.
Don't miss these upcoming events in Port Townsend:
April 2-May2
KCPT: Always Patsy Cline
April 4
PT Farmer's Market Opens
April 20
PT Mainstreet Earth Day Spring Clean Up
April 24-25
Port Townsend Film Festival: Woman & Film
April 25-26
Northwest Wine & Cheese Tour
March is here and it brought Spring with it! Hopefully sunny weather is around the corner, but if not, the city of Port Townsend's got you covered. The month is full of indoor and outdoor activities; rain or shine, we have something for everyone!
February 22, 2020 by bluegullinn
USS Nimitz visits Port Townsend, WA.
February 18 – 21, 2020
We want to say to all the service men and women aboard the Nimitz…..thank you for your service!
We hope you enjoyed your visit to Historic & Victorian Port Townsend, WA.
USS Nimitz leaving Port Townsend Bay on Friday February 21, 2020
Fun Facts about the USS Nimitz
USS Nimitz History
After her commissioning May 3, 1975, Nimitz' first deployment began July 7, 1976 when she departed Norfolk for the Mediterranean. Nimitz again sailed toward the Mediterranean Sea Dec. 1, 1977. Sept. 10, 1979, she was dispatched to the Indian Ocean as tensions heightened after Iran took 52 U.S. hostages. Four months later, Operation Evening Light was launched from Nimitz in an attempt to rescue the hostages. The rescue was aborted in the Iranian desert when the number of operational helicopters fell below the minimum needed to complete the rescue.
Oct. 29, 1988, Nimitz began operating in the North Arabian Sea in support of Operation Earnest Will. Nimitz then departed Bremerton on Feb. 25, 1991 for the Arabian Gulf, relieving USS Ranger (CV 61), during Operation Desert Storm. Nimitz again deployed Feb. 1, 1993 to the Arabian Gulf, relieving USS Kitty Hawk (CV 63) as part of Operation Southern Watch.
Sept. 1, 1997, Nimitz set out on an around-the-world cruise. During this deployment, Nimitz was ordered into the Arabian Gulf to support Operation Southern Watch and various United Nations initiatives.
Nimitz arrived at her new homeport in San Diego Nov. 13, 2001. In 2003, Nimitz deployed in support of Operations Enduring Freedom and Iraqi Freedom. In May 2005, Nimitz embarked on a six-month deployment in support of Operation Iraqi Freedom and the Global War on Terrorism. After leaving the Gulf, the strike group participated in Malabar 2005, an exercise between the U.S. and Indian navies. In 2007 and 2008, Nimitz CSG deployed in support of the U.S. commitment to peace and stability in the region. Nimitz departed to the Persian Gulf for a scheduled eightmonth Western Pacific deployment on July 31, 2009 in support of Operation Enduring Freedom.
Nimitz arrived at her new homeport in Everett, Washington in March 2012. March 30, 2013, Nimitz deployed in support of Operation Enduring Freedom. Nov. 3, 2014, Nimitz took part in naval aviation history when the Navy's fifth generation Joint Strike Fighter, F-35 Lightning, touched down on a carrier at sea for the first time.
Nimitz arrived at her new homeport in Bremerton, Washington Jan. 13, 2015. Beginning Jan. 15, 2016, Nimitz underwent a 20-month extended incremental availability (EPIA). Nimitz began workups Oct. 10, 2016 for a 2017 deployment completing sea trials, and Tailored Ships Training Availability and Final Evaluation Problem (TSTA-FEP). Nimitz returned to sea Jan. 28, 2017 to undergo its first Board of Inspection and Survey (INSURV) since 2010.
In April 2017 Carrier Strike Group (CSG) 11 completed its final pre-deployment assessment, Composite Training Unit Exercise (COMPTUEX), marking the completion of a condensed Inter-Deployment Training Cycle (IDTC). Nimitz deployed on a regularly scheduled deployment June 1 to the U.S. 7th Fleet (C7F) and U.S. 5th Fleet (C5F) areas of operations. Nimitz returned home from deployment on December 10, 2017. Nimitz entered dry dock six on March 1st, 2018, for a docking planned incremental availability at Puget Sound Naval Shipyard and Intermediate Maintenance Facility.
Legacy
Our legacy comes from the rich history of Fleet Adm. Chester W. Nimitz and the vast history of USS Nimitz – the lead ship of the Nimitz class of aircraft carriers. Both the man and the ship share deep roots in tradition, dedication and service to the United States Navy. Namesake
Chester William Nimitz Sr. (Feb. 24, 1885 – Feb. 20, 1966) was a fleet admiral of the United States Navy. He played a major role in the naval history of World War II as commander in chief, U.S. Pacific Fleet and Commander in Chief, Pacific Ocean Areas, commanding Allied air, land, and sea forces during World War II.
Nimitz was the leading U.S. Navy authority on submarines. Qualified in submarines during his early years, he later oversaw the conversion of these vessels' propulsion from gasoline to diesel, and then later was key in acquiring approval to build the world's first nuclear-powered submarine, USS Nautilus (SSN 571), whose propulsion system later completely superseded diesel-powered submarines in the U.S.
In 1917, he was the Navy's leading developer of underway replenishment techniques, that tool that allowed the U.S. fleet to operate away from port almost indefinitely during the Pacific War. Chief of the Navy's Bureau of Navigation in 1939, Nimitz served as chief of naval operations from 1945 until 1947. He was the United States' last officer to serve at the rank of fleet admiral. First of Her Class
USS Nimitz is a supercarrier of the U.S. Navy, and the lead ship of her class. One of the largest warships in the world, she was laid down, launched and commissioned as CVAN 68 but was later re-designated CVN 68 (nuclear-powered multi-mission aircraft carrier) on June 30, 1975 as part of the fleet realignment. Nimitz was homeported at Naval Station Norfolk until 1987, when she was relocated to Naval Station Bremerton in Washington State (now part of Naval Base Kitsap).
Following her Refueling and Complex Overhaul in 2001, her homeport was changed to Naval Air Station North Island in San Diego. The homeport of Nimitz was again moved to Naval Station Everett in Washington State in 2012. In January 2015, Nimitz changed homeport from Everett back to Naval Base Kitsap.
Nimitz is now the oldest American aircraft carrier in active service.
USS Nimitz Fast Facts
Keel Laid _________________________________________________________________ June 22, 1968 Launched _________________________________________________________________ May 13, 1972 Commissioned ______________________________________________________________ May 3, 1975 Propulsion System ________________________________________________ Two nuclear power plants Main Engines _____________________________________________________________________ Four Speed _______________________________________________________________________ 30+ knots Propellers ________________________________________________________________________ Four Blades on each propeller _____________________________________________________________ Five Aircraft Elevators __________________________________________________________________ Four Catapults _________________________________________________________________________ Four Arresting Gear Cables ______________________________________________________________ Four Overall Length ________________________________________________________________ 1,092 feet Overall Width __________________________________________________________________ 252 feet Beam at Waterline _______________________________________________________________ 134 feet Area of Flight Deck __________________________________________________ Approx 4.5 Acres Full Load Displacement ____________________________________________________ Approx 97,000 Tons Accommodations _____________________________________________ Approx 5,000 Sailors/Marines Meals Each Day ___________________________________________________________ 18,000-20,000 Mail Processed __________________________________________________ Over 1 million lbs per year
• Four distilling units enable engineers to make more than 400,000 gallons of fresh water a day for use by the propulsion plant, catapults and crew. • Nimitz can stock at least 70 days of refrigerated and dry goods. • Several tons of laundry is washed every day by Nimitz's laundry, dry cleaning and tailoring services personnel. • Nimitz's two barber shops trim more than 1,500 heads per week. • Nuclear power allows the ship to store 50 percent more ammunition and almost twice as much aviation fuel as the largest conventional steam carrier. • Nimitz can hold 3.5 million gallons of fuel. • Nimitz reaches more than 23 stories high from the keel to the top of the mast. • The hangar bay extends for most of the ship's length. It is used for major repairs and shelters aircraft.
January 30, 2020 by bluegullinn
Olympic Peninsula Red Wine, Cider and Chocolate Tour –
Feb 8-9 & 15-17, 2020
Enjoy our annual Olympic Peninsula Red Wine, Cider and Chocolate Tour! Let your temptations run wild with our unmatched extraordinary blends of Washington grapes, apples and pears – paired with decadent chocolate & local culinary fare. You'll fall head over heels with Olympic Peninsula Wineries & Cideries, during the Olympic Peninsula Red Wine, Cider and Chocolate Tour. This tour takes place over two scrumptious weekends to allow you to savor each venue's offerings. Our new release varietals and culinary offerings will satisfy every palate and have you falling in love with every sip.
Tickets for this self guided tour are available on-line for $40 or $45 at the door and are non-refundable. These tickets include a souvenir wine glass, wine and cider tastings at each location as well as sensational chocolate pairings. Visitors who get their ticket stamped at all eight tasting rooms will be entered into a drawing for a love inspired gift basket. Purchase tickets here.
All venues will be open from 11:00 a.m. to 5:00 p.m. each day for the tour and some venues may have extended hours for non-tour visits. Tasting fees for those not participating in the ticketed event will be $10 per person at each winery or cidery. For the enjoyment of the tour and your safety, each winery has the discretion to end new tastings prior to 5:00 p.m.
The Olympic Peninsula Wineries encourage responsible wine touring and recommend that you have a designated driver in your group. Designated drivers do not need to purchase a ticket and are always welcome to taste the food. While children are allowed in the tasting rooms, you must be 21 or over to purchase tickets and/or participate in wine and cider tasting.
Wind Rose Cellars:
Wind Rose Cellars is proud to be hosting Olympic Peninsula chocolatier Yvonne Yokota from Yvonne's Chocolates. She will be on hand both weekends to talk about her chocolates as well as offer tasty samples from the variety of chocolates she produces.
We will be pouring different wines over the two weekends. On the first weekend, we will pour the following wines: 2017 Bravo Bianco Chardonnay, 2017 Bravo Bianco, 2015 Dolcetto, 2014 Bravo Rosso, 2014 Barbera and our popular sweet wine 2019 Muscato.
On the second weekend we will be pouring: 2017 Sauvignon Blanc "The Keeper", 2015 Dolcetto, 2014 Field Blend, 2015 Sangiovese and our 2019 Muscato.
We have some special sales going on as well. We also plan to have our VIP bar pouring some of our rare and super limited wines for an additional tasting fee.
Every Friday and Saturday night, we have live music from 7-9 pm. Reservations for all performances are strongly recommended; please call 360-681-0690 to get yours.
Friday 2/7, The Tony Flaggs Band, a local trio that plays a mixture of rock with a little bluegrass.
Saturday, 2/8, The Dmitri Matheny Trio led by world famous flugelhornist Dmitri Matheny.
The second weekend music:
Friday 2/14, Sarah Shea & Chez Jazz, a local jazz vocalist.
Saturday 2/15, Dawn Martin, a local pianist that performs rock from 60-80s. Bring your dancing shoes.
Harbinger Winery:
Start off your wine and chocolate adventure with some white chocolate and apple bread pudding. These delights are paired with our refreshingly crisp La Petite Fleur; guaranteed to put your palate in the mood for the festival!
We've also created bite-sized "pan au chocolates" (think buttery croissants filled with a tube of dark chocolate…what's not to love?) which will be sampled with the award-winning Dynamo Red.
Bring out your inner-demon with our devil's food dark chocolate mini-cupcakes crowned with a spiced chocolate butter cream. They are sinfully delicious when paired with the newly released 2014 Bolero. We can take no responsibility for any spontaneous amorous acts this pairing might inspire!
Our locally grown Raspberry Bliss reminds us of summer love with every sip and no chocolate festival would be complete without it. We're actively putting together something sensational right now, so you'll have to stop by to see what amazing feats of gastronomic pleasure have been accomplished (we can't give away all the secrets!).
If this isn't enough wine and chocolate for folks Harbinger will again be featuring the reserve wine and Theo Chocolate's aphrodisiac chocolate pairing behind the velvet curtain of the VIP room. So be prepared for a carnival of culinary delights at Harbinger Winery & the Kitty Kat Lounge.
FairWinds Winery:
Continue your journey through Olympic Peninsula Wine country to FairWinds Winery to sip our award-winning wines and sample delicious treats dipped into the chocolate fountain. Play fun games to win discounts and travel in our pirate's boat for a photo op. Our winemaker and friendly staff will be there to serve you as on your journey through this Red, Wine, Cider and Chocolate event.
Port Townsend Vineyards:
Stop by Port Townsend Vineyards during this year's Red Wine, Cider and Chocolate Tour to sample our Discovery Red, 2016 Pinot Noir, and the brand new 2018 Merlot.
Olympic Cellars:
Olympic Cellars is excited to have WeDo Fudge of Sequim back on-site pairing the perfect fudge flavors with our wines. We will offer a selection of wines from which you can choose to taste, including two new releases. Dungeness Rose', 2018, a dry Lemberger Rosé. This rosé is a staff favorite. Enjoy the nose of rose petal, raspberry and candied cherry followed by the flavors of huckleberry and Bing cherry. This wine has a well- balanced acidity and light tannins. The finish is crisp and clean. Petite Sirah, 2016, is a well-balanced wine tasting of juicy plum and raspberry flavors. It has a bright acidity and a bold oak finish.
Eaglemount Winery & Cidery:
Eaglemount is excited to have Chocolate Serenade and their caramels again this year as we've done for several years. We'll have new release ciders and wines to pair with the caramel and chocolate.
Camaraderie Cellars:
When you wind your way to Camaraderie Cellars on the Red Wine Road Trip, you will find great red wines paired with healthy chocolate bites. Red wine is our forte and you will find something for every red wine lover. Sample our 2014 Sangiovese with a heart-healthy trail mix with nuts, dried berries, and dark chocolate. Our 2012 Reserve Cab Sauvignon (great antioxidants) enhances delicious Rocky Road brownie bites. And because chocolate is also a savory ingredient, the ever-popular Cocoa-Spiced Pulled Pork will pair with a newly released 2016 Cabernet Franc. Perhaps the winemaker will even pull out a surprise red—you won't want to miss!
Happy Valentines Day!!!
January 28, 2020 by bluegullinn
Annual Shipwrights' Regatta
Saturday, February 29, 2020
The sailboat racing season opens in February with the Port Townsend Shipwrights' Regatta!
The Northwest Maritime Center and the Port Townsend Sailing Association present the 29th Annual Shipwrights' Regatta! Boats of all construction are welcome. The race is also open to folks who would like to try sailboat racing but do not have a boat. Non-boat owners are encouraged to show up at the Skippers' Meeting and to be connected with skippers looking for crew.
Door Prizes! Perpetual Awards! Chance to win a free haul out for two lucky racers!
Learn more at nwmaritime.org/shipwrights
• Skipper's Meeting at 9:00 AM at the NWMC
• Complimentary coffee provided by Sunrise Coffee
• Race starts at 12 noon on Port Townsend Bay
• Awards ceremony & refreshments at NWMC following race
Entry fee: $40
Registrations accepted until 9:00 AM on race day.
Location NW Maritime Center, 431 Water St, Port Townsend, WA, 98368
January 2, 2020 by bluegullinn
What's Happening in Port Townsend
The new year is here and Port Townsend is the perfect place to kick it off right! Always a great place to visit, Port Townsend has outdone itself with great events all January long. There is art, wellness, outdoor activities and strange beverages!
Photo courtesy of Fort Worden
Start the month off with First Day Hikes at Fort Worden. There will be four separate hikes sponsored by the Washington State Parks on January 1. The hikes will each start at 1 p.m. near the guardhouse at the Park's main entrance. You can choose between three guided hikes or a self-guided hike. The guided hikes will either cover Fort Worden history, habitat in urban areas, or the best viewpoints at Fort Worden. Better yet, free drinks and snacks will be provided at the start of the hike by Friends of Fort Worden and the State Parks!
Art galleries play a huge role in Port Townsend's culture. Check out some great local artist at the Port Townsend Art Walk on January 4. Not only will you see great artwork, but you can also explore all that the historic downtown area has to offer.
Photo courtesy of Madrona MindBody Institute.
If you're looking for a healthy response to the Holiday season's excess, consider the Madrona MindBody Institute's New Year Yoga Retreat. Running from January 2-5, the retreat includes yoga, meditation, mindfulness, ceremony and creativity. The retreat is available for all levels of yoga experience.
January's main event is the 16th Annual Strange Brewfest. 2020's theme is inspired by the cult classic film, Strange Brew, so come as your favorite character, or dress in hockey, flannel or ski parkas. The event has 40 breweries, 80 brews on tap and as always, features a fantastic lineup of bands. Tickets are $40 per person and include a souvenir tasting glass designed with the Strange Brew theme.
Don't miss these upcoming events in Port Townsend:
February 9-10 & 16-18
Red Wine and Chocolate Tour
Olympicpeninsulawineries.org
March 13-15
Olympic Peninsula Salmon Derby
Gardinersalmonderby.org
March 20-22
Victorian Heritage Festival
Vicfest.org
Woman on bicycle: Local author Sarah A. Chrisman
Visit us this New Year and enjoy everything Port Townsend!
Art galleries play a huge role in Port Townsend's culture. Check out some great local artist at the Port Townsend Art Walk on January 4. Not only will you see great artwork, but you can also explore all that the historic downtown area has to offer.
December 14, 2019 by bluegullinn
Any time of the year is great to visit Port Townsend, WA.
Make sure to visit Fort Worden State Park.
The History of Fort Worden
1879
Point Wilson Lighthouse was built – before Fort Worden itself – and continues to aid marine traffic today. Point Wilson marks the western entrance into the Puget Sound.
1883
Episcopal rector, Reverend John B. Alexander, builds Alexander's Castle.
1896
The Secretary of War was authorized by Congress to fortify three points – Fort Worden, Fort Casey, Fort Flagler – for the protection of Puget Sound. These forts are also known as the "Triangle of Fire".
1902
May 3rd: Steamer, Majestic, arrived from Seattle with 87 enlisted men of the 126th Company under the command of Captain Manus McClosky of Fort Canby, Washington.
May 14th: By general orders from Fort Canby, the Army post at Fort Worden was officially established by the United States Government.
1903
Summer: 23 buildings, including barracks, under construction — completed March, 1904, at a cost of $59,450.
A communications system was installed to connect forts Flagler, Casey and Worden by cable. A power house was also built to supply electricity to the fort at a cost of $60,000.
1904
September: Headquarters of the Harbor Defense of Puget Sound transferred from Fort Flagler to Fort Worden.
1907
July 17th: Electric power brought to the post.
1917
April 6th: World War I declared — Fort Worden expanded with construction of six new buildings: Two 66-Man Barracks, Mess Hall, Latrine, and Officers quarters
1921
A balloon hangar was built at Fort Worden, symbolizing the shift in seacoast defense strategy. The balloon company's stay was brief as it was soon discovered that wind conditions were not conducive to balloon flight.
1953
June 30th: Fort Worden officially closed, ending a 51-year period of military activity.
1958
June 24th: Official opening and dedication program as Fort Worden Diagnostic and Treatment Center.
1959
December 3rd: Navy jurisdiction of fortified areas ends — Army retains command of these areas.
1962
October: Fort Worden selected as an emergency site in case of atomic war, for use as one of the command posts of the civil government.
1965
November 5th: State Parks acquires additional Fort Worden lands (209 acres) — for future development for camping and recreation areas.
1973
August 10th: 50-unit campground opened with full hook-ups.
August 18th: Dedication of Fort Worden as a State Park.
Centrum founded as non-profit arts and education organization.
1976
Puget Sound Coast Artillery Museum opened by the 248th Coast Artillery Association.
1981
Marine Science Center opened by local interest group.
1982
Commanding Officers' Quarters Museum opened under the direction of The Heritage Group.
2002
Fort Worden celebrates its centennial.
2012
The Port Townsend Public Development Authority amends its charter and name to focus solely on Fort Worden. The Commission adopts the updated Fort Worden Public Development Authority's (FWPDA) Business and Management Plan in October. The Commission directs State Parks staff to negotiate a master lease for the campus portion of the Park.
2013
The Commission approves a master lease with the FWPDA for the 90-acre campus area of the Park pending the accomplishment of specific transition milestones.
2014
The FWPDA accomplishes required transition milestones and takes over day-to-day operations of the 90-acre campus on May 1.
October 4, 2019 by bluegullinn
What's Happening in Port Townsend
This weekend is all Kinetic Knautical with the 37th Great PT Bay Kinetic Race! One of the best events all year, so come check it out!
Theatre is back at Key City Players with "Sea Marks": An Irish Love Story.
Find out about the S'Klallam Language at the First Friday Lecture Series.
First Friday StoryNight brings the Annual Guild Teller's Night – Tales with a Twist.
Please check ferry alerts for the Port Townsend/Coupeville (Keystone) route before arriving at the terminal. Make your reservations now.
Ferry goes back to one-boat service beginning Tuesday, Oct. 15. Plan accordingly!
Music & Entertainment
Fri, Oct 4th
Monthly Bingo!
Fri, Oct 4th
Old Alcohol Plant: Swing Street Trio
Fri, Oct 4th
Finnriver: Ian Turner
Fri, Oct 4th
The Keg & I: Beasley
Fri, Oct 4th
Rainshadow Recording: Jonathan Byrd & The Pickup Cowboys
View Full Calendar
Community
Sat, Oct 5th
Port Townsend Saturday Farmers Market
Sat, Oct 5th
The Mead Werks Tasting Room Open
Sat, Oct 5th
The Great Port Townsend Bay Kinetic Sculpture Race
Sat, Oct 5th
PT Library: Harvest Storytime at Finnriver Farms
Sat, Oct 5th
Day of Wine and Rhodies
View Full Calendar
Arts & Crafts
Fri, Oct 4th
Art in the Library Exhibit
Fri, Oct 4th
Jefferson Museum: Lockwood "Woody" Dennis Prints
Fri, Oct 4th
PT Gallery: Diane Holmes & Nancy Pascoe
Fri, Oct 4th
Pippa's Real Tea: Group Art Show
Fri, Oct 4th
Port Ludlow Art League Shows
View Full Calendar
Film & Movies
Fri, Oct 4th
Wheel-In Motor Movies
Sat, Oct 5th
Rose Theatre Movies
Sat, Oct 5th
Uptown Theatre Movies
View Full Calendar
Dance & Movement
Fri, Oct 4th
Quimper Grange: Partner Dance
Sat, Oct 5th
Rosehips Kween Koronation Ball
Sat, Oct 5th
Hilltop Tavern: Honkytonk Dance
Sun, Oct 6th
Madrona MindBody Institute: Soulful Sunday – Community Dance Church
Mon, Oct 7th
Quimper Grange: Line Dance Class
View Full Calendar
Outdoor Recreation
Fri, Oct 4th
4 Hour Whale Watching Tour
Sat, Oct 5th
Tour de Forts
Sat, Oct 12th
PTMSC: Fall Bird Migration Cruises
View Full Calendar
Theatre & Drama
Fri, Oct 4th
First Friday StoryNight – Annual Guild Teller's Night – Tales with a Twist
Fri, Oct 4th
KCPT: "Sea Marks": An Irish Love Story
Sat, Oct 5th
Ludlow Village Players: Anything Goes
Sun, Oct 6th
KCPT: "Sea Marks": An Irish Love Story
Thu, Oct 10th
KCPT: "Sea Marks": An Irish Love Story
View Full Calendar
Reading & Lectures
Fri, Oct 4th
JCHS First Friday Lecture Series: S'Klallam Language
Thu, Oct 10th
PT Library: Jefferson County Community Gardens Panel Discussion "A Season Wrap-up"
Thu, Oct 10th
Northwind Reading Series: John Brandi and Renee Gregorio
View Full Calendar
Classes & Workshops
Fri, Oct 4th
Yoga at Madrona: Yoga Sculpt Friday
Fri, Oct 4th
Yoga at Madrona: Yoga for Backs Friday
Fri, Oct 4th
Yoga at Madrona: Yoga With Weights
Fri, Oct 4th
Port Townsend Conversation Cafe
Fri, Oct 4th
Prosper Bodyworks: Serene Yoga
August 1, 2019 by bluegullinn
Party down in Port Townsend in August with live music all around town, Shakespeare in the Park and summer fairs for the whole family. You won't want…
Discover Washington's Victorian Seaport & Arts Community
With its maritime heritage, artist spirit, and a touch of urban chic, Port Townsend is an easily accessible base camp to the Olympic Peninsula and beyond. Whether on land or sea; indoors or outdoors – Port Townsend has activities for every taste.
Party down in Port Townsend in August with live music all around town, Shakespeare in the Park and summer fairs for the whole family. You won't want to miss a minute!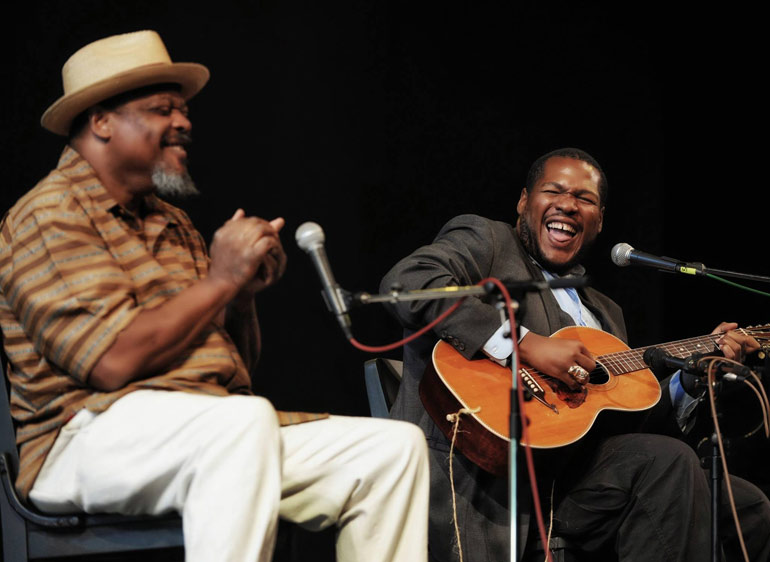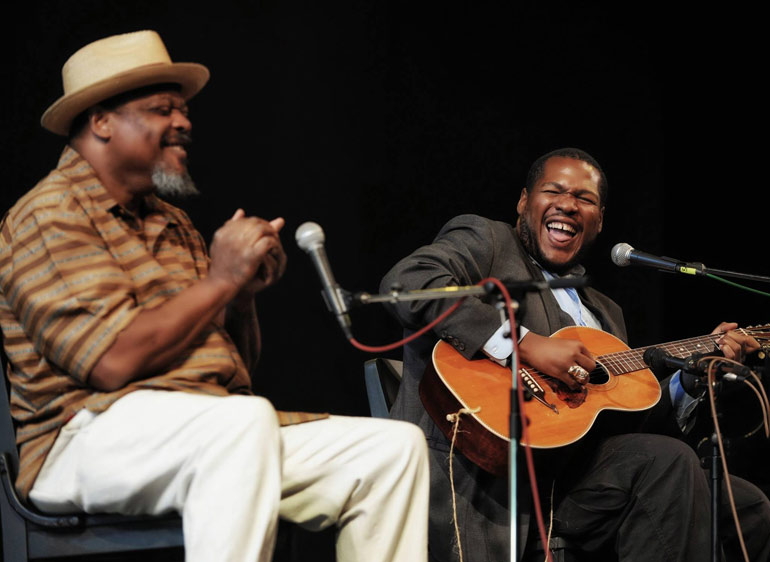 The Port Townsend Acoustic Blues Festival heats up the park with "Blues in the Clubs" as a moveable feast of great music for all ages in various venues at Fort Worden State Park. One nightly wristband gives you the freedom to move around to all the venues throughout the evening, gaining the full benefit of the club experience. Centrum's Blues faculty will play sets in all sorts of interesting combinations on Friday, August 2 and Saturday, August 3 from 8 pm – midnight. For more information, go to https://centrum.org/port-townsend-acoustic-blues-festival-performances/.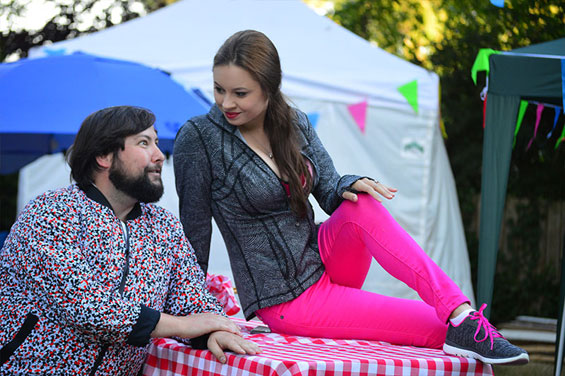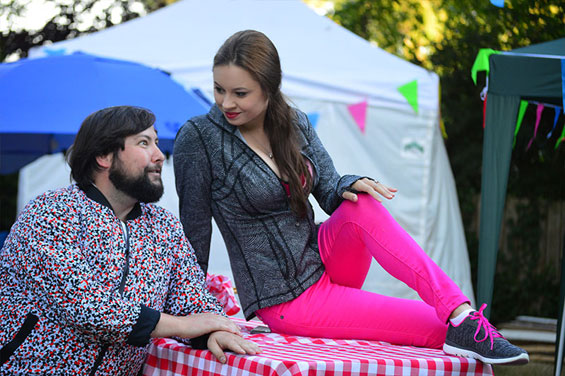 Key City Public Theatre is proud to present "The Merry Wives of Windsor" at Shakespeare in the Park this month. Jealousy, glamour, ego and lies. In this contemporary version of Shakespeare's merry comedy, Sir John Falstaff returns to Chetzemoka Park with plans to hustle his way to comfortable retirement by seducing two of Windsor's prominent wives. But these wealthy and witty women hold all the power throughout an outrageously funny picnic outing. The ladies finally have their day in this summer's Shakespeare in the Park, adapted and directed by Denise Winter.
Performances run Aug. 2 through 25, outdoors in beautiful Chetzemoka Park (Jackson and Blaine Streets), Fridays through Sundays at 6 pm. All performances are Pay-What-You-Wish at the gate, with advance tickets costing $29, available at the playhouse box office at 360.385.KCPT (5278) or online at http://www.keycitypublictheatre.org/.
Audience members are encouraged to bring blankets or lawn chairs for seating on the grass and to dress warmly for when the sun goes down. Picnic fare is welcome. Concessions will also be sold.


The dock is still rockin' for a few more weeks at the free, all-ages, outdoor Concerts on the Dock in downtown Port Townsend. Sponsored by the Port Townsend Main Street Program, the concerts will be Thursdays, August 1, 8, 15, 22 and 29, at the Pope Marine Park/City Dock Civic Plaza. Local vendors and a beer, wine and cider garden will contribute to the festive atmosphere. Help us "Go Green" by renting a reusable cup during the concert and returning it at the end of the show. So far this has dramatically reduced the amount plastic used at each concert. Seating opens at 4:30 pm, show starts at 5 pm and ends at 7:30 pm. Bring a chair or a blanket and settle in for some great tunes. For the list of bands, go to http://ptmainstreet.org/concerts-on-the-dock/.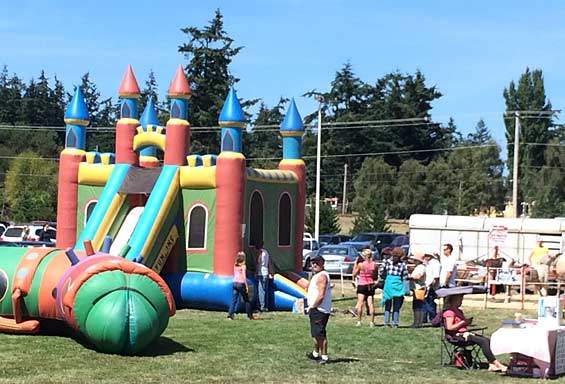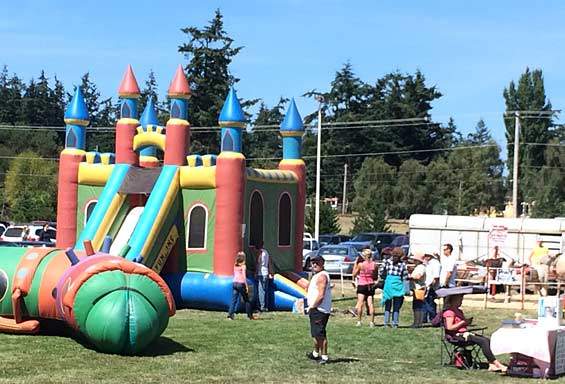 The Jefferson County Fair welcomes you to this year's Jammin' Jungle-themed fair, August 9, 10 and 11. Meet farm animals up close. Cheer on riders as they put their horses through their paces. See the largest fruits, vegetables and flowers grown in Jefferson County. Hear music from fantastic bands and get your dancin' boots on. Take a turn at riding the bull. Indulge in an elephant ear or a corn dog. Or watch the demo derby or mud drag. It's everything a country fair should be—don't miss it!
Open 10 am to 9 pm Friday and Saturday, 10 am to 6 pm Sunday. For more details and ticket info, visit http://jeffcofairgrounds.com.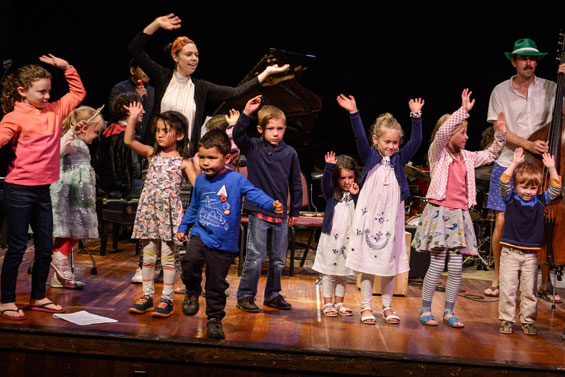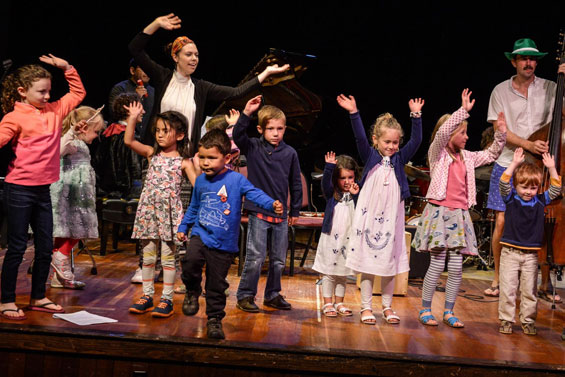 The Olympic Music Festival (OMF) presents its 36th annual summer season in partnership with Centrum at Fort Worden. World-class chamber music performances take place at the Joseph F. Wheeler Theater, Saturdays and Sundays at 2 pm, August 10 through September 8. Programming also includes a free family concert on Sunday, August 25 from 10:30 am – noon at the Northwest Maritime Center.
Since the beginning of his tenure in 2014, OMF Artistic Director Julio Elizalde has electrified audiences by presenting world-class artists on the Olympic Peninsula in programs that center on the classical chamber music repertoire and, on occasion, venture into styles such as American folk music and jazz. To purchase tickets and for more detailed information about the performances, go to www.olympicmusicfestival.org or call 360.385.9699.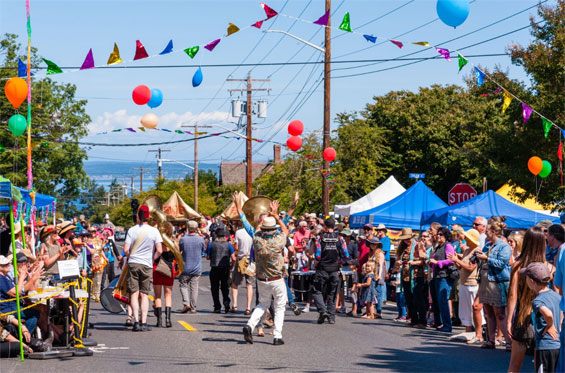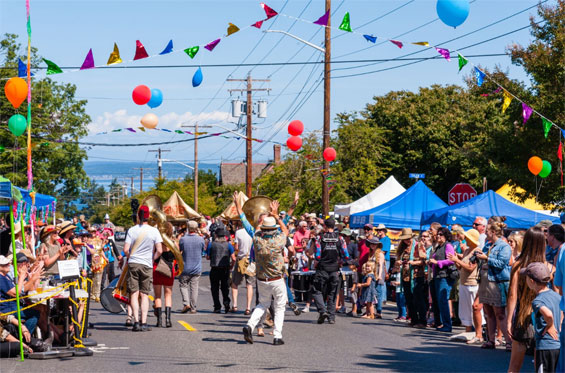 Photo by Deja View Photography
On August 17, the beloved Annual Uptown Street Fair and Parade celebrates 29 years of fun in Uptown and includes great local music, the Port Townsend Arts & Crafts Fair, the Jefferson County Farmers Market, tasty food on the street, free art activities for families and much more.
Come hang out with the Uptown businesses and neighbors for the day at this colorful community event. The Arts and Crafts Fair and Farmers Market begin at 9 am; kids' activities follow from 10 am – 3 pm, and music from 10 am – 4:45 pm. The parade and awards are at 2 pm. Come make a day of it in historic, pedestrian-friendly Uptown. Lawrence Street and Tyler Street are closed for the Street Fair, as well as the Farmers Market location on Polk Street. Bring your appetite—there will be delicious local food vendors at the event. Coordinated by the Port Townsend Main Street Program and sponsored by generous local businesses. For more information, go to http://ptmainstreet.org.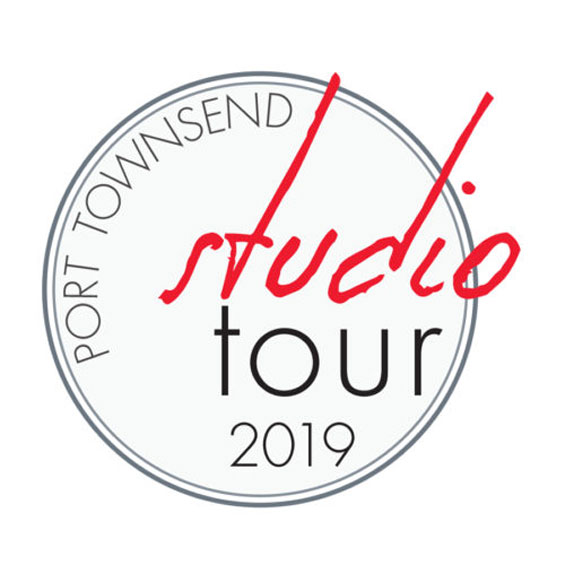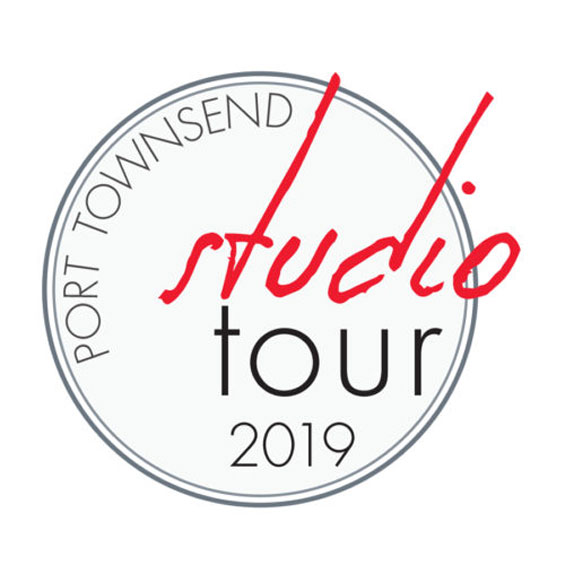 The Art Port Townsend 21st Annual Artist Studio Tour is a festival of the visual arts featuring an open studio tour of local artists. The tour is the final event of the annual Art Port Townsend Festival. Professional artists open their studios to provide demonstrations and display their work in many different mediums such as oil, watercolor, acrylic, pastels, printmaking, sculpture, ceramics, woodworking, fabric arts, glass and a variety of mixed media. This annual event is a "must see" for regional artists and art lovers. There is no charge for the self-guided tour, running August 17-18 from 10 am – 4 pm. For more information and a map of the studios, go to https://northwindarts.org/programs/studio-tour/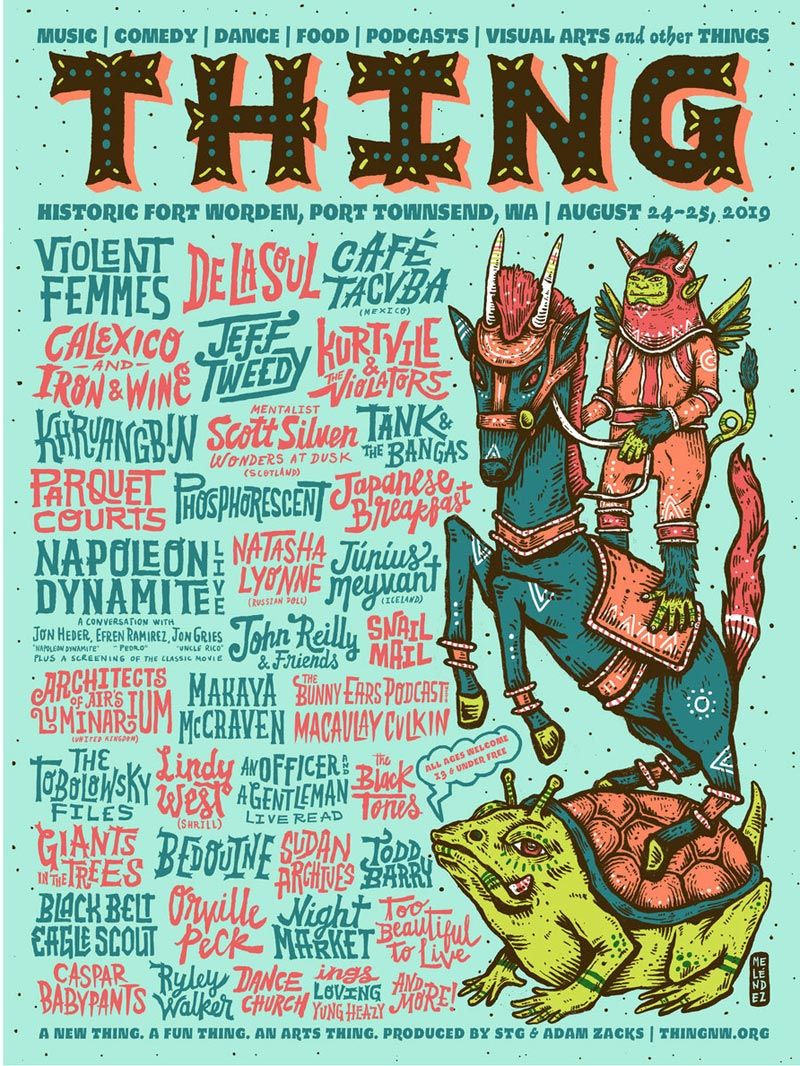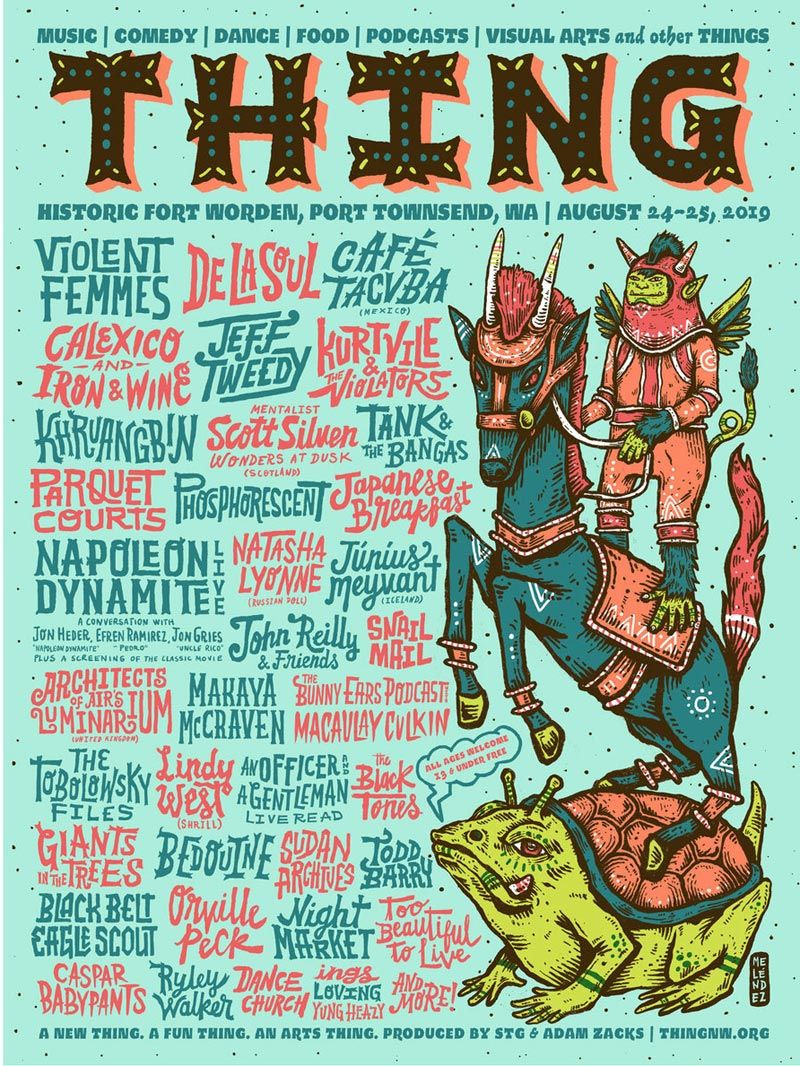 A new thing. A fun thing. An arts thing. This summer will find a fresh alternative for music and arts enthusiasts in THING, a new multidisciplinary event August 24 and 25 at Fort Worden. Produced by Seattle Theatre Group (STG) and Adam Zacks—STG's Chief Programming Office and founder of the Sasquatch! Festival—this two-day event features a unique offering of tightly curated programming including music, comedy, film, dance, food, podcasts, visual arts, and…a mentalist. Go to www.thingnw.org for tickets, schedule and program info.
Don't miss the party in August. Visit us for an amazing getaway and enjoy all things Port Townsend!
A Few Upcoming Events in September—Save the Dates!
43rd Annual Wooden Boat Festival, September 6-8
Olympic Music Festival at Fort Worden, September 1, 7 & 8
Centrum's Ukulele Festival, September 11-15
20th Annual Port Townsend Film Festival, September 20-22
July 25, 2019 by bluegullinn
What's Happening in Port Townsend
July 25, 2019 by bluegullinn
What's Happening in Port Townsend & East Jefferson County!  July 25, 2019
Finnriver Live Music on the Land
Join us at the Finnriver Cider Garden in Chimacum for local food, craft cider, live music & more.
Open Daily. All ages welcome.
Friday – Music on the Porch with Salish Strings
Saturday – Bread and Gravy
Sunday – Norman Baker
Thanks for helping us celebrate the 'culture' in agriculture! Learn more here!
Puget Sound Express 4-hour Whale Watching Tour
Want an amazing whale watching experience, but don't have all day to spend on the water? Our 4 Hour Port Townsend Whale Watching Tour is the perfect trip for visitors and travelers with a busy schedule. Visit the Olympic National Park. See Victorian Port Townsend. Explore Sequim's lavender fields – AND see whales!
Visit Puget Sound Express today!
PTguide – Port Townsend & East Jefferson County, WA | Email | Website