April 20, 2016 by bluegullinn
April 4, 2016 by bluegullinn
News from The Port Townsend
Main Street Program
Elks Building by Jason Squire Photography
APRIL EVENTS–Uptown, Downtown, it's our Town!
April 7-May 1
,
Key City Public Theatre
"Women in Jeopardy," Thelma and Louise meets The First Wives Club in this fun and flirtatious comedy.

April 9-11, Port Townsend Film Festival Focus: Women & Film. Eleven contemporary films by the best independent filmmakers working today. Six film professionals for Q&A after their screenings, and a filmmakers' roundtable on Saturday night, moderated by human rights poet and film scholar, Susan Rich.
April 9, Wooden Boat Festival Spring Symposium
Also April 9, 16th Annual 4X4 Expo at the Jefferson County Fairgrounds.
April 15, Port Townsend Main Street "LENT" Microloan Fund Low Interest Loan Program deadline. This microloan fund offers a tool for historic district businesses to offset financial impacts from emergency situations, though business development proposals will be considered.  Click here for more information.
April 20, Wooden Boat Wednesday at the Northwest Maritime Center.
April 23
,
Main Street
Earth Day Spring Clean Up, Sponsored by
The Boiler Room
! Volunteers needed! Call the Port Townsend Main Street office at 385-7911 for more information.  Join us at Adams Street Park at 9 am for painting, gardening and sprucing up downtown. Adams Street Park is at Adams and Water Street, adjacent to Nifty Fifties Restaurant. Thanks to The Boiler Room and the City of Port Townsend for Earth Day Spring Clean Up support.
Also April 23, Port Townsend Rotary Auction.
April 27-May 1, Centrum Choro Workshop.
NEWS AROUND THE BLOCK
KPTZ 91.9 FM
's Spring On-Air Fund Drive is set for April 11 through April 16. From The Beatles to Beethoven, from nature shows to news, KPTZ is an important part of the Jefferson County community. KPTZ 91.9 FM is celebrating its fifth year on the air in 2016. The goal is to raise $25,000.  You can donate online 24/7 on the station's secure website at
www.kptz.org
, or by calling 360-554-4430 during the fund drive.
Please welcome back
American Cruise Lines
to Union Wharf on Thursday, April 14th! The ship will be in Port Townsend on Thursdays through June 9th–then back in August, and many Fall dates. Check the link attached for exact dates.
SPONSORS ON THE DOCK!
Do you remember what a great summer we had last year and how fantastic the Concerts on the Dock series was? Well, we have a fabulous line-up for this summer, thanks to Dominic Svornich, our music programmer. These community concerts are made possible by generous businesses. If you are interested in sponsoring this year, please call the Main Street office at 385-7911 for details. Thank you!
Have a special event coming up, anniversary or news you would like us to share? SEND US YOUR NEWS AROUND THE BLOCK to 
admin@ptmainstreet.org
— Thank you!
LOOKING AHEAD
May is "Art Wave" Month!! 
An inspiring exhibit of over 400 pieces of children's artwork created in the Port Townsend School District in grades K-12 displayed through the month of May in businesses in the Uptown and Downtown historic districts. To learn more and to sign up,
visit our website
Hanging Flower Basket Program starts in May!
The baskets are ordered through
Henery's Garden Center
, they will be sending order forms to businesses that have ordered baskets in the past. If you are interested in ordering baskets, please call 385-3354 or email
henerysgardencenter@olypen.com
and they will send you an order form. The Port Townsend Main Street Program hires an independent gardening assistant to make sure the baskets will receive top care and attention for the season, 21 weeks! This includes securing the baskets to discourage theft, watering, fertilizing and maintaining the flowers. We offer this maintenance option to those businesses which find it easier to use an outside service for the season.  More details on pricing to come or call the PTMS office at 385-7911 for details.
March 27, 2016 by bluegullinn
On The Water
Surrounded on three sides by water, Port Townsend is an unmatched destination for boaters and maritime enthusiasts.
On the Water in Port Townsend. The area is home to many of the best boat building and maintaining craftsmen and women in the world. Many of the marine trades firms specialize in working with wooden boats of all eras. Others do much of their work with more modern materials and leading edge technologies.
Port Townsend is home to the renowned Wooden Boat Festival –  the first and largest such gathering in North America, and now a year-round destination and resource for wooden boat enthusiasts worldwide thanks to the activities of the Northwest Maritime Center.
Maritime activities are clustered in the Point Hudson Marina in the heart of the historic and civic  district of downtown Port Townsend, and in the Boat Haven area at the entrance to downtown. Visit the Port of Port Townsend website for more information on services in each location.
In addition to kayaking, rowing, and sailing, Port Townsend is known as a premier whale watching destination – with close access to the Southern Resident Pods of orcas (killer whales) who live off of our waters.
So bring your kayak, sail into Port Townsend Bay and drop anchor or get a slip at one of the marinas – we'll see you on the water!
February 9, 2016 by bluegullinn
Arts & Entertainment in Port Townsend
National Geographic calls Port Townsend "one of the most sophisticated places west of Seattle," and arts and entertainment is a large part of the reason why.

Arts & Entertainment in Port Townsend. For more than three decades, artists of all ages have flocked to Centrum, the nonprofit arts organization located at Fort Worden State Park, for artist residencies, workshops and performances. Centrum's summer performance festivals in music and literature are national events, drawing thousands to the area.
Copper Canyon Press, also located at Fort Worden, is the nation's premier poetry publishing house. Copper Canyon Press fosters the work of emerging, established, and world-renowned poets for an expanding audience.
Located at the entrance to downtown,Northwinds Arts Center is a hub of visual arts and literary activity, producing educational programs, lectures, readings and workshops, and by providing juried and invitational venues for displaying the work of regional artists.
Key City Public Theatre is perhaps the most active and vital theater organization on the Olympic Peninsula. Their year-round slate of performances and workshops draws audiences from around the region.
Port Townsend's location, coupled with its proximity to the Seattle/Vancouver/Portland metro areas, makes the town an attractive destination for national music acts and audiences looking for intimate performance experiences.
From music, to theater, to visual and performing arts, Port Townsend is a destination not to be missed. Be sure to visit PTGuide.com's comprehensive arts and entertainment calendar to find out what's happening in Port Townsend.
February 8, 2016 by bluegullinn

February 2, 2016
•First Tuesday Salon, Carol, Feb. 2, Rose Theatre, 7:30 p.m.
with special guest, Kate Reavey, poet and Peninsula College professor
•The Mask You Live In, Feb. 11, 6:30 p.m. Wheeler Theatre, Fort Worden, FREE!
•PTFF Great Big Gala, Sun., Feb 28, with radio host Luke Burbank, NW Maritime Center
First Tuesday Salon, Carol
"American-born English playwright Phyllis Nagy wrote the first draft of the script in 1996. Almost 20 years and many drafts later, we have Todd Haynes' immaculate, dream-like Carol–in which Cate Blanchett and Rooney Mara take us inside a passionate story of desire and retribution that's both satisfying and disturbing." Paul Byrnes, Sydney Morning Herald. Read more HERE.
Join us for a conversation with poet and professor Kate Reavey, following the screening. Kate's work as a poet has taken her around the world, with a fellowship to study in Florence as she pursues her doctorate in literature. Her work at Peninsula College helps other poets find and refine their voices.
The film, Carol, is based on the novel, The Price of Salt. Author Patricia Highsmith became well known for her "poison pen" with disdain for Jews, blacks and homosexuals. The novel was written in her early career, and thought to be autobiographical.
Watch the trailer: HERE.
The Mask You Live In, Feb. 11, 6:30 p.m.
Wheeler Theatre, Fort Worden
FREE, only 260 seats available.
Doors open at 5:45, tickets issued at the door.
Back by popular demand from PTFF's screening at the 2015 Festival! In collaboration with The Jefferson County Community Foundation Fund for Women & Girls, join us for a public screening of the film, The Mask You Live In, followed by a panel discussion. Details HERE.
February 6, 2016 by bluegullinn
Choro: Brazilian Music – April 27 – May 1, 2016
Workshop: April 27 – May 1, 2016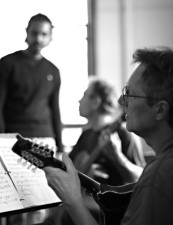 Choro: Brazilian Music – April 27 – May 1, 2016. Our popular Choro workshop is back and better than ever with new offerings and a new faculty member. Dudu Maia is coordinating an expansion of the schedule which will allow the faculty more time to explore current and historical players and styles in addition to master classes, group sessions and, of course, lots of playing. Whether you're new to the workshop or have attended several, you'll get lots of new information.
We're particularly excited to announce the addition of violinist/mandolinst Ted Falcon. He'll join returning faculty members Dudu Maia, (bandolim); the extraordinary clarinetist, Anat Cohen; and Trio Brasileiro members Douglas Lora, 7-string guitar; andAlexandre Lora, pandeiro/percussion. All are master teachers and outstanding performers who will show you first hand how much fun it is to play Choro.
Choro is a great way for both jazz and classically oriented musicians to meet on common ground. There are written charts with lovely and lively melodies accessible to any competent player. There's also room for improvisation, and in a vein that's a great way for classical musicians to expand their skills in this. This workshop is limited to forty-five people and is open to strings, woodwinds, accordion/piano and hand percussion (rather than drum set). Some others are also accepted; call if you have a question about your instrument.
"I found the entire workshop a highlight. A very amazing, wonderful group of people.
Within 15 minutes of settling into our room we were playing tunes in the living room with
our new house mates."  – Workshop Participant
Some of the most delightful moments of the weekend happen after dinner, when faculty and participants gather in the large living room and jam to their hearts' content. This year there are two housing options. Premium housing is in the beautiful, large Victorian "officer's houses" (returning participants will be familiar with these). A second option will be in the Madrona Vista building and is a bit more economical. Both options provide private rooms and full kitchens.
Participants will receive free admission to the April 30 performance in the Joseph F. Wheeler Theater.
Who should attend the workshop?
Both classical and jazz musicians will feel comfortable in this workshop, and will enjoy expanding their skills through this style. You should be proficient on your instrument, i.e. comfortable with the mechanics of playing. There will be people of different backgrounds and abilities and we'll be sure to match you up.
What is Choro music?
The Brazilian musical style of Choro represents the coming together of European melodic and harmonic traditions with African rhythms and sensibilities. Emerging in Brazil in the middle of the nineteenth century, Choro is a cousin of jazz, with a sense of yearning that is often described as a "sweet lament." Many ethnomusicologists believe that the name Choro comes from the Portuguese verb chorar—that is, to weep or to cry. It often seems bright and happy on the surface, but if you dig deeper you'll find a kind of sadness, a longing that Brazilians call saudade.
Something about the combination of Portuguese and Italian influences resulted in melodies with a strong romantic feeling. When joined with its African influences, Choro has an irresistible groove and rhythmic momentum that is uniquely Brazilian. (Click Here to read more about Choro).
What does Choro sound like?
Here are some YouTube links featuring our faculty playing typical Choro tunes:
Choro Workshop Schedule
Wednesday, 4/27
4 – 5:30pm Check-in, Centrum office
6 – 7:00 Dinner
7:00 – 9:30 First session
9:30 Welcome reception
Thursday, 4/28
8:00 – 9:00am Breakfast for those who registered for it
9:00 – 10:30 Group session: "Jacob do Bandolim; the Father of Choro"
11 – 12:25 Master classes
12:30 – 1:30pm Lunch
2:00 – 3:30 Group session: "Brazilian Rhythms"
3:45 – 5:15 Ensemble rehearsals
6:00 Dinner
Evening: Open for jamming
Friday, 4/29
8:00 – 9:00am Breakfast
9:00 – 10:30 Group sessions: "Choro Harmony and Melody"
11:00 – 12:25 Master classes
12:30 – 1:30pm Lunch
2:15 – 5:00pm Rehearsals
6:00 Dinner
Evening: Open for jamming
Saturday, 4/30
8:00 – 9:00am Breakfast
9:00 – 10:30 Group session
11:00 – 12:25
12:30 – 1:30pm Lunch
1:30 – 5:00 Rehearsals
5:30 Dinner
7:30pm Concert by Faculty in Wheeler Theater
9:30pm Reception, open for jamming
Sunday, 5/1
8:00 – 9:00am Breakfast
9:00 – 10:30am Final session, participant performances
11:00am Checkout
January 29, 2016 by bluegullinn
Now that the New Year is off to a roaring start this month, plan to attend the 12th Annual Strange Brewfest, January 29-30, boasting wildly inventive, palate-challenging craft brews featuring over 50 breweries and cideries, along with more than 80 mind-bending potations.
Strange Brewfest 12, is the Mount Olympus of beer festivals, as the 12th version of Port Townsend's ode to Northwest brewers and their imaginations lets you party like Greek Gods and Goddesses!
This iconic festival is an indoor-outdoor event based in downtown Port Townsend at the American Legion Hall in our National Historic Landmark District.
Taste is not the only sense that Strange Brewfest 12 will tempt. Be dazzled by the sights and sounds of the weekend with a continuous lineup of rockin' music. Indulge in the carnival-like atmosphere that this festival is known for.
Admission to Strange Brewfest 12 is $30/person which gives you a souvenir tasting glass, four tasting tokens and a wristband for both days. Additional tasting tokens are $1.50 each. This is a 21+ event. Make reservations for accommodations soon as Port Townsend gets sold out quickly for this event!
For event details visit www.strangebrewfestpt.com.
We look forward to welcoming you to Port Townsend in 2016! Happy New Year!
June 23, 2015 by bluegullinn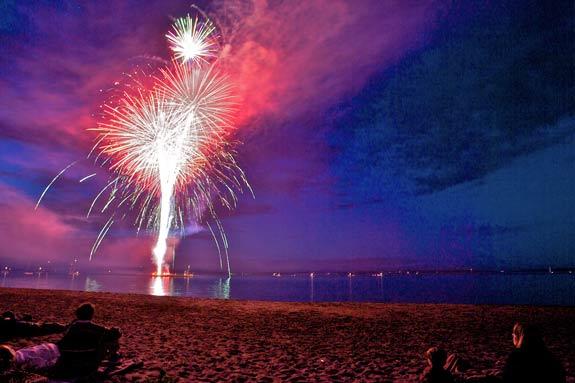 Old School 4th of July. Nothing celebrates America like the 4th of July and after a two-year hiatus, the Jefferson County Chamber of Commerce is excited to announce the return of fireworks to Fort Worden State Park for the 1st Annual "Old School" 4th of July.
In collaboration with Centrum's Festival of American Fiddle Tunes and Thunderbull Productions, locals and visitors will enjoy a memorable weekend of excellent music, delicious food and "Old School" traditions. Saturday, July 4th, carries the weekend's momentum to a climax with a pie-eating contest, field games, piñatas, free root beer floats, a car show, live music and much, much more, all culminating in an epic display of fireworks. www.jeffcountychamber.org and  www.centrum.org.
Pack the car, load up the kids and dog, and come to Port Townsend for summer fun!
Looking for a place to stay during your visit in Port Townsend, Washington's Victorian Seaport and Arts Community. Enjoy the Blue Gull Inn B&B, www.bluegullinn.com
The Blue Gull Inn B&B is one of the first homes built in Port Townsend, WA. Our home was built by ND Hill in 1868. If you can imagine, our home was built 3 years after the end of the Civil War. ND Hill and his family and had a large home with a large dining room, perfect for a Bed & Breakfast. Join us for a great Breakfast!!! ND Hill was our local pharmacist, back then a pharmacy is a combination today of a pharmacy and hardware store.
If you like history, here is your trivia of the day. The ND Hill House actually was owned by the Hill Family for 90 years, it was finally sold in 1958.This home was built at the beginning of the Victorian era, the style of the home is Gothic Victorian.
The Blue Gull Inn B&B  www.bluegullinn.com  Stay in one our 6 guest rooms, 2 with whirlpool bath tubs. Have coffee or a glass of wine on our sweeping front porch. Relax in our parlor or dining room, a casual, country Victorian theme.  The Blue Gull Inn B&B is located in Uptown, just 5 blocks from downtown Port Townsend, WA.
Looking for more to see and do in Port Townsend, Washington's Victorian Seaport and Art Community. Lots of great places to shop and dine for a list check out www.enjoypt.com or,  www.ptguide.com
If you decide you want to move to Port Townsend. Remax is here to help you you're your dream home or lot.  Contact John Eissinger www.johneissinger.com
June 22, 2015 by bluegullinn
 Voice Works – A Workshop for Singers
June 23-28, 2015
Fort Worden State Park, Port Townsend, Washington
Voice Works – A Workshop for Singers….. You'll learn new songs, about your range, and how to find your key.
Voice Works – A Workshop for Singers _ Centrum
Join us for Centrum's latest gathering of singers! Voice Works is held at Fort Worden State Park, a venue unparalleled in beauty and facility. Expect four days and five nights of intense fun, singing instruction, repertoire building, and merry music making with some top drawer vocalists.
Singing is compelling, a natural human effort to communicate. Singing maintains culture, and it makes you feel good. The combination of world-class artists and passionate singers at Voice Works creates a rare community, safe for participants of all levels to participate.
Day and night you'll soak up styles, songs and stories in a wide range of vocal traditions. Through close observation and personal experimentation you'll learn about breathing, phrasing, dynamics, how to make your voice blend, and what makes your voice unique.
Before I came to Voice Works, I loved singing, but I never felt comfortable with what it sounded like, or my ability to blend with other people. But that class with Pharis – the warm-ups, the breathing – and then you're in to your day, you're warmed up, you're opened up in a way that makes it possible for your voice to come out, it's like you're prepared for anything ….
Specifically, you'll learn to sing harmony, vintage country duets, classic jazz, swing, how to find a third part, traditional Mexican music, Appalachian ballads, Irish folk songs, mountain gospel, honky-tonk songs, bluegrass, and much more. You should expect intensive study, community building, singing, public performances, dances, house parties, song swaps, and a participant showcase every day.
When you go round in a circle, and your instructor says "Try this, try that," it somehow becomes so unthreatening, and it's really fun. Everyone has such a unique and different voice, you learn SO much from other participants, and you start to understand your sound is okay, it's all right. It's your voice.
Besides absorbing a variety of cultural and stylistic music, daily technical sessions will be on the schedule. A vocal warm-up class starts off each morning, and a class teaching you a set of vocal exercises to build your voice to its full potential will be offered twice each day.
The workshop is open to everyone. Differing levels of ability are expected, and the faculty will respond to participant need accordingly. If you're on the beginning end of the spectrum, you'll find an ample slate of classes to address your needs; likewise, advanced singers will find plenty to challenge them. If you can't help singing, or if you've always wanted to sing with people but for whatever reason you don't, you should plan to be at this workshop.
It is truly wonderful to sing with others and what a supportive environment for singers of all levels of experience. Time and time again we were reminded of what a beautiful gift we give by singing.
June 19, 2015 by bluegullinn
Centrum's Mission, Vision & Values
This is Centrum – Port Townsend, WA. Do not miss Voice Works this week!!!
Mission
Centrum's mission is to promote creative experiences that change lives.
Through inter-generational immersive workshops, we bring together aspiring and master artists to foster creativity, find and provide mentorship, and build community. Our public performances are the culmination and celebration of our workshops and programs, where we welcome audiences to share in those creative experiences.
Vision
Centrum's vision is of a future where creative artists and learners of all ages and backgrounds connect through direct and shared artistic experiences.
Values
Centrum is committed to providing outstanding service and experiences to our participants, faculty, audiences, volunteers, supporters, and community.
We believe that:
Creative experiences have the power to change lives
Traditional art forms, and the cultural context in which they were formed and continue to evolve, are essential keys to our nation's multicultural heritage and future
Creative artists and writers thrive in partnership and alliance with others
A close connection with our community helps us better serve all of our audiences, partners, and neighbors
There is value in providing an environment for lifelong learning for people of all ages and backgrounds, regardless of their level of expertise or professional aspirations
A safe and nurturing environment builds confidence and promotes creative expression and critical thinking skills
We are so fortunate to have a non profit organization like Centrum right here in Port Townsend. Located at Fort Worden State Park. Make sure you check out all that Centrum has to offer. Many different Festivals for your enjoyment, Jazz, Blues, Fiddle Tunes and Voice Works are only part of what Centrum has to offer. Check out their web site to see all the events and talent they bring to Port Townsend.
While visiting Port Townsend stay at the Blue Gull Inn B&B.
If you decide you want to live in our area, contact John Eissinger a local Realtor with Remax.