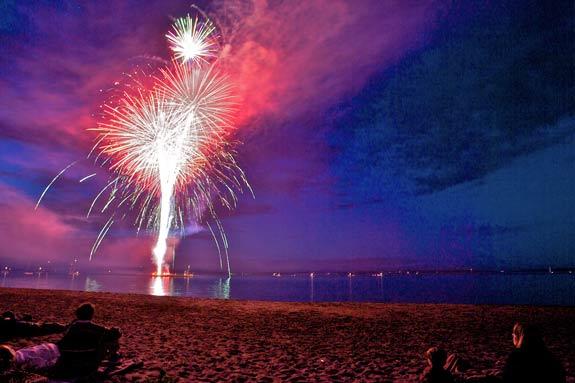 Old School 4th of July. Nothing celebrates America like the 4th of July and after a two-year hiatus, the Jefferson County Chamber of Commerce is excited to announce the return of fireworks to Fort Worden State Park for the 1st Annual "Old School" 4th of July.
In collaboration with Centrum's Festival of American Fiddle Tunes and Thunderbull Productions, locals and visitors will enjoy a memorable weekend of excellent music, delicious food and "Old School" traditions. Saturday, July 4th, carries the weekend's momentum to a climax with a pie-eating contest, field games, piñatas, free root beer floats, a car show, live music and much, much more, all culminating in an epic display of fireworks. www.jeffcountychamber.org and  www.centrum.org.
Pack the car, load up the kids and dog, and come to Port Townsend for summer fun!
Looking for a place to stay during your visit in Port Townsend, Washington's Victorian Seaport and Arts Community. Enjoy the Blue Gull Inn B&B, www.bluegullinn.com
The Blue Gull Inn B&B is one of the first homes built in Port Townsend, WA. Our home was built by ND Hill in 1868. If you can imagine, our home was built 3 years after the end of the Civil War. ND Hill and his family and had a large home with a large dining room, perfect for a Bed & Breakfast. Join us for a great Breakfast!!! ND Hill was our local pharmacist, back then a pharmacy is a combination today of a pharmacy and hardware store.
If you like history, here is your trivia of the day. The ND Hill House actually was owned by the Hill Family for 90 years, it was finally sold in 1958.This home was built at the beginning of the Victorian era, the style of the home is Gothic Victorian.
The Blue Gull Inn B&B  www.bluegullinn.com  Stay in one our 6 guest rooms, 2 with whirlpool bath tubs. Have coffee or a glass of wine on our sweeping front porch. Relax in our parlor or dining room, a casual, country Victorian theme.  The Blue Gull Inn B&B is located in Uptown, just 5 blocks from downtown Port Townsend, WA.
Looking for more to see and do in Port Townsend, Washington's Victorian Seaport and Art Community. Lots of great places to shop and dine for a list check out www.enjoypt.com or,  www.ptguide.com
If you decide you want to move to Port Townsend. Remax is here to help you you're your dream home or lot.  Contact John Eissinger www.johneissinger.com