Easter Sunday is April 5. Contact the Port Townsend Visitor Information Center for locations and times of church services, Easter brunch and Easter dinner. Call 360.385.2722 or email info@jeffcountychamber.org.
Celebrate Earth Day weekend at the Port Townsend Marine Science Center on the pier at Fort Worden State Park. See the new Go Blue marine science exhibits opening Friday, April 24 through Sunday, April 26, noon to 5pm. The new Go Blue exhibits feature actions we can take to understand how the ocean sustains our lives and engages in collective solutions for community-wide marine conservation.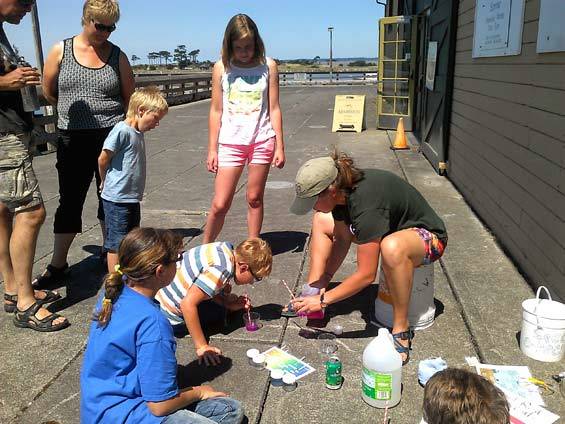 The Go Blue endeavor dives deeper into the global issue of ocean health, reveals the human impact of climate change, plastics, and toxics on marine ecosystems, and provides choices for what we can do as a community, and as families, to address it in our own back yard. For more info go to www.ptmsc.org or call 360.385.5582
Looking for a place to stay, try the Blue Gull Inn B&B
The Blue Gull Inn B&B is one of the first homes built in Port Townsend, WA. Our home was built by ND Hill in 1868. If you can imagine, our home was built 3 years after the end of the Civil War. ND Hill and his family and had a large home with a large dining room, perfect for a Bed & Breakfast. Join us for a great Breakfast!!! ND Hill was our local pharmacist, back then a pharmacy is a combination today of a pharmacy and hardware store.
Looking for a place to stay during your visit in Port Townsend.                                      Enjoy the Blue Gull Inn B&B, www.bluegullinn.com
If you like history, here is your trivia of the day. The ND Hill House actually was owned by the Hill Family for 90 years, it was finally sold in 1958.This home was built at the beginning of the Victorian era, the style of the home is Gothic Victorian.
The Blue Gull Inn B&B  www.bluegullinn.com  Stay in one our 6 guest rooms, 2 with whirlpool bath tubs. Have coffee or a glass of wine on our sweeping front porch. Relax in our parlor or dining room, a casual, country Victorian theme.  The Blue Gull Inn B&B is located in Uptown, just 5 blocks from downtown Port Townsend, WA.
Looking for more to see and do in Port Townsend, Washington's Victorian Seaport and Art Community. Lots of great places to shop and dine for a list check out www.enjoypt.com or,  www.ptguide.com
So you are visiting Port Townsend and decide like many people, it is a great place to live. For real estate contact John Eissinger at Remax www.johneissinger.com. We are a very walking and bicycle friendly community. Port Townsend is located right on the water, at the entrance to Puget Sound. We are the water gate way to the Puget Sound, many boaters find Port Townsend by boat.
Do not miss Fort Worden State Park, located just north of Port Townsend. Take a stroll on the curved sandy beach with the Point Wilson lighthouse at the other end. Enjoy the old concrete bunkers, RV parks, camping, hiking, biking, kayaking or just relax.