May 6, 2015 by bluegullinn
Port Townsend Acoustic Blues and Jazz Festival – 2015
Centrum is honored to welcome vocalist, teacher, lyricist, Grammy-nominated arranger, and Grammy award-winning ensemble singer, Kim Nazarian to our 2015 Jazz Port Townsend festival and workshop!  Just try and fit a ball of positive energy like Kim into a category and you will break the box!
Kim Nazarian is the soprano and one of the founding members of the New York Voices, the only vocal group in recent memory to win two Grammys for live concert recordings (one of Brazilian music with Paquito D'Rivera, the other for Big Band Jazz with the Count Basie Orchestra). She has recorded, performed and toured the world with this outstanding vocal ensemble for the past twenty years. Her voice is featured on several MCG Jazz releases (mcgjazz.org), among them "Afternoon In Rio" with Joe Negri, (yes, Mr. Rogers' Handyman Negri!) "The 21st Century Swing Band," the highly acclaimed "A Nancy Wilson Christmas," and "Long Ago and Far Away," her original, interactive children's concert, which has grown into a radio show now available on CD through MCG Jazz.
CLICK HERE FOR COMPLETE INFORMATION ON JAZZ PORT TOWNSEND.
Aside from her work with MCG, Kim was a featured vocalist alongside Ray Brown and Stanley Turrentine in the Pittsburgh Ballet Theatre's production of "Indigo In Motion" and has appeared with the Pittsburgh Children's Festival Chorus. She has taught at Duquesne University and the Ellis School, recorded with the Big-Band at Slippery Rock University and continues a busy schedule in her private teaching at home in PA. Kim has also recorded "Red Dragonfly in New York" for JVC in Japan. The album contains Japanese folk songs translated into English and western musical contexts. As a singer and lyricist for such artists as Masahiko Osaka her work has won the "seal of approval" by Japan's Swing Journal.
Always passionate for Latin Music, Kim performs and records with Boston-based El Eco, whose album "Two Worlds" was recently featured on NPR's JazzSet. Other collaborations include her work performing and recording with Mark Shilansky, her vocals featured extensively on his most recent recording "Join the Club."
A more recent recording opportunity for Kim was her work on Bobby McFerrin's critically acclaimed Vocabularies
Related Images:
April 22, 2015 by bluegullinn
Flowers and Gardens Await…..
We hope that while you are staying at the Blue Gull Inn B&B, you will take time to smell the flowers. Enjoy our back yard with the deer and all the plants and flowers. Pull up as chair, sit and read or just relax. We have many flowers and trees. From summer lilac, dahlias, roses, sunflowers, geraniums, holly hocks, rose campion, tree of heaven, clematis, montery cypress, sweet cicely, violets, lilac, daffodils, bluebells and more.
Watch the hummingbirds at the feeders and taking a bath in the bird bath. We have had 2 rufus hummingbirds winter over with us for the past 2 winters. This variety of hummingbird has the ability to lower their body temperature at night to make it through the cold nights during winter.
Watch the deer in the yard and around Port Townsend. This herd of deer lives and thrives in town all year long. The record for us is 11 in the back yard at one time. In the spring the does bring the new fawns into our yard and they are so sweet to watch.
While in Port Townsend, stay in one of our 6 guest rooms at the Blue Gull Inn B&B www.bluegullinn.com. We are located in the Uptown Historic District, just 5 blocks from downtown, and the water.
If you decide you want to move to Port Townsend.  John Eissinger can show you around and find you the real estate that works for you. He is a managing broker with Remax. Visit his website or give him a call. www.johneissinger.com 
Do not miss Fort Worden State Park. Just one and a half miles from the Blue Gull Inn B&B. Take a stroll past the Marine Science Center on the curved sandy beach to the Point Wilson lighthouse.
Related Images:
March 4, 2015 by bluegullinn
Be inspired. Be entertained. Pack the car and come to Port Townsend for an exciting weekend to match your mood and interests: from a theatre-lover's feast of new plays to the opportunity to live the Victorian life for a few days to the melodic sounds of a quartet of guitars. Buy your tickets early as each of the events will sell out quickly. This is a month you won't want to miss!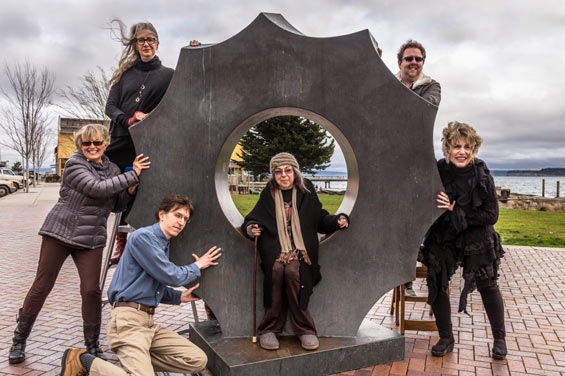 Nine talented playwrights will present their work over two weekends, March 5-15, 2015, at Key City Public Theatre's PT PlayFest, featuring winning one-acts with open rehearsals of plays-in-progress, playwriting workshops, staged readings and full productions.
"Locals Weekend," March 5-8, 2015, features the winning one-acts and precedes the jam-packed "Festival Weekend," March 12-15, 2015, when three days of back-to-back events in two separate venues (Key City Playhouse and the nearby Pope Marine Building) will satisfy even the most voracious theater-goer.
KCPT's featured guest playwright this year is Doris Baizley, who will join audiences on the night of Friday, March 13, 2015, to attend and discuss her full-length play Neel Beaux.
Directing the play will be KCPT Artistic Director Denise Winter who comments, "I'm excited about Neel Beaux because it tells the story of two artists who come into their own at completely different times in their lives. It's a perfect story for Port Townsend, in particular, because we have so many artists here that are hitting their artistic strides at different ages." www.keycitypublictheatre.org.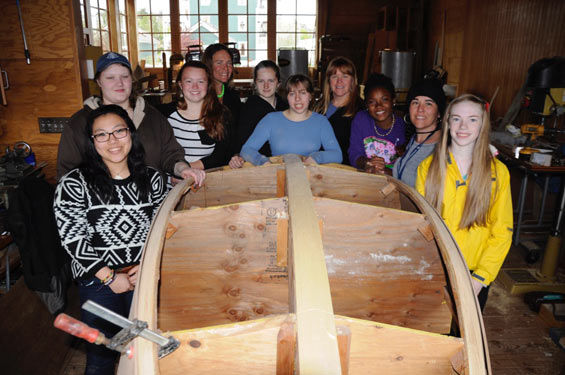 The Northwest Maritime Center will host the 2nd Annual She Tells Sea Tales storytelling event on Saturday, March 7, 2015. Doors open at 6 pm and the event starts at 7 pm. Eleven women mariners will share their experiences of the sea through poetry, prose, storytelling, and song in a fun-filled evening that benefits the Girls' Boat Project. The Girls' Boat Project is in its third year of running a for-credit high school program that helps young women to learn the marine trades. www.nwmaritime.org.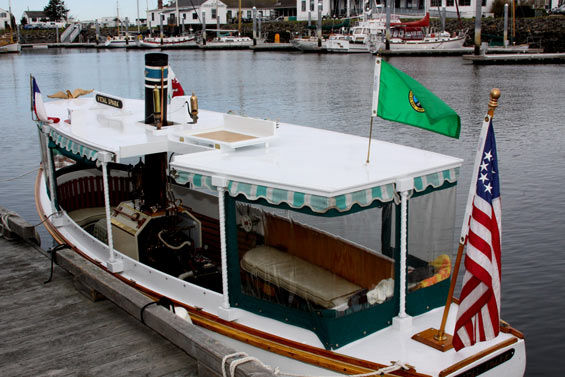 Imagine walking down Port Townsend's bustling waterfront in the late 1880s when maritime commerce was at a frenzied peak. Picture Port Townsend Bay filled with tallships, many of them loading or unloading goods at Union Wharf. The 19th Annual Victorian Festival, March 20-22, 2015, shows how the maritime industry shaped the culture during those volatile decades of expansion, and economic tumult, and its effect here in Port Townsend.
Friday night kicks off with a rousing Sea Shanty Sing-Along at 7 pm, followed by theVictorian Pub Crawl at 8 pm, featuring saloons, "shanghai tunnels," and fine vintage cocktails through a "staggering" selection of Port Townsend's (in)famous watering holes.
Learn about maritime history on Saturday with explanations of rigging, sails, and celestial navigation, along with old favorites like the manly arts of self-defense. Take a steam boat ride. Watch a bicycle demo. Learn about corsets. Partake in a Victorian tea. Cap off the day with the Fashion Show, then attend the Victorian Ball at 7 pm, and the Contra Dance at 9 pm. All ages are welcome and bring your stompin' boots!
On Sunday, from 11 am – 3 pm, take the "Insider's Historic Building Tours" revealing intriguing stories from the past, as well as visions for the future, in structures located both downtown and uptown.
Join us for a celebration of the old that is new again, bringing together scholars, enthusiasts and curiosity-seekers from across the Pacific Northwest.www.VictorianFestival.org.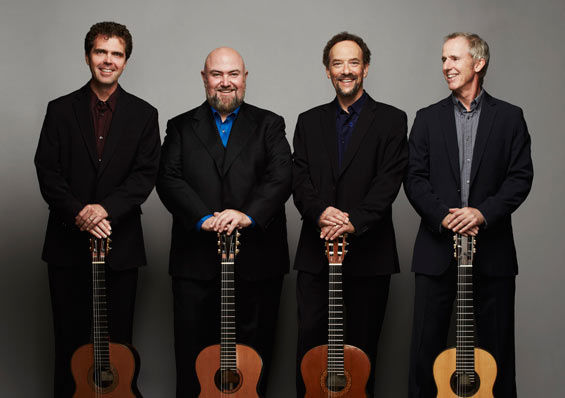 Top off the month with Centrum's Grammy Award-winning Los Angeles Guitar Quartet on Sunday, March 29, 2015 at 2 pm in the Joseph F. Wheeler Theater at Fort Worden State Park. These four uniquely accomplished musicians bring a new energy to the concert stage with programs ranging from Bluegrass to Bach. Their inventive, critically-acclaimed transcriptions of concert masterworks provide a fresh look at the music of the past, while their interpretations of works from the contemporary and world-music realms continually break new ground.
Programs include Latin, African, Far East, Irish, Folk and American Classics, transporting listeners around the world in a single concert experience. www.centrum.org.
Enjoy Port Townsend's varied and exciting events in March!
Play it Up in Port Townsend in March 2015
While visiting Port Townsend. Stay at a great B&B. The Blue Gull Inn has 6 guest rooms located in historic uptown, built in 1868. www.bluegullinn.com
If you decide you want to move to Port Townsend. Remax is here to help you find your real estate. Contact John Eissinger www.johneissinger.com
Related Images:
March 3, 2015 by bluegullinn
Port Townsend Film Festival, September 25-27, 2015
Port Townsend Film Festival, September 25-27, 2015
THE STORY OF OUR FESTIVAL
In 1999, four film buff friends – who met annually at the Telluride Film Festival –decided they could create a festival closer to home, right in the heart of the National Historic District on Port Townsend, Washington's waterfront.
Rocky Friedman, Linda Yakush, Jim Ewing, and Jim Westall hatched their idea for a hometown film festival with one caveat: It should have something for everyone. Peter Simpson, writer, poet and film lover joined them, and in year five, became our first Executive Director. Together they attracted 200 volunteers to this great notion.
With the motto "A film lover's block party celebrating great films and filmmakers," the first Port Townsend Film Festival launched on September 22, 2000. We closed off Taylor Street and brought in hay bale seating for an evening of free outdoor movies, opened three indoor movie venues, and screened 24 documentary, feature, and short films over three days and nights.
We now screen more than 80 films in seven venues! It's completely walkable, includes a big outdoor dinner for passholders, Q&A and panel discussions with filmmakers, and great parties. We still invite everyone to fill Taylor Street, on three evenings, for the outdoor movie (free of charge) and offer free films day and night in the Peter Simpson Theatre.

Bruce Dern
Our Festival attracts film historians, critics, famous screenwriters, producers, directors and industry specialists. Each year we select a Special Guest, among them Elliott Gould, Tony Curtis, Dyan Cannon, Debra Winger, Karen Allen and Bruce Dern as he prepared for his role in the Academy Award-winning film, "Nebraska."
Festival revenues allow us to hold special events and take filmmakers to the schools throughout the year, and to offer a fellowship providing local housing (and time) for filmmakers to complete their work.
Our more than 300 volunteers donate their time, money, materials (everything from hammers and nails to floral bouquets), housing and frequent flier miles to keep our guests, filmmakers and their films coming, keeping the dream going.
The Festival has weathered several economic storms during its 15 years, always finding a way for the community and its guests to watch movies together, to talk about movies together, to love movies together. We gave up our original one-room office, in the entryway of the historic Baker Block Building, and moved into a spacious suite on the top floor. You can see our wonderful PTFF neon sign from one end of Water Street to the other.
In this seaport arts community of festivals and celebrations, the people of Port Townsend love their Film Festival. Every year, the word of just how special it is travels just a little further. Every year the waves of creative, diverse moviemakers and moviegoers converge. And so the film lover's block party goes on!
Port Townsend Film Festival, September 25-27, 2015
When you visit, stay at the Blue Gull Inn B&B. Just up the hill from the outdoor movie.
Blue Gull Inn B&B www.bluegullinn.com
Visit the Blue Gull Inn B&B in Historic Port Townsend, Washington's Victorian Seaport and Arts Community. Our web site is www.bluegullinn.com. For real estate contact John Eissinger at Remax www.johneissinger.com.
Our bed & breakfast was one of the first homes built in Port Townsend, WA. The Blue Gull Inn B&B was built by ND Hill in 1868.
Choose one of our 6 comfortable guest rooms, 2 with whirlpool tubs.
The Blue Gull Inn B&B is located in Uptown, just 5 blocks from downtown Port Townsend, WA.
Check out our web site at www.bluegullinn.com
For things to see and do check out www.enjoypt.com
Related Images:
June 1, 2014 by bluegullinn
For those interested in wooden boats or just spending time outside on our beautiful waterfront, the Classic Mariners' Regatta is taking place in Port Townsend June 6th-8th. Hosted by the Maritime Center/Wooden Boat Foundation and the Port Townsend Sailing Association. This event is for wooden boats and will be wonderful to watch from a higher vantage point, just ask the innkeepers where to go. Also, be sure to check out the NW Maritime Center and browse through The Chandlery to pick up a nautical souvenir.
Related Images:
May 21, 2014 by bluegullinn
We welcome not only an
extended weekend but the unofficial start to summer. The weather has been wonderful lately and will hopefully hold out through Monday. Regardless of what Mother Nature decides to throw our way us Washingtonians won't let a little rain spoil our good time. There is the Shrimp Fest going on in Brinnon, WA the 24th & 25th. If you are looking for live music stop by the Quimper Grange to hear Portland's New Iberians play Zydeco, Blues, Soul, & New Orleans Rock'n'Roll; you can even join in a dance lesson. Getting hungry? The 1st Annual Port Townsend Artisan Food Festival sounds delicious and interesting!
Related Images:
March 27, 2014 by bluegullinn
Related Images:
February 2, 2013 by bluegullinn
Does is seem like everyone is planning a tropical or exotic getaway? Wouldn't you like to have a little getaway of your own? You can… and without blowing your whole budget. There is beauty right here in your own backyard. There are miles of beaches to walk and regain your mental balance and sense of calm (that frankly, I think we could all use right about now). If you need to warm up try something spicy or exotic at Khu Larb Thai or Hanazono Asian Noodle. If you enjoy tea, Pippa's is a friendly place to visit. They have so many different blends you are almost certain to find one you like…make mine the Jasmine Green!
Related Images:
January 24, 2013 by bluegullinn
Looking for a Valentine's Day gift? Surprise that special someone with a weekend getaway to Port Townsend. Jewelry is nice but why not give them an experience they will remember forever? I would suggest a nice bottle of wine from The Wine Seller, chocolates from Elevated Ice Cream and some beautiful fresh flowers from Petals in Uptown Port Townsend. Treat them to a romantic dinner at one of the delicious local restaurants and there is no going wrong.
Related Images:
November 14, 2012 by bluegullinn
What a better excuse to come to Port Townsend than to do a little holiday shopping? With so many wonderful and unique shops in our downtown area you are sure to find that perfect gift for anyone. Forget the mall….browse through local stores with a beautiful waterfront view. Some fantastic places to stop in are Wandering Angus, The Green Eyeshade, Henery Garden Center, Maestrale, Forest Gems Gallery and Tickled Pink. After a day of shopping be sure to check out The Undertown for a hot cup of coffee or a glass of wine.
Related Images: