February 7, 2016 by bluegullinn
Port Townsend Acoustic Blues Workshop
July 31-August 7, 2016
Fort Worden State Park, Port Townsend, WA

Port Townsend Acoustic Blues Workshop – 2016. Join us for this annual acoustic blues gathering! The Port Townsend Acoustic Blues workshop is held at Fort Worden State Park, one of the Pacific Northwest's most stunning and inspiring landscapes.
Unique and compelling about this particular workshop, is the focus and intention put on early blues music, with education as the goal while honoring the offshoots of that core style of music. The primary core is acoustic pre-war (1920s and 1930s) blues, the African-American cultures they grew out of and their traditions. Steeped in the rich music and cultures of communities of the Southern USA, this workshop gives attention to styles typified by the different players from various regions (Piedmont region of the Southeastern coast, the Mississippi Delta and Hill Country, Louisiana and Texas), the differences in technique as well as how to get the proper sounds of these styles out of your instrument. The music is the primary focus of the multi-generational in-residence workshop week but the downhome back-porch vibe of the culture creates a community that lends a family gathering feel to the week.
To keep these early styles of blues alive we need new songs, players and sounds along with the original songs and sounds that will move this genre forward while honoring its rich traditions. This week is designed to inform your playing and make you a better musician – you'll hang out, jam and swap tunes with interesting, accomplished, and fun bearers of acoustic blues traditions. You'll take part in daily classes and serious music making in the evenings with some of the finest acoustic blues players working today.
This generous community shares your passion and energy, and we can almost guarantee that by the end of the week you AND your playing will be heading into directions you didn't predict just a few days earlier. Daily classes are offered in Hill Country, Delta and Piedmont styles, finger-picking, blues guitar, slide guitar, harmonica, violin, mandolin, banjo, piano, bass, accordion, ukulele, singing, washboard, gospel choir and history, all taught by masters of the traditions.
Please keep an eye on this website as details unfold. For information contact: Acoustic Blues Program Manager, Mary Hilts at mhilts@centrum.org, or 360.385.3102 x 116.
The schedule is still under development but here's a general idea of what to expect:
Sunday, July 31, 2016: 4pm – arrive and settle in; 6pm – dinner; 8pm – welcome & orientation; and jamming after.
Monday – Friday: Breakfast; 2 morning workshop sessions; Lunch; 2 afternoon workshop sessions including band lab opportunities; late afternoon Gospel Choir and Back Porch Jams.
Evenings: entertainment, open jams, focused jams and house parties.
There will be public performances by the instructors on Friday and Saturday as well as Blues in the Clubs both of these nights. Your workshop registration entitles you to prime seats at these shows.
Sunday August 7, 2016: farewell breakfast, check out of rooms by 11am.
June 22, 2015 by bluegullinn
 Voice Works – A Workshop for Singers
June 23-28, 2015
Fort Worden State Park, Port Townsend, Washington
Voice Works – A Workshop for Singers….. You'll learn new songs, about your range, and how to find your key.
Voice Works – A Workshop for Singers _ Centrum
Join us for Centrum's latest gathering of singers! Voice Works is held at Fort Worden State Park, a venue unparalleled in beauty and facility. Expect four days and five nights of intense fun, singing instruction, repertoire building, and merry music making with some top drawer vocalists.
Singing is compelling, a natural human effort to communicate. Singing maintains culture, and it makes you feel good. The combination of world-class artists and passionate singers at Voice Works creates a rare community, safe for participants of all levels to participate.
Day and night you'll soak up styles, songs and stories in a wide range of vocal traditions. Through close observation and personal experimentation you'll learn about breathing, phrasing, dynamics, how to make your voice blend, and what makes your voice unique.
Before I came to Voice Works, I loved singing, but I never felt comfortable with what it sounded like, or my ability to blend with other people. But that class with Pharis – the warm-ups, the breathing – and then you're in to your day, you're warmed up, you're opened up in a way that makes it possible for your voice to come out, it's like you're prepared for anything ….
Specifically, you'll learn to sing harmony, vintage country duets, classic jazz, swing, how to find a third part, traditional Mexican music, Appalachian ballads, Irish folk songs, mountain gospel, honky-tonk songs, bluegrass, and much more. You should expect intensive study, community building, singing, public performances, dances, house parties, song swaps, and a participant showcase every day.
When you go round in a circle, and your instructor says "Try this, try that," it somehow becomes so unthreatening, and it's really fun. Everyone has such a unique and different voice, you learn SO much from other participants, and you start to understand your sound is okay, it's all right. It's your voice.
Besides absorbing a variety of cultural and stylistic music, daily technical sessions will be on the schedule. A vocal warm-up class starts off each morning, and a class teaching you a set of vocal exercises to build your voice to its full potential will be offered twice each day.
The workshop is open to everyone. Differing levels of ability are expected, and the faculty will respond to participant need accordingly. If you're on the beginning end of the spectrum, you'll find an ample slate of classes to address your needs; likewise, advanced singers will find plenty to challenge them. If you can't help singing, or if you've always wanted to sing with people but for whatever reason you don't, you should plan to be at this workshop.
It is truly wonderful to sing with others and what a supportive environment for singers of all levels of experience. Time and time again we were reminded of what a beautiful gift we give by singing.
June 19, 2015 by bluegullinn
Centrum's Mission, Vision & Values
This is Centrum – Port Townsend, WA. Do not miss Voice Works this week!!!
Mission
Centrum's mission is to promote creative experiences that change lives.
Through inter-generational immersive workshops, we bring together aspiring and master artists to foster creativity, find and provide mentorship, and build community. Our public performances are the culmination and celebration of our workshops and programs, where we welcome audiences to share in those creative experiences.
Vision
Centrum's vision is of a future where creative artists and learners of all ages and backgrounds connect through direct and shared artistic experiences.
Values
Centrum is committed to providing outstanding service and experiences to our participants, faculty, audiences, volunteers, supporters, and community.
We believe that:
Creative experiences have the power to change lives
Traditional art forms, and the cultural context in which they were formed and continue to evolve, are essential keys to our nation's multicultural heritage and future
Creative artists and writers thrive in partnership and alliance with others
A close connection with our community helps us better serve all of our audiences, partners, and neighbors
There is value in providing an environment for lifelong learning for people of all ages and backgrounds, regardless of their level of expertise or professional aspirations
A safe and nurturing environment builds confidence and promotes creative expression and critical thinking skills
We are so fortunate to have a non profit organization like Centrum right here in Port Townsend. Located at Fort Worden State Park. Make sure you check out all that Centrum has to offer. Many different Festivals for your enjoyment, Jazz, Blues, Fiddle Tunes and Voice Works are only part of what Centrum has to offer. Check out their web site to see all the events and talent they bring to Port Townsend.
While visiting Port Townsend stay at the Blue Gull Inn B&B.
If you decide you want to live in our area, contact John Eissinger a local Realtor with Remax.
June 1, 2015 by bluegullinn
Parks & Beaches
Parks & Beaches to visit in Port Townsend, WA. Port Townsend is home to some of the most oustanding public parks in the state of Washington.
Fort Worden State Park is a turn-of-the-century army base located just 2 miles from the downtown core. Fort Worden offers an unmatched combination of natural beauty and historic interest. Acres of saltwater beaches, wooded hills, and open fields are framed by stunning vistas of the Olympic and Cascade ranges and the Strait of Juan de Fuca. In addition to being a mecca for nature lovers, the Park and it's nonprofit campus partners is a center for lifelong learning.
Perched between downtown and Fort Worden is the lovely Chetzemoka Park. This city-owned gem is on the water, and has a stunning view of the Cascade Mountains and Whidbey Island. The Park has  flower gardens, picnic areas, play equipment, and a bandstand modeled after the Victorian original, as well as access to the beach and tidelands.
Port Townsend is just miles away from the mighty Olympic National Park. One the nation's crown jewels, ONP showcases Pacific Ocean beaches, rain forest valleys, glacier-capped peaks and a stunning variety of plants and animals. Roads provide access to the outer edges of the park, but the heart of the Park Olympic is wilderness; a primeval sanctuary for humans and wild creatures alike.
Want more to explore? Check out PTGuide.com's complete list of City parks.
Do not miss Fort Worden State Park. Take a walk on the beach. Fort Worden was built in 1902 to help protect the entrance to Puget Sound. Walk through the concrete bunkers and slam the big steel doors. Bring your flashlight, it is pitch black inside.
Walk along the sandy beach to the Point Wilson Lighthouse. Off in the distance is Whidbey Island.
Port Townsend is located at the entrance to Puget Sound. All ships entering and leaving the Puget Sound, pass right past Port Townsend, WA. In the early days of Washington State many ships made port in Port Townsend to take advantage of our deep water port but more importantly all the brothels and bars on the downtown waterfront.
www.fortworden.org
May 29, 2015 by bluegullinn
We're Over the Moon About All the Fun in June!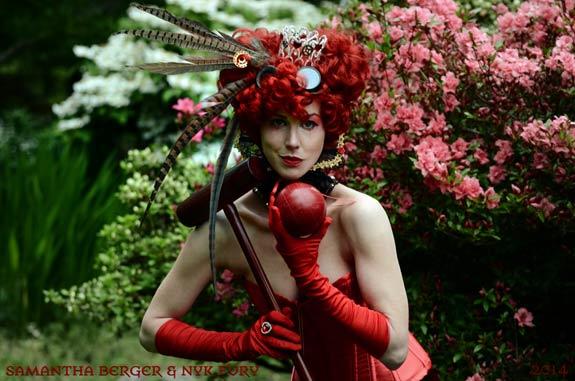 It turns up the heat with the hottest Steampunk Hootenanny ever, featuring bands from across the country, burlesque, and a diverse array of entertainments. All-ages attractions include: Tactical Croquet, Airship Apprentice (our own collectible card game), Hugo award-winning Phil & Kaja Foglio's Girl Genius, Rise of Aester's annual assembly, the stupendous Bazaar of the Bizarre, bands, magic, and mayhem galore!www.brass-screw.org
Race to Alaska 2015
The first-ever Race to Alaska (R2AK) starts with a celebratory send-off party hosted by the Northwest Maritime Center (NWMC) on June 3. The "Pre-Race Ruckus" will be held in the Pope Marine Park (adjacent to the NWMC) from 5-7 pm and will feature live music, a beer garden and food carts. There will be an opportunity to see the boats and meet the characters who have entered into this inaugural event.
Over 60 teams will depart Port Townsend in the wee hours on June 4 (rumor has it sometime between 4 and 5 am!), headed for the Stage 1 finish in Victoria, BC. Stage 2 will leave Victoria on June 7. The race ends 750 miles later in Ketchikan, Alaska. The winner receives $10,000 and the second place finisher gets a set of steak knives. Join the fun at the "Pre-Race Ruckus" to send them off in style the day before the race start! www.NWMaritime.org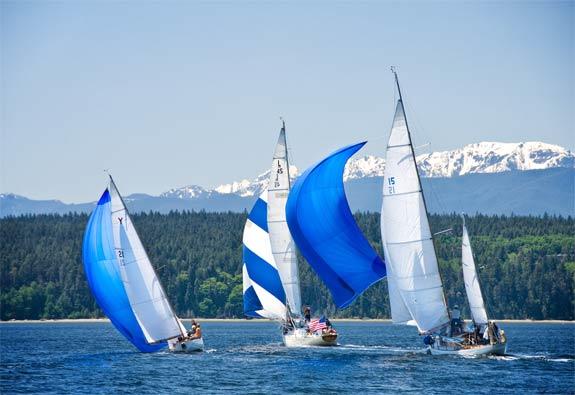 The 32nd Annual Classic Mariners' Regatta begins the next day on June 5, at the Northwest Maritime Center (NWMC), concluding on Sunday, June 7. This event draws classic wooden boats from across the state to race, rub elbows and celebrate the beauty of wooden boats. The races are open to classic sailboats of all sizes, kayaks, dinghies and row boats.
The weekend kicks off with a welcoming gathering on Friday night. Saturday brings two races, the first starting at noon and the second one commencing immediately after. A loosely-organized race for wooden dinghies, shells and kayaks will be held Sunday at 9 am, if there are enough participants. The final sailboat race will start at noon and the weekend concludes with an awards ceremony at 5 pm.www.NWMaritime.org
Visit our new Port Townsend Visitor Information Center recently relocated to 2409 Jefferson Street (the former home of Northwind Art Center), just off Sims Way. This will provide easy access for you as you're coming into Port Townsend and you'll love the fresh new look. The volunteers are looking forward to welcoming you not only to Port Townsend, but to the new Visitor Center as well.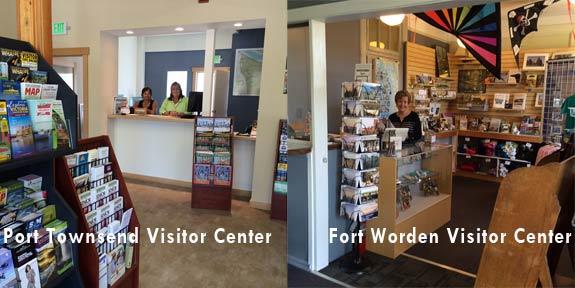 Also on the move, the Fort Worden Visitor Center relocated from the Guardhouse, near the entrance to the park, to the Park Administration Office across from the Parade Grounds. The Visitor Center and gift shop is managed by the Friends of Fort Worden, with all proceeds from sales going toward support of the park. Stop by, learn about Fort Worden, and pick up a few gifts for friends and family. www.fwfriends.org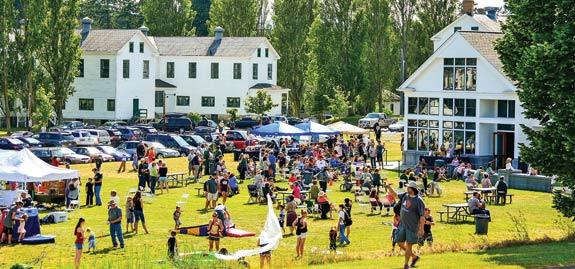 The 2nd Annual Fort Worden Open House is a free, family-friendly event that celebrates the diversity of Fort Worden and the Lifelong Learning Center. Rediscover the natural beauty and rich history of this 434-acre state park on Saturday, June 13.
From 2-6 pm, bring the whole family and learn about the innovative programming and extraordinary events presented by Fort Worden's 12 campus partners. And don't forget your dancing shoes! There will be live music and entertainment at the Fort Worden Commons all afternoon, culminating in an all-ages concert with Locust Street Taxi and special guests performing in the USO Building beginning at 7 pm.
For more information visit Facebook athttps://www.facebook.com/events/638520192916220/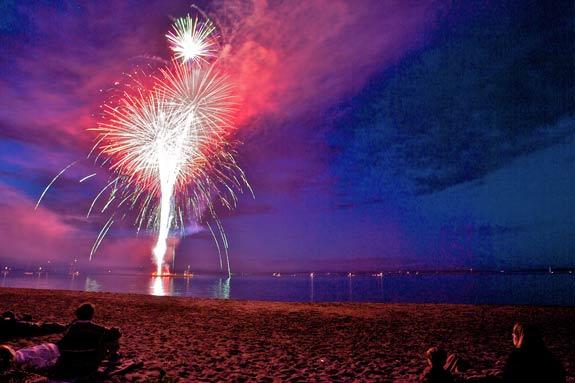 Nothing celebrates America like the 4th of July and after a two-year hiatus, the Jefferson County Chamber of Commerce is excited to announce the return of fireworks to Fort Worden State Park for the 1st Annual "Old School" 4th of July.
In collaboration with Centrum's Festival of American Fiddle Tunes and Thunderbull Productions, locals and visitors will enjoy a memorable weekend of excellent music, delicious food and "Old School" traditions. Saturday, July 4th, carries the weekend's momentum to a climax with a pie-eating contest, field games, piñatas, free root beer floats, a car show, live music and much, much more, all culminating in an epic display of fireworks. www.jeffcountychamber.org and  www.centrum.org.
Pack the car, load up the kids and dog, and come to Port Townsend for summer fun!
May 6, 2015 by bluegullinn
Port Townsend Acoustic Blues and Jazz Festival – 2015
Centrum is honored to welcome vocalist, teacher, lyricist, Grammy-nominated arranger, and Grammy award-winning ensemble singer, Kim Nazarian to our 2015 Jazz Port Townsend festival and workshop!  Just try and fit a ball of positive energy like Kim into a category and you will break the box!
Kim Nazarian is the soprano and one of the founding members of the New York Voices, the only vocal group in recent memory to win two Grammys for live concert recordings (one of Brazilian music with Paquito D'Rivera, the other for Big Band Jazz with the Count Basie Orchestra). She has recorded, performed and toured the world with this outstanding vocal ensemble for the past twenty years. Her voice is featured on several MCG Jazz releases (mcgjazz.org), among them "Afternoon In Rio" with Joe Negri, (yes, Mr. Rogers' Handyman Negri!) "The 21st Century Swing Band," the highly acclaimed "A Nancy Wilson Christmas," and "Long Ago and Far Away," her original, interactive children's concert, which has grown into a radio show now available on CD through MCG Jazz.
CLICK HERE FOR COMPLETE INFORMATION ON JAZZ PORT TOWNSEND.
Aside from her work with MCG, Kim was a featured vocalist alongside Ray Brown and Stanley Turrentine in the Pittsburgh Ballet Theatre's production of "Indigo In Motion" and has appeared with the Pittsburgh Children's Festival Chorus. She has taught at Duquesne University and the Ellis School, recorded with the Big-Band at Slippery Rock University and continues a busy schedule in her private teaching at home in PA. Kim has also recorded "Red Dragonfly in New York" for JVC in Japan. The album contains Japanese folk songs translated into English and western musical contexts. As a singer and lyricist for such artists as Masahiko Osaka her work has won the "seal of approval" by Japan's Swing Journal.
Always passionate for Latin Music, Kim performs and records with Boston-based El Eco, whose album "Two Worlds" was recently featured on NPR's JazzSet. Other collaborations include her work performing and recording with Mark Shilansky, her vocals featured extensively on his most recent recording "Join the Club."
A more recent recording opportunity for Kim was her work on Bobby McFerrin's critically acclaimed Vocabularies
April 22, 2015 by bluegullinn
Flowers and Gardens Await…..
We hope that while you are staying at the Blue Gull Inn B&B, you will take time to smell the flowers. Enjoy our back yard with the deer and all the plants and flowers. Pull up as chair, sit and read or just relax. We have many flowers and trees. From summer lilac, dahlias, roses, sunflowers, geraniums, holly hocks, rose campion, tree of heaven, clematis, montery cypress, sweet cicely, violets, lilac, daffodils, bluebells and more.
Watch the hummingbirds at the feeders and taking a bath in the bird bath. We have had 2 rufus hummingbirds winter over with us for the past 2 winters. This variety of hummingbird has the ability to lower their body temperature at night to make it through the cold nights during winter.
Watch the deer in the yard and around Port Townsend. This herd of deer lives and thrives in town all year long. The record for us is 11 in the back yard at one time. In the spring the does bring the new fawns into our yard and they are so sweet to watch.
While in Port Townsend, stay in one of our 6 guest rooms at the Blue Gull Inn B&B www.bluegullinn.com. We are located in the Uptown Historic District, just 5 blocks from downtown, and the water.
If you decide you want to move to Port Townsend.  John Eissinger can show you around and find you the real estate that works for you. He is a managing broker with Remax. Visit his website or give him a call. www.johneissinger.com 
Do not miss Fort Worden State Park. Just one and a half miles from the Blue Gull Inn B&B. Take a stroll past the Marine Science Center on the curved sandy beach to the Point Wilson lighthouse.
March 4, 2015 by bluegullinn
Be inspired. Be entertained. Pack the car and come to Port Townsend for an exciting weekend to match your mood and interests: from a theatre-lover's feast of new plays to the opportunity to live the Victorian life for a few days to the melodic sounds of a quartet of guitars. Buy your tickets early as each of the events will sell out quickly. This is a month you won't want to miss!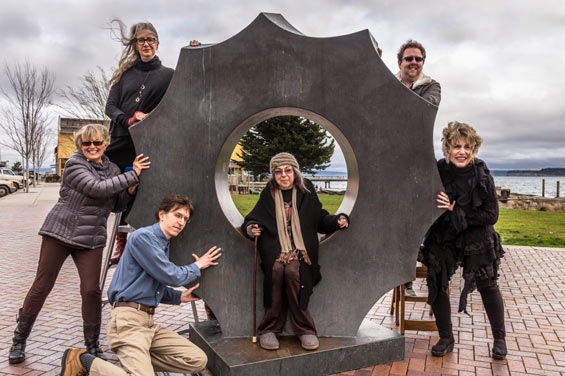 Nine talented playwrights will present their work over two weekends, March 5-15, 2015, at Key City Public Theatre's PT PlayFest, featuring winning one-acts with open rehearsals of plays-in-progress, playwriting workshops, staged readings and full productions.
"Locals Weekend," March 5-8, 2015, features the winning one-acts and precedes the jam-packed "Festival Weekend," March 12-15, 2015, when three days of back-to-back events in two separate venues (Key City Playhouse and the nearby Pope Marine Building) will satisfy even the most voracious theater-goer.
KCPT's featured guest playwright this year is Doris Baizley, who will join audiences on the night of Friday, March 13, 2015, to attend and discuss her full-length play Neel Beaux.
Directing the play will be KCPT Artistic Director Denise Winter who comments, "I'm excited about Neel Beaux because it tells the story of two artists who come into their own at completely different times in their lives. It's a perfect story for Port Townsend, in particular, because we have so many artists here that are hitting their artistic strides at different ages." www.keycitypublictheatre.org.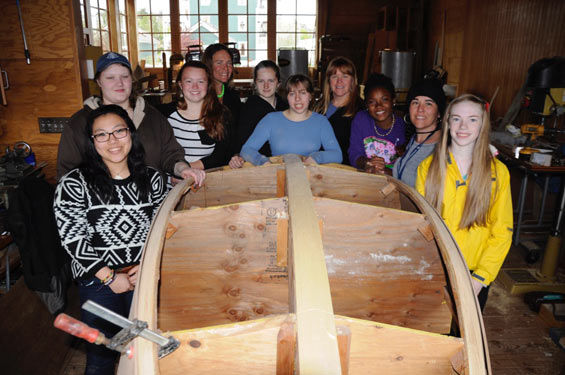 The Northwest Maritime Center will host the 2nd Annual She Tells Sea Tales storytelling event on Saturday, March 7, 2015. Doors open at 6 pm and the event starts at 7 pm. Eleven women mariners will share their experiences of the sea through poetry, prose, storytelling, and song in a fun-filled evening that benefits the Girls' Boat Project. The Girls' Boat Project is in its third year of running a for-credit high school program that helps young women to learn the marine trades. www.nwmaritime.org.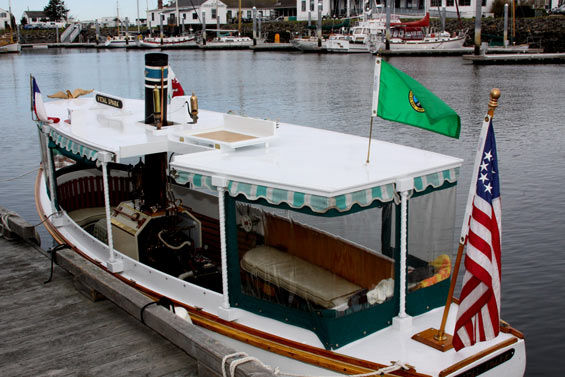 Imagine walking down Port Townsend's bustling waterfront in the late 1880s when maritime commerce was at a frenzied peak. Picture Port Townsend Bay filled with tallships, many of them loading or unloading goods at Union Wharf. The 19th Annual Victorian Festival, March 20-22, 2015, shows how the maritime industry shaped the culture during those volatile decades of expansion, and economic tumult, and its effect here in Port Townsend.
Friday night kicks off with a rousing Sea Shanty Sing-Along at 7 pm, followed by theVictorian Pub Crawl at 8 pm, featuring saloons, "shanghai tunnels," and fine vintage cocktails through a "staggering" selection of Port Townsend's (in)famous watering holes.
Learn about maritime history on Saturday with explanations of rigging, sails, and celestial navigation, along with old favorites like the manly arts of self-defense. Take a steam boat ride. Watch a bicycle demo. Learn about corsets. Partake in a Victorian tea. Cap off the day with the Fashion Show, then attend the Victorian Ball at 7 pm, and the Contra Dance at 9 pm. All ages are welcome and bring your stompin' boots!
On Sunday, from 11 am – 3 pm, take the "Insider's Historic Building Tours" revealing intriguing stories from the past, as well as visions for the future, in structures located both downtown and uptown.
Join us for a celebration of the old that is new again, bringing together scholars, enthusiasts and curiosity-seekers from across the Pacific Northwest.www.VictorianFestival.org.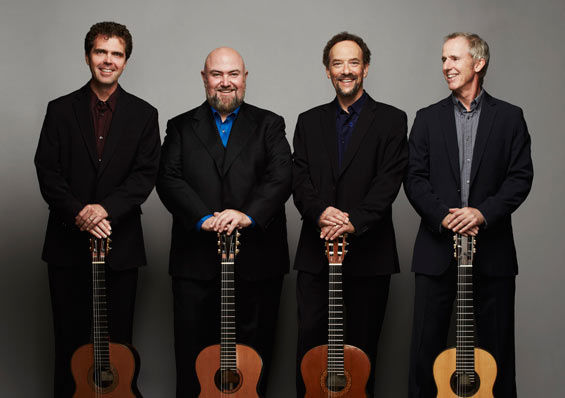 Top off the month with Centrum's Grammy Award-winning Los Angeles Guitar Quartet on Sunday, March 29, 2015 at 2 pm in the Joseph F. Wheeler Theater at Fort Worden State Park. These four uniquely accomplished musicians bring a new energy to the concert stage with programs ranging from Bluegrass to Bach. Their inventive, critically-acclaimed transcriptions of concert masterworks provide a fresh look at the music of the past, while their interpretations of works from the contemporary and world-music realms continually break new ground.
Programs include Latin, African, Far East, Irish, Folk and American Classics, transporting listeners around the world in a single concert experience. www.centrum.org.
Enjoy Port Townsend's varied and exciting events in March!
Play it Up in Port Townsend in March 2015
While visiting Port Townsend. Stay at a great B&B. The Blue Gull Inn has 6 guest rooms located in historic uptown, built in 1868. www.bluegullinn.com
If you decide you want to move to Port Townsend. Remax is here to help you find your real estate. Contact John Eissinger www.johneissinger.com
March 3, 2015 by bluegullinn
Port Townsend Film Festival, September 25-27, 2015
Port Townsend Film Festival, September 25-27, 2015
THE STORY OF OUR FESTIVAL
In 1999, four film buff friends – who met annually at the Telluride Film Festival –decided they could create a festival closer to home, right in the heart of the National Historic District on Port Townsend, Washington's waterfront.
Rocky Friedman, Linda Yakush, Jim Ewing, and Jim Westall hatched their idea for a hometown film festival with one caveat: It should have something for everyone. Peter Simpson, writer, poet and film lover joined them, and in year five, became our first Executive Director. Together they attracted 200 volunteers to this great notion.
With the motto "A film lover's block party celebrating great films and filmmakers," the first Port Townsend Film Festival launched on September 22, 2000. We closed off Taylor Street and brought in hay bale seating for an evening of free outdoor movies, opened three indoor movie venues, and screened 24 documentary, feature, and short films over three days and nights.
We now screen more than 80 films in seven venues! It's completely walkable, includes a big outdoor dinner for passholders, Q&A and panel discussions with filmmakers, and great parties. We still invite everyone to fill Taylor Street, on three evenings, for the outdoor movie (free of charge) and offer free films day and night in the Peter Simpson Theatre.

Bruce Dern
Our Festival attracts film historians, critics, famous screenwriters, producers, directors and industry specialists. Each year we select a Special Guest, among them Elliott Gould, Tony Curtis, Dyan Cannon, Debra Winger, Karen Allen and Bruce Dern as he prepared for his role in the Academy Award-winning film, "Nebraska."
Festival revenues allow us to hold special events and take filmmakers to the schools throughout the year, and to offer a fellowship providing local housing (and time) for filmmakers to complete their work.
Our more than 300 volunteers donate their time, money, materials (everything from hammers and nails to floral bouquets), housing and frequent flier miles to keep our guests, filmmakers and their films coming, keeping the dream going.
The Festival has weathered several economic storms during its 15 years, always finding a way for the community and its guests to watch movies together, to talk about movies together, to love movies together. We gave up our original one-room office, in the entryway of the historic Baker Block Building, and moved into a spacious suite on the top floor. You can see our wonderful PTFF neon sign from one end of Water Street to the other.
In this seaport arts community of festivals and celebrations, the people of Port Townsend love their Film Festival. Every year, the word of just how special it is travels just a little further. Every year the waves of creative, diverse moviemakers and moviegoers converge. And so the film lover's block party goes on!
Port Townsend Film Festival, September 25-27, 2015
When you visit, stay at the Blue Gull Inn B&B. Just up the hill from the outdoor movie.
Blue Gull Inn B&B www.bluegullinn.com
Visit the Blue Gull Inn B&B in Historic Port Townsend, Washington's Victorian Seaport and Arts Community. Our web site is www.bluegullinn.com. For real estate contact John Eissinger at Remax www.johneissinger.com.
Our bed & breakfast was one of the first homes built in Port Townsend, WA. The Blue Gull Inn B&B was built by ND Hill in 1868.
Choose one of our 6 comfortable guest rooms, 2 with whirlpool tubs.
The Blue Gull Inn B&B is located in Uptown, just 5 blocks from downtown Port Townsend, WA.
Check out our web site at www.bluegullinn.com
For things to see and do check out www.enjoypt.com
June 1, 2014 by bluegullinn
For those interested in wooden boats or just spending time outside on our beautiful waterfront, the Classic Mariners' Regatta is taking place in Port Townsend June 6th-8th. Hosted by the Maritime Center/Wooden Boat Foundation and the Port Townsend Sailing Association. This event is for wooden boats and will be wonderful to watch from a higher vantage point, just ask the innkeepers where to go. Also, be sure to check out the NW Maritime Center and browse through The Chandlery to pick up a nautical souvenir.