April 6, 2015 by bluegullinn
Early History of Port Townsend, WA
The City of Dreams, Port Townsend, WA is one of the finest examples of a Victorian Seaport in the United States. It is one of 3 Registered Victorian Seaports in the US. The other 2 are Cape May, NJ and Galveston, TX.
Like many small towns in the Northwest. Port Townsend described itself as the "Key City" and the "New York of the West" It quickly became a bustling seaport and customs gateway of the Pacific Northwest. Located right on the water at the entrance of Puget Sound, it was very visible from the water. Many boaters even today find Port Townsend
by boat. It had an impressive downtown, many of the commercial building were built of brick and stone and many elegant Victorian homes on the hillside above. It must have been very inviting town as you passed by, especially after months at sea.
Port Townsend was a very wild town in the day. Much of downtown was brothels and bars. Tunnels run under the downtown area. Many of the bars had trap doors in them. When a ship needed a crew they would get the sailor drunk and he would then find himself serving as a crew member out at sea.
In the early 1880, because of Port Townsend's waterfront location, the business men of the day decided to bring the railroad to town. It only made sense to off load and load ships here and then ship the goods by rail. That dream lasted until 1892. At that time the railroad said it was too expensive to travel all the way to Port Townsend. Back then, the largest port was Seattle, so the railroad went there instead. Port Townsend then went into a huge depression because of the railroad.
For more information about Port Townsend visit www.ptguide.com
Port Townsend events www.enjoypt.com
While visiting Port Townsend, stay at our Historic Bed & Breakfast in Uptown www.bluegullinn.com
When you decided you want to live in Port Townsend or Jefferson County, contact John Eissinger at Remax for real estate information, check-out,  www.johneissinger.com
Related Images:
April 4, 2015 by bluegullinn
Easter Sunday is April 5. Contact the Port Townsend Visitor Information Center for locations and times of church services, Easter brunch and Easter dinner. Call 360.385.2722 or email info@jeffcountychamber.org.
Celebrate Earth Day weekend at the Port Townsend Marine Science Center on the pier at Fort Worden State Park. See the new Go Blue marine science exhibits opening Friday, April 24 through Sunday, April 26, noon to 5pm. The new Go Blue exhibits feature actions we can take to understand how the ocean sustains our lives and engages in collective solutions for community-wide marine conservation.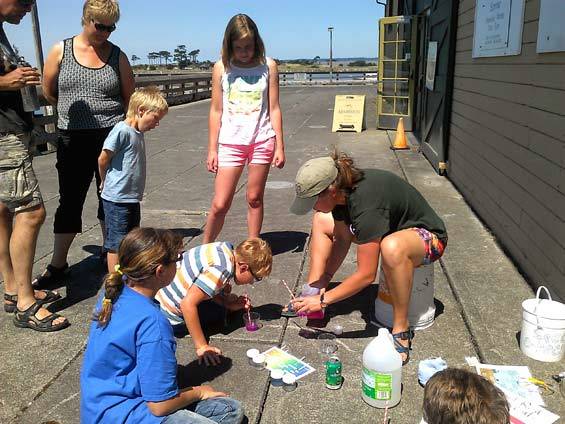 The Go Blue endeavor dives deeper into the global issue of ocean health, reveals the human impact of climate change, plastics, and toxics on marine ecosystems, and provides choices for what we can do as a community, and as families, to address it in our own back yard. For more info go to www.ptmsc.org or call 360.385.5582
Looking for a place to stay, try the Blue Gull Inn B&B
The Blue Gull Inn B&B is one of the first homes built in Port Townsend, WA. Our home was built by ND Hill in 1868. If you can imagine, our home was built 3 years after the end of the Civil War. ND Hill and his family and had a large home with a large dining room, perfect for a Bed & Breakfast. Join us for a great Breakfast!!! ND Hill was our local pharmacist, back then a pharmacy is a combination today of a pharmacy and hardware store.
Looking for a place to stay during your visit in Port Townsend.                                      Enjoy the Blue Gull Inn B&B, www.bluegullinn.com
If you like history, here is your trivia of the day. The ND Hill House actually was owned by the Hill Family for 90 years, it was finally sold in 1958.This home was built at the beginning of the Victorian era, the style of the home is Gothic Victorian.
The Blue Gull Inn B&B  www.bluegullinn.com  Stay in one our 6 guest rooms, 2 with whirlpool bath tubs. Have coffee or a glass of wine on our sweeping front porch. Relax in our parlor or dining room, a casual, country Victorian theme.  The Blue Gull Inn B&B is located in Uptown, just 5 blocks from downtown Port Townsend, WA.
Looking for more to see and do in Port Townsend, Washington's Victorian Seaport and Art Community. Lots of great places to shop and dine for a list check out www.enjoypt.com or,  www.ptguide.com
So you are visiting Port Townsend and decide like many people, it is a great place to live. For real estate contact John Eissinger at Remax www.johneissinger.com. We are a very walking and bicycle friendly community. Port Townsend is located right on the water, at the entrance to Puget Sound. We are the water gate way to the Puget Sound, many boaters find Port Townsend by boat.
Do not miss Fort Worden State Park, located just north of Port Townsend. Take a stroll on the curved sandy beach with the Point Wilson lighthouse at the other end. Enjoy the old concrete bunkers, RV parks, camping, hiking, biking, kayaking or just relax.
Related Images:
June 1, 2014 by bluegullinn
For those interested in wooden boats or just spending time outside on our beautiful waterfront, the Classic Mariners' Regatta is taking place in Port Townsend June 6th-8th. Hosted by the Maritime Center/Wooden Boat Foundation and the Port Townsend Sailing Association. This event is for wooden boats and will be wonderful to watch from a higher vantage point, just ask the innkeepers where to go. Also, be sure to check out the NW Maritime Center and browse through The Chandlery to pick up a nautical souvenir.
Related Images:
May 28, 2014 by bluegullinn
When travelling to Port Townsend it is easy to be overwhelmed by restaurant choices. For Japanese food my pick is Ichikawa. My personal favorites are the daily Bento box or Chef's choice combos (always good and allows me to try something new). There are options for the no-raw-fish eaters as well, their tempura udon is very good. You don't have to take my word for it, check out the reviews on Yelp or Tripadvisor. They are located downtown, across from the Port Townsend Ferry Dock. This is a smaller establishment and can get very busy on the weekends, I recommend making a reservation. If you are with a group of 8 or more, reserving the Tatami room is fun and a little more private.
Related Images:
May 21, 2014 by bluegullinn
We welcome not only an
extended weekend but the unofficial start to summer. The weather has been wonderful lately and will hopefully hold out through Monday. Regardless of what Mother Nature decides to throw our way us Washingtonians won't let a little rain spoil our good time. There is the Shrimp Fest going on in Brinnon, WA the 24th & 25th. If you are looking for live music stop by the Quimper Grange to hear Portland's New Iberians play Zydeco, Blues, Soul, & New Orleans Rock'n'Roll; you can even join in a dance lesson. Getting hungry? The 1st Annual Port Townsend Artisan Food Festival sounds delicious and interesting!
Related Images:
April 8, 2014 by bluegullinn
Related Images:
February 2, 2013 by bluegullinn
Does is seem like everyone is planning a tropical or exotic getaway? Wouldn't you like to have a little getaway of your own? You can… and without blowing your whole budget. There is beauty right here in your own backyard. There are miles of beaches to walk and regain your mental balance and sense of calm (that frankly, I think we could all use right about now). If you need to warm up try something spicy or exotic at Khu Larb Thai or Hanazono Asian Noodle. If you enjoy tea, Pippa's is a friendly place to visit. They have so many different blends you are almost certain to find one you like…make mine the Jasmine Green!
Related Images:
August 21, 2012 by bluegullinn
With a little under two weeks until Labor Day weekend it is a great time to get over to Port Townsend to enjoy the last of the summer weather. The dahlias are blooming and just strolling through the Uptown neighborhood can offer some lovely views of water, gardens and Victorian homes. The weather this time of year is perfect for a weekend getaway… so why not plan one?
Related Images:
July 30, 2012 by bluegullinn
If you come to Port Townsend on the Olympic Peninsula one of the activities you have to partake in is whale watching. Puget Sound Express has been operating for 27 years and leaves from Point Hudson. They have a few different tours to choose from. They have a 98% whale watching success rate and even have a guarantee on that 2% chance you don't see any whales. In my opinion the boat trip through the area would be worth the money, but throw in guaranteed whale sightings and I am sold. If that hasn't convinced you, check out Puget Sound Express on facebook and TripAdvisor as well.
Related Images:
July 20, 2012 by bluegullinn
Kick back with a cold one at Sirens. Opening at noon everyday, they have a fairly extensive bar and many brews on tap. With the best mixed drinks in town (try a Mai Tai or Mojito) and a deck overlooking the water it can't be beat. While the décor may not be to everyone's taste the food is definitely delicious, my favorites are the Texas Jalapeno Poppers and Sicilian Pizza, so good! A couple tips from a local, get there early if you are planning on eating or finding a seat. It can get crowded in the evening as they usually have live music. For faster service, order at the bar!
Related Images: