February 11, 2016 by bluegullinn
Spring YAWP (Your Alternative Writing Program) – 2016
March 24-27, 2016
Fort Worden State Park, Port Townsend, WA
SOLD OUT
To reserve a spot on the waiting list, please call Hali Miller at 360-385-3102, x114
–
Spring YAWP (Your Alternative Writing Program) – 2016, was launched as a reaction to the branding, marketing, and career networking of AWP. We desired to create, instead, a retreat place for writers to live in cozy cabins and focus deeply on your work.
We're totes about community and reading and writing and doing guided freewrites and writing exercises and creating new work and having good food at PT restaurants and being underneath the March sky and being around the firs and sitting under a madrona and hunting for eggs and and and and and and and 
 this will be our third YAWP session in less than a year!
Centrum's Spring YAWP happens March 24-27, 2016. (Yes, Easter is March 27. So we'll be doing a Sunday-morning egg hunt on the Fort Worden field with the Madrona tree : )
Limited to 20 total.
Cost: $195 (to cover the cost of the Suds cabins, and the open-mike space.) Have you published fifty novels? $195. Are you writing your first-ever poem? $195. Meals are not included: what'll happen is some folks'll contribute together for communal meals; and some folks'll do their own meals in the ten kitchens provided; and some folks'll go into town.
Thursday, March 24 , 2016
5 pm-8 pm: arrival and welcoming.
8 pm-9 pm: opening readings.
Friday, March 25, 2016
10-10:50 am: guided morning freewrite.
11-noon: guided morning freewrite.
12 pm onward: residency time.
Saturday, March 26, 2016
10-10:50 am: guided morning freewrite.
11-noon: guided morning freewrite.
12 pm onward: residency time.
8-10 pm: evening gathering and conversation.
Sunday, March 27, 2016
February 9, 2016 by bluegullinn
Arts & Entertainment in Port Townsend
National Geographic calls Port Townsend "one of the most sophisticated places west of Seattle," and arts and entertainment is a large part of the reason why.

Arts & Entertainment in Port Townsend. For more than three decades, artists of all ages have flocked to Centrum, the nonprofit arts organization located at Fort Worden State Park, for artist residencies, workshops and performances. Centrum's summer performance festivals in music and literature are national events, drawing thousands to the area.
Copper Canyon Press, also located at Fort Worden, is the nation's premier poetry publishing house. Copper Canyon Press fosters the work of emerging, established, and world-renowned poets for an expanding audience.
Located at the entrance to downtown,Northwinds Arts Center is a hub of visual arts and literary activity, producing educational programs, lectures, readings and workshops, and by providing juried and invitational venues for displaying the work of regional artists.
Key City Public Theatre is perhaps the most active and vital theater organization on the Olympic Peninsula. Their year-round slate of performances and workshops draws audiences from around the region.
Port Townsend's location, coupled with its proximity to the Seattle/Vancouver/Portland metro areas, makes the town an attractive destination for national music acts and audiences looking for intimate performance experiences.
From music, to theater, to visual and performing arts, Port Townsend is a destination not to be missed. Be sure to visit PTGuide.com's comprehensive arts and entertainment calendar to find out what's happening in Port Townsend.
February 8, 2016 by bluegullinn

February 2, 2016
•First Tuesday Salon, Carol, Feb. 2, Rose Theatre, 7:30 p.m.
with special guest, Kate Reavey, poet and Peninsula College professor
•The Mask You Live In, Feb. 11, 6:30 p.m. Wheeler Theatre, Fort Worden, FREE!
•PTFF Great Big Gala, Sun., Feb 28, with radio host Luke Burbank, NW Maritime Center
First Tuesday Salon, Carol
"American-born English playwright Phyllis Nagy wrote the first draft of the script in 1996. Almost 20 years and many drafts later, we have Todd Haynes' immaculate, dream-like Carol–in which Cate Blanchett and Rooney Mara take us inside a passionate story of desire and retribution that's both satisfying and disturbing." Paul Byrnes, Sydney Morning Herald. Read more HERE.
Join us for a conversation with poet and professor Kate Reavey, following the screening. Kate's work as a poet has taken her around the world, with a fellowship to study in Florence as she pursues her doctorate in literature. Her work at Peninsula College helps other poets find and refine their voices.
The film, Carol, is based on the novel, The Price of Salt. Author Patricia Highsmith became well known for her "poison pen" with disdain for Jews, blacks and homosexuals. The novel was written in her early career, and thought to be autobiographical.
Watch the trailer: HERE.
The Mask You Live In, Feb. 11, 6:30 p.m.
Wheeler Theatre, Fort Worden
FREE, only 260 seats available.
Doors open at 5:45, tickets issued at the door.
Back by popular demand from PTFF's screening at the 2015 Festival! In collaboration with The Jefferson County Community Foundation Fund for Women & Girls, join us for a public screening of the film, The Mask You Live In, followed by a panel discussion. Details HERE.
February 7, 2016 by bluegullinn
Port Townsend Acoustic Blues Workshop
July 31-August 7, 2016
Fort Worden State Park, Port Townsend, WA

Port Townsend Acoustic Blues Workshop – 2016. Join us for this annual acoustic blues gathering! The Port Townsend Acoustic Blues workshop is held at Fort Worden State Park, one of the Pacific Northwest's most stunning and inspiring landscapes.
Unique and compelling about this particular workshop, is the focus and intention put on early blues music, with education as the goal while honoring the offshoots of that core style of music. The primary core is acoustic pre-war (1920s and 1930s) blues, the African-American cultures they grew out of and their traditions. Steeped in the rich music and cultures of communities of the Southern USA, this workshop gives attention to styles typified by the different players from various regions (Piedmont region of the Southeastern coast, the Mississippi Delta and Hill Country, Louisiana and Texas), the differences in technique as well as how to get the proper sounds of these styles out of your instrument. The music is the primary focus of the multi-generational in-residence workshop week but the downhome back-porch vibe of the culture creates a community that lends a family gathering feel to the week.
To keep these early styles of blues alive we need new songs, players and sounds along with the original songs and sounds that will move this genre forward while honoring its rich traditions. This week is designed to inform your playing and make you a better musician – you'll hang out, jam and swap tunes with interesting, accomplished, and fun bearers of acoustic blues traditions. You'll take part in daily classes and serious music making in the evenings with some of the finest acoustic blues players working today.
This generous community shares your passion and energy, and we can almost guarantee that by the end of the week you AND your playing will be heading into directions you didn't predict just a few days earlier. Daily classes are offered in Hill Country, Delta and Piedmont styles, finger-picking, blues guitar, slide guitar, harmonica, violin, mandolin, banjo, piano, bass, accordion, ukulele, singing, washboard, gospel choir and history, all taught by masters of the traditions.
Please keep an eye on this website as details unfold. For information contact: Acoustic Blues Program Manager, Mary Hilts at mhilts@centrum.org, or 360.385.3102 x 116.
The schedule is still under development but here's a general idea of what to expect:
Sunday, July 31, 2016: 4pm – arrive and settle in; 6pm – dinner; 8pm – welcome & orientation; and jamming after.
Monday – Friday: Breakfast; 2 morning workshop sessions; Lunch; 2 afternoon workshop sessions including band lab opportunities; late afternoon Gospel Choir and Back Porch Jams.
Evenings: entertainment, open jams, focused jams and house parties.
There will be public performances by the instructors on Friday and Saturday as well as Blues in the Clubs both of these nights. Your workshop registration entitles you to prime seats at these shows.
Sunday August 7, 2016: farewell breakfast, check out of rooms by 11am.
February 6, 2016 by bluegullinn
Choro: Brazilian Music – April 27 – May 1, 2016
Workshop: April 27 – May 1, 2016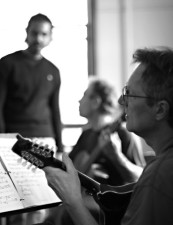 Choro: Brazilian Music – April 27 – May 1, 2016. Our popular Choro workshop is back and better than ever with new offerings and a new faculty member. Dudu Maia is coordinating an expansion of the schedule which will allow the faculty more time to explore current and historical players and styles in addition to master classes, group sessions and, of course, lots of playing. Whether you're new to the workshop or have attended several, you'll get lots of new information.
We're particularly excited to announce the addition of violinist/mandolinst Ted Falcon. He'll join returning faculty members Dudu Maia, (bandolim); the extraordinary clarinetist, Anat Cohen; and Trio Brasileiro members Douglas Lora, 7-string guitar; andAlexandre Lora, pandeiro/percussion. All are master teachers and outstanding performers who will show you first hand how much fun it is to play Choro.
Choro is a great way for both jazz and classically oriented musicians to meet on common ground. There are written charts with lovely and lively melodies accessible to any competent player. There's also room for improvisation, and in a vein that's a great way for classical musicians to expand their skills in this. This workshop is limited to forty-five people and is open to strings, woodwinds, accordion/piano and hand percussion (rather than drum set). Some others are also accepted; call if you have a question about your instrument.
"I found the entire workshop a highlight. A very amazing, wonderful group of people.
Within 15 minutes of settling into our room we were playing tunes in the living room with
our new house mates."  – Workshop Participant
Some of the most delightful moments of the weekend happen after dinner, when faculty and participants gather in the large living room and jam to their hearts' content. This year there are two housing options. Premium housing is in the beautiful, large Victorian "officer's houses" (returning participants will be familiar with these). A second option will be in the Madrona Vista building and is a bit more economical. Both options provide private rooms and full kitchens.
Participants will receive free admission to the April 30 performance in the Joseph F. Wheeler Theater.
Who should attend the workshop?
Both classical and jazz musicians will feel comfortable in this workshop, and will enjoy expanding their skills through this style. You should be proficient on your instrument, i.e. comfortable with the mechanics of playing. There will be people of different backgrounds and abilities and we'll be sure to match you up.
What is Choro music?
The Brazilian musical style of Choro represents the coming together of European melodic and harmonic traditions with African rhythms and sensibilities. Emerging in Brazil in the middle of the nineteenth century, Choro is a cousin of jazz, with a sense of yearning that is often described as a "sweet lament." Many ethnomusicologists believe that the name Choro comes from the Portuguese verb chorar—that is, to weep or to cry. It often seems bright and happy on the surface, but if you dig deeper you'll find a kind of sadness, a longing that Brazilians call saudade.
Something about the combination of Portuguese and Italian influences resulted in melodies with a strong romantic feeling. When joined with its African influences, Choro has an irresistible groove and rhythmic momentum that is uniquely Brazilian. (Click Here to read more about Choro).
What does Choro sound like?
Here are some YouTube links featuring our faculty playing typical Choro tunes:
Choro Workshop Schedule
Wednesday, 4/27
4 – 5:30pm Check-in, Centrum office
6 – 7:00 Dinner
7:00 – 9:30 First session
9:30 Welcome reception
Thursday, 4/28
8:00 – 9:00am Breakfast for those who registered for it
9:00 – 10:30 Group session: "Jacob do Bandolim; the Father of Choro"
11 – 12:25 Master classes
12:30 – 1:30pm Lunch
2:00 – 3:30 Group session: "Brazilian Rhythms"
3:45 – 5:15 Ensemble rehearsals
6:00 Dinner
Evening: Open for jamming
Friday, 4/29
8:00 – 9:00am Breakfast
9:00 – 10:30 Group sessions: "Choro Harmony and Melody"
11:00 – 12:25 Master classes
12:30 – 1:30pm Lunch
2:15 – 5:00pm Rehearsals
6:00 Dinner
Evening: Open for jamming
Saturday, 4/30
8:00 – 9:00am Breakfast
9:00 – 10:30 Group session
11:00 – 12:25
12:30 – 1:30pm Lunch
1:30 – 5:00 Rehearsals
5:30 Dinner
7:30pm Concert by Faculty in Wheeler Theater
9:30pm Reception, open for jamming
Sunday, 5/1
8:00 – 9:00am Breakfast
9:00 – 10:30am Final session, participant performances
11:00am Checkout
February 5, 2016 by bluegullinn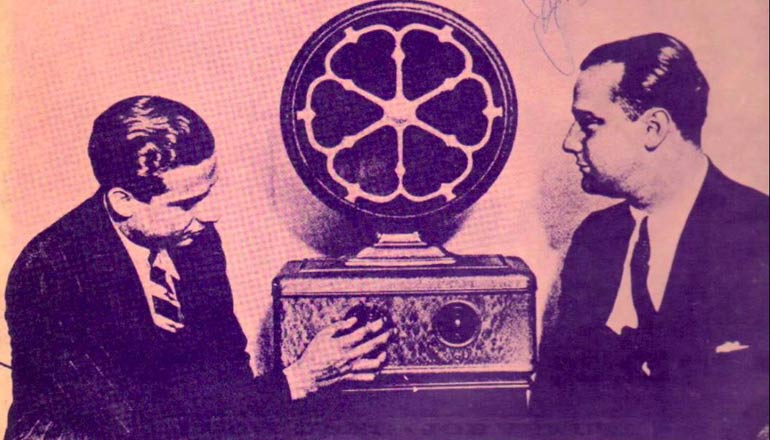 By popular demand, Centrum is pleased to announce a new music workshop taking place May 19-22, 2016!
New! – Vintage Jazz Workshop in May, Centrum's  Vintage Jazz "Hot Strings" workshop celebrates the contributions of pioneering string players to the burgeoning hot jazz of the 1920's and '30's: Folks like Joe Venuti and Eddie Lang, Stephane Grappelli and Django Reinhardt, Slim Gaillard and Slam Stewart, Stuff Smith, Oscar Aleman, Lonnie Johnson, and Eddie South.
From The Spirits of Rhythm and The Mississippi Sheiks, to The Light Crust Doughboys and The Hot Club of France, whether your focus is Early Jazz, Hokum Jazz, Gypsy Swing, Jug Band, or Western Swing, chances are you too are revved-up by the fiery sound of strings churning out the swinging beat and jazzing up hot solos!
Our faculty will include guitarist and contemporary master of 1920's and 30's jazz styles,Matt Munisteri; violinist Julian Smedley; bassist Matt Weiner, and guitarist Cyd Smith.
Space is extremely limited in this new workshop – get the full scoop over on our Vintage Jazz Workshop page.
February 4, 2016 by bluegullinn
Romance is in the air with Valentine's Day just a few short weeks away. This year it falls in the middle of a three-day weekend—perfect for an escape with your sweetheart to Port Townsend for a romantic weekend getaway! We have a wide array of fantastic accommodations to suit your style. Click here for choices and to book your reservation. Many of our restaurants are offering Valentine's specials too. For more details, contact our Visitor Information Center at info@jeffcountychamber.org or 360.385.2722.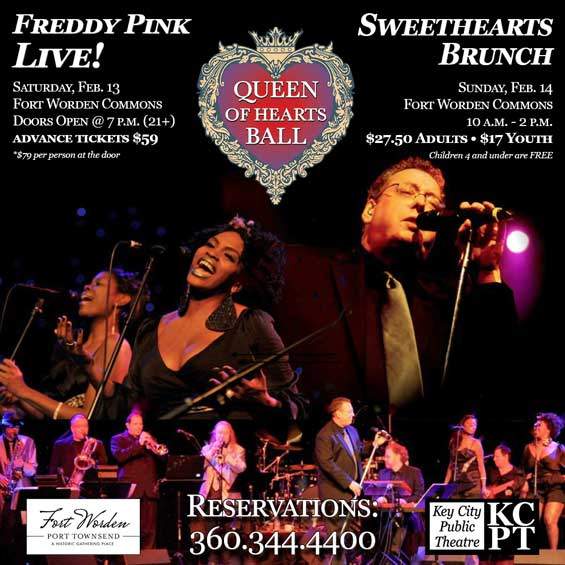 Start the long weekend off right on Saturday, February 13 at 7 pm at the Queen of Hearts Ball at the Commons at Fort Worden. Key City Public Theatre and Fort Worden are proud to present an evening of spectacular entertainment featuring "Rock-n-Soul" music by Freddy Pink. Admission includes two cocktails, passed hors d'oeuvres, and a delicious appetizer bar as well as a dessert bar. Washington wines, craft beers, cocktail specials and Bellini's will also be featured. Make your reservations by calling 360.344.4400.
The next morning, Valentine's Day, enjoy a Sweethearts Brunch from 10 am to 2pm at the Fort Worden Commons. Call 360.344.4400 for reservations.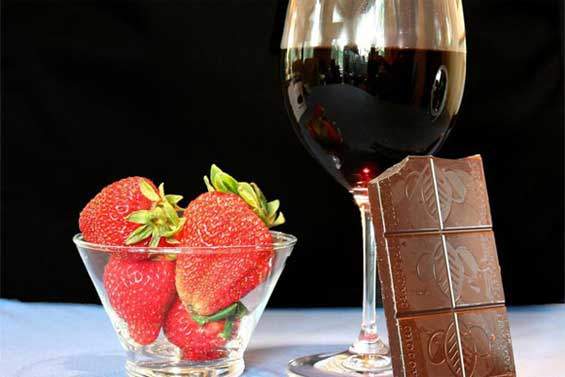 With Port Townsend as your home base, tour the Olympic Peninsula Wineries for their luscious Red Wine and Chocolate event over two weekends: February 13-15 and 20-21, from 11am to 5 pm. You'll love the classic pairings of handcrafted Washington wines and chocolate delights, and, of course, the spectacular scenery en route to each winery.
The ticket and glass package entitles you to a special commemorative wine glass, complimentary wine tasting and chocolate samples at the 10 participating wineries.Book here for online tickets.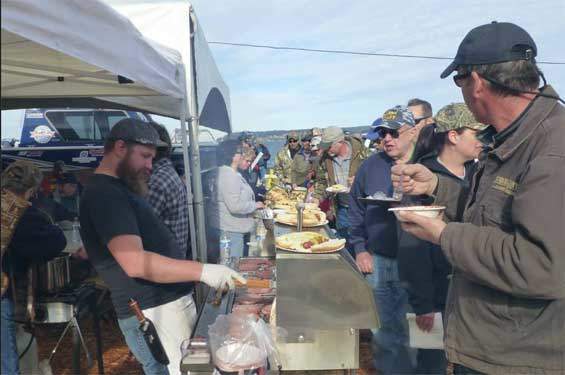 Love fishing? Register now for the Olympic Peninsula Salmon Derby's $10,000 Winter Blackmouth Classic, February 19-21. Learn more online!
Launch your boat at Port Townsend's Boat Haven Marina and head out to the Strait with over 500 miles for fishing, from Tongue Point in the west through Freshwater Bay, Port Angeles, Sequim, Port Townsend, Port Hadlock, Marrowstone Island, Port Ludlow, to Whidbey Island in the east.
And if fishing isn't your passion, but it is for your spouse/partner, stay in Port Townsend and enjoy meandering through our boutique shops and galleries, then grab a bite to eat at one of our delicious eateries.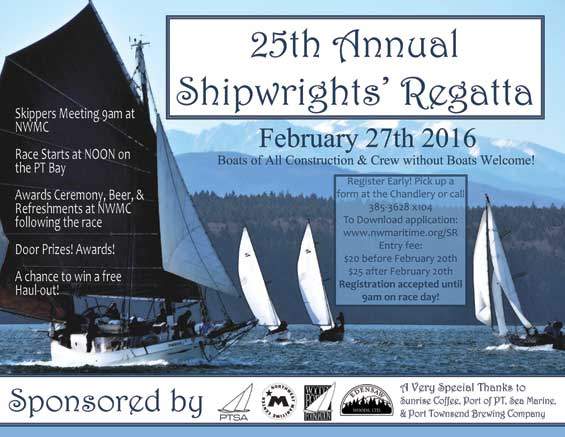 The sailboat racing season opens with the 25th Annual Port Townsend Shipwrights' Regatta on February 27. Boats of all construction are welcome. As always, the race is open to folks who would like to try sailboat racing, but do not have a boat. Non-boat owners are encouraged to show up at the Skippers' Meeting and be connected with skippers looking for crew.
The regatta is presented by the Northwest Maritime Center, Wooden Boat Foundation, and Edensaw Woods, Ltd., in conjunction with the Port Townsend Sailing Association.Find out more online.
Save the date for upcoming events in March:
March 3-13, 2016
PlayFest 20–the Port Townsend Festival of New Plays
Key City Public Theatre, Port Townsend
Port Townsend Arts Commission's Festival of New Plays
March 18-20, 2016
Victorian Heritage Festival
Port Townsend and Fort Worden
Kick off the weekend with the Victorian Pub crawl, featuring saloons, "shanghai tunnels," and fine vintage cocktails. Tour inside Victorian buildings, attend lectures, a Victorian fashion show and Ball plus much more.
We look forward to welcoming you to Port Townsend!
February 3, 2016 by bluegullinn
Port Townsend Historic Sites
Port Townsend Historic Sites
Like many young communities in the Puget Sound, Port Townsend aspired to greatness.
Calling itself the "Key City" and the "New York of the West," Port Townsend quickly became a bustling seaport and customs gateway to the Pacific Northwest, with an impressive waterfront commercial district of stone and brick buildings and many elegant Victorian homes on the bluff above.
Although economic activity shifted from Port Townsend to Seattle, much of the 19th Century and early 20th Century remains intact. In 1976, the waterfront district and the residential area on the bluff were designated a National Historic District, and Port Townsend is today recognized as one of only three Victorian Seaports on the National Register of Historic Places.
If you want to explore the history of Port Townsend, your first stop should be theJefferson County Historical Museum next to City Hall downtown. In addition to impressive exhibits and helpful staff and volunteers, the Museum leads walking toursthrough the downtown and uptown districts, helping visitors to glean the exciting history of the area.
Some of the more impressive and notable sites to explore include:
The Rothschild House
The Jefferson County Courthouse
The Port Townsend Post Office and Customs House
Uptown Victorian Homes
Downtown – the whole thing!
The entire downtown core is a National Historic District! Look around and imagine yourself walking the same streets and seeing the same buildings more than a hundred years ago.
June 22, 2015 by bluegullinn
 Voice Works – A Workshop for Singers
June 23-28, 2015
Fort Worden State Park, Port Townsend, Washington
Voice Works – A Workshop for Singers….. You'll learn new songs, about your range, and how to find your key.
Voice Works – A Workshop for Singers _ Centrum
Join us for Centrum's latest gathering of singers! Voice Works is held at Fort Worden State Park, a venue unparalleled in beauty and facility. Expect four days and five nights of intense fun, singing instruction, repertoire building, and merry music making with some top drawer vocalists.
Singing is compelling, a natural human effort to communicate. Singing maintains culture, and it makes you feel good. The combination of world-class artists and passionate singers at Voice Works creates a rare community, safe for participants of all levels to participate.
Day and night you'll soak up styles, songs and stories in a wide range of vocal traditions. Through close observation and personal experimentation you'll learn about breathing, phrasing, dynamics, how to make your voice blend, and what makes your voice unique.
Before I came to Voice Works, I loved singing, but I never felt comfortable with what it sounded like, or my ability to blend with other people. But that class with Pharis – the warm-ups, the breathing – and then you're in to your day, you're warmed up, you're opened up in a way that makes it possible for your voice to come out, it's like you're prepared for anything ….
Specifically, you'll learn to sing harmony, vintage country duets, classic jazz, swing, how to find a third part, traditional Mexican music, Appalachian ballads, Irish folk songs, mountain gospel, honky-tonk songs, bluegrass, and much more. You should expect intensive study, community building, singing, public performances, dances, house parties, song swaps, and a participant showcase every day.
When you go round in a circle, and your instructor says "Try this, try that," it somehow becomes so unthreatening, and it's really fun. Everyone has such a unique and different voice, you learn SO much from other participants, and you start to understand your sound is okay, it's all right. It's your voice.
Besides absorbing a variety of cultural and stylistic music, daily technical sessions will be on the schedule. A vocal warm-up class starts off each morning, and a class teaching you a set of vocal exercises to build your voice to its full potential will be offered twice each day.
The workshop is open to everyone. Differing levels of ability are expected, and the faculty will respond to participant need accordingly. If you're on the beginning end of the spectrum, you'll find an ample slate of classes to address your needs; likewise, advanced singers will find plenty to challenge them. If you can't help singing, or if you've always wanted to sing with people but for whatever reason you don't, you should plan to be at this workshop.
It is truly wonderful to sing with others and what a supportive environment for singers of all levels of experience. Time and time again we were reminded of what a beautiful gift we give by singing.
June 19, 2015 by bluegullinn
Centrum's Mission, Vision & Values
This is Centrum – Port Townsend, WA. Do not miss Voice Works this week!!!
Mission
Centrum's mission is to promote creative experiences that change lives.
Through inter-generational immersive workshops, we bring together aspiring and master artists to foster creativity, find and provide mentorship, and build community. Our public performances are the culmination and celebration of our workshops and programs, where we welcome audiences to share in those creative experiences.
Vision
Centrum's vision is of a future where creative artists and learners of all ages and backgrounds connect through direct and shared artistic experiences.
Values
Centrum is committed to providing outstanding service and experiences to our participants, faculty, audiences, volunteers, supporters, and community.
We believe that:
Creative experiences have the power to change lives
Traditional art forms, and the cultural context in which they were formed and continue to evolve, are essential keys to our nation's multicultural heritage and future
Creative artists and writers thrive in partnership and alliance with others
A close connection with our community helps us better serve all of our audiences, partners, and neighbors
There is value in providing an environment for lifelong learning for people of all ages and backgrounds, regardless of their level of expertise or professional aspirations
A safe and nurturing environment builds confidence and promotes creative expression and critical thinking skills
We are so fortunate to have a non profit organization like Centrum right here in Port Townsend. Located at Fort Worden State Park. Make sure you check out all that Centrum has to offer. Many different Festivals for your enjoyment, Jazz, Blues, Fiddle Tunes and Voice Works are only part of what Centrum has to offer. Check out their web site to see all the events and talent they bring to Port Townsend.
While visiting Port Townsend stay at the Blue Gull Inn B&B.
If you decide you want to live in our area, contact John Eissinger a local Realtor with Remax.